Whether you're taking photos of your friends, family, or just yourself, your smartphone is fully capable of doing breathtaking portrait photography. With the recent addition of Portrait Mode to many newer phones, doing portraiture with your mobile phone is easier than ever. And, it's definitely easier than using a DSLR.
With the right gear and techniques, you can take your portraits to the next level. Seriously, the photo above was capture on an iPhone 7 – we can assure you the newest iPhone's Portrait Mode is drastically improved.
So, what's the right gear to optimize your phone's Portrait Mode? What techniques should you use? Read on to find out the keys to smartphone portrait photography.
What is Portrait Mode?
Regardless of what brand of phone you have, if it's relatively new, there's a good chance it has a feature called Portrait Mode. Simply put, Portrait Mode imitates the bokeh effect of portraits taken with DSLR cameras.
If you're unfamiliar with the term bokeh, in regards to portraiture, it just means that the subject remains in focus while the background is blurred or out of focus. It's typically accomplished by shooting with a wide aperture.
Since smartphones don't usually offer much control over focal length or aperture unless shooting in manual or pro mode, taking portraits with that pleasing bokeh background was impossible until the release of the iPhone 7 Plus. Fast forward to 2020, and it seems every new smartphone comes standard with some iteration of Portrait Mode.
How Can Portrait Mode Improve My Mobile Photography?
Now, it's essential to understand that the bokeh is not due to increased control over the camera (or as a result of Manual Mode control), but instead is an artificial effect added to the image by the camera software.
Even though it's an artificial effect, portrait mode can seriously make the subject of your portrait pop. The blurred background eliminates any potential distractions in the background and draws the viewers' focus to the subject. Using this bokeh effect correctly is a secret of smartphone portrait photography, and will be discussed later on.
However, there are drawbacks to using portrait mode. Since it's an algorithm used by your phone's software the bokeh may not always be evenly applied. Because this depth effect comes from AI, it can be inconsistent.
Some smartphone photographers have complained about weird filter edges around their subjects, or the filter isn't always applied to the background seen through the edges of a subject's glasses.
However, while portrait mode isn't always perfect, it's a great tool to have in your smartphone photography toolkit.
Smartphone Portrait Photography Gear
[su_table responsive="collapse" fixed="no"]
Gear Type
Our Pick for Your Portrait Photography
Features
Cost
Purchase
Phone Camera Lens
Moment
Tele 58mm

Ideal Moment lens for portrait photography
Requires M-Series case
Crafted from aerospace metal and high-grade hand-polished glass
Moment's warranties and customer service

$$$
Buy Now
Smartphone Tripod
MeFoto BackPacker Tripod

The reverse folding design is great for the travel photographer on the go
Twist locks make your gear feel protected
Convertable into a super long 56-inch monopod
Requires a smartphone adapter to plug and shoot

$$$
Buy Now
Remote Camera Shutter
Moment
Bluetooth Shutter

The one oversized button design makes this Bluetooth shutter so easy to use
Works from up to 50 feet away
500+ hours of use before needing another battery
iOS only (no Android)

$
Buy Now
External Flash & Lighting
Aputure AL-M9

High color accuracy rating (CRI & TLCI of 95+) means photos and videos are crisp and well lit
LEDs can run for 1.5 hours at full power and for 13 hours at minimum
Nine different light adjustments give you unparalleled control

$$
Buy Now
[/su_table]
You can use your smartphone's Portrait Mode for several things:
Engagement photos
Cordial photography of friends and family
Selfies (how about a selfie stick?)
Senior portraits
Be wary, though, that there is a stigma associated with mobile phone photography. As a result, having the correct gear is even more critical if you plan to profit. If your client sees that you're equipped correctly, they'll be less likely to be concerned regarding your method of shooting. If, on the other hand, you show up with just your smartphone, then they'll wonder for what is it that they're paying you?
So, equip yourself correctly or risk being exposed as a fraud.
Pro-Portrait Photography Necessary Gear – Telephoto Lens
There's a good reason that the unveiling of Portrait Mode also meant the introduction of telephoto lenses in smartphones – it's the ideal portrait photography lens. A telephoto lens is sometimes incorrectly called a zoom lens because it does make objects appear larger than they actually are. This 'zoom' occurs so that the lens can capture subjects that are far away. Surprisingly, however, a telephoto lens is also great for portrait photography because of the details captured when 'zoomed.'
Don't think that the 'zoom' means you should use your camera app's zoom because you most certainly should not. The effect created by a telephoto lens is a unique one that will help your smartphone portrait photography to stand out.
Pro-Portrait Photography Necessary Gear – Smartphone Tripod
Tripods are a simple piece of equipment that can help take your portrait photography to the next level. Sure, they can be a bit of a pain to carry around if you don't always shoot in the same location, but they're worth the trouble. Seriously, a tripod is a smartphone portrait photography must-have.
Tripods aren't just useful for photographers with a shaky hand. If you plan on shooting low-light portraits, a tripod will be crucial in getting the exposure right. They're also ideal for turning that selfie into a self-portrait.
Depending on your style of mobile phone photography, you might need different sized tripods. Thankfully, tripods are available in a wide range of heights and even materials so you can choose one that works best for you.
We recommend the MeFoto BackPacker tripod because of the different sizes and shapes it can contort into. For example, the BackPacker features a super-small foldable design and can get turned into a longer monopod in a snap. Talk about usable versatility! It's also available in different materials.
If you're looking for a super-reliable smartphone tripod that can do it all (plus a little more), then the MeFoto BackPacker may be for you.
Pro-Portrait Photography Necessary Gear – Remote Camera Shutter
Another useful tool in keeping your smartphone as stable as possible during your photoshoots is the camera remote. With a remote shutter, you can take smartphone photos from thirty plus feet, reducing the wobble that could result in blurry images.
Camera remotes typically connect to your phone via Bluetooth and work precisely the same as the shutter button on your phone, just in a palm-sized remote. The best option as far as a palm-sized Bluetooth shutters go is Moment's. Well, if you have an iPhone, of course (their remote is not supported on Android).
If you're shooting low-light portraits, you'll want to keep your phone as still as you can to produce the highest quality image, so be sure to use a mobile phone tripod in addition to your remote.
Remotes are also a great way to upgrade from selfies to self-portraits. They're small enough to be discreetly hidden in the palm of your hand, which means no one on Instagram will know that you took that fab photo of yourself. Unless, of course, you want to brag about your incredible self-portrait skills.
Though obviously not a Bluetooth camera remote, your phone's headphones can probably be used as one. With Apple headphones or in Android settings you can use your volume controls to activate your camera's flash. While it isn't as sexy as a Bluetooth camera remote and it can't work from very far away, this trick can up your smartphone portrait photography in certain circumstances.
Pro-Portrait Photography Necessary Gear – External Flash & Lighting
Our External Flash & Lighting Choice: Aputure AL-M9
Looking for a dope portrait lighting effect, but don't know where to start? Well, kudos to you for not just using your phone's flash!
Let's face it, the flash on your phone doesn't exactly provide ideal lighting for portraits. Depending on their style, most portrait photographers prefer softer lighting than the harsh flash of their cameras.
If you're looking for soft, even lighting on your subject, you'll need an external light source. Ring lights are the lights of choice for social media influencers, and they work great for portrait photography as well.
Clip-on lights are simple to use and easy to attach to your smartphone. As the name implies, you just clip it on to your phone. There is a litany of inexpensive lighting choices out there, but will they help your portraits stand out from the crowd? Probably not.
A more professional option like the Aputure AL-M9, however, is a great way to combine your light source with your tripod as it comes with an adapter so that you can attach the two. By purchasing this external flash, you'll start to build a rig that looks professional and performs that way too. With nine different options for lighting, the Aputure is going to be able to handle the majority of your basic needs.
In attaching your light source to your smartphone tripod, you also won't need to haul around extraneous gear. The cumbersome nature of photography equipment is worth noting because one of the major pros associated with mobile phone photography is its mobility compared to traditional photography.
Mobile Phone Portrait Photography Tips and Techniques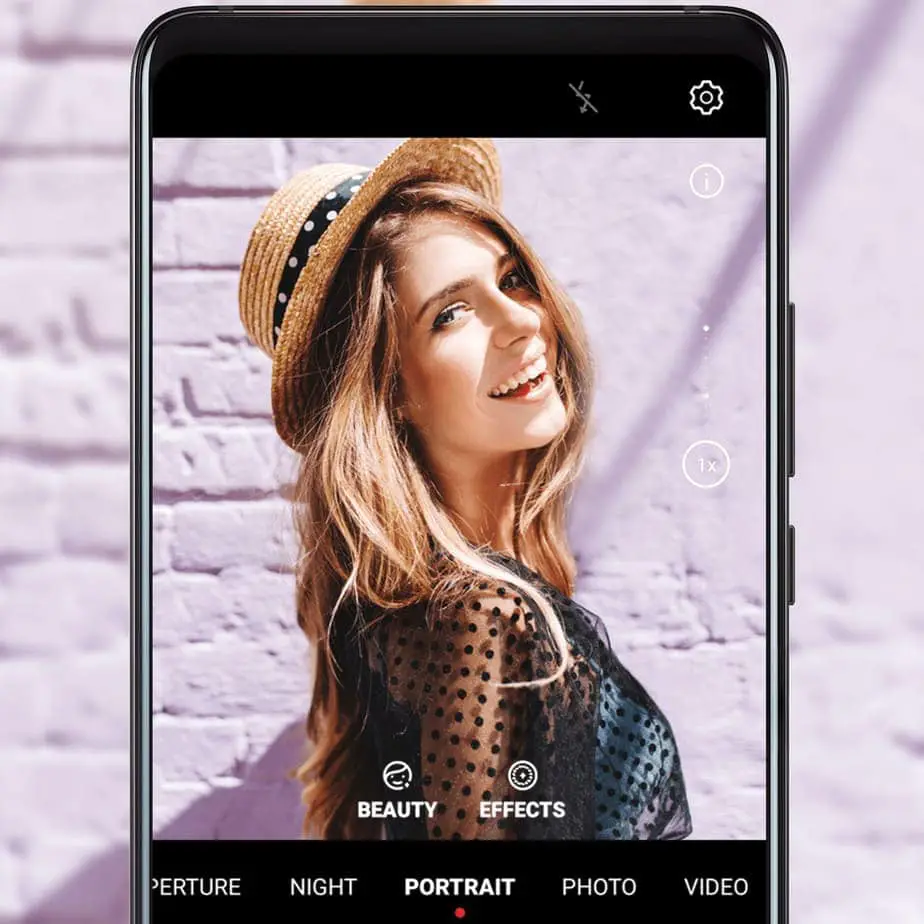 If you're a portrait photographer that would prefer more control over your camera's settings, you might want to consider downloading a third-party camera app. Sure, the camera app that comes on your phone is more than adequate and may also offer Portrait Mode, but third-party apps provide you more flexibility and more control.
One of the most overlooked aspects of portrait photography is creativity. Remember, your subject doesn't always have to be smiling or looking into the camera. Your photos also don't have to be in color – experiment in black and white!
Move to a different position to capture the person from a different angle. Try to portray your subject's personality or ask them to express a variety of emotions. Remember, a good portrait should tell a story!
Don't be afraid to experiment with your lighting, as well. Different lighting can create the illusion of different moods. Soft fill lights and harsh backlighting will give you completely different looks, so try out a few different lighting techniques to see what suits you and your subject best.
As with most forms of photography, a little editing can make an already spectacular image look even better. Exactly how much editing you do is up to you and your unique style. If you don't already have an editing app of choice, the link above includes 37 options from which to choose.