If you're in tune with the world of mobile photography, then chances are you've heard of Moment and Beastgrip. These two juggernauts have been duking it out atop the industry for awhile now, but Sandmarc may just have something to say about joining their party.
Stay tuned to the Sandmarc v Moment full series on the Youtube Channel!
This Sandmarc lens review will go over all five of their offerings, discuss their multiple mounting options, and compare their gear to the competition.
The Sandmarc Lens Review
So, this is your first time hearing about Sandmarc, huh? Well, since being founded in 2013 the company has made quite an impact on the world of content creation. In addition to their iPhone dedicated gear (sorry Android users – maybe consider Moment?), Sandmarc also makes DSLR and GoPro gear too.
That being said, this Sandmarc lens review will focus on their iPhone photography lineup only. In terms of gear, Sandmarc doesn't mess around. They don't subscribe to the modern ideas of advertising; instead, "fostering user-generated content and authentic product experiences." To explain, Sandmarc populates their site and social media with content captured by those that use their gear. They then post the content and provide links to the creator's socials so that their 250k followers can check out the source. That's ingenious social media sustainability if I've ever seen it.
Speaking of sustainability, Sandmarc has also joined the Trees for our Future campaign which seeks to combat the climate crisis. In 2020 who doesn't love a company that fights for Mother Earth, right?
To increase the perceived legitimacy of Sandmarc just a little more, they've been positively reviewed by the likes of
PetaPixel
DPReview
Digital Trends
CNET
Today, Sandmarc has five different iPhone camera lenses. We've purchased all of them so that we can show you what they're all about. So, let's begin this Sandmarc lens review.
Comes with:
Wide Lens
iPhone case
Clip-on mount
Lens pouch
Front & back lens caps
Lens cloth
So, first thing worth mentioning with any of these lenses is that they will require a mounting system (included in your purchase). The mounting system is going to allow you to mount your new Sandmarc lenses to your phone's camera. Now, the R&D of these lenses created a mounting system for the iPhone's Wide and Tele lenses, but not for the Ultrawide lens (if mounting was included you'd see it because the Ultrawide's field of view is so large.).
Bummer, right? Wrong. Mount the Sandmarc Wide lens on either iPhone lens for a 2x wider capture. So, while you won't be able to add your new lens to your Ultrawide lens, you can create one by adding your Sandmarc Wide lens to your iPhone's wide lens. Then you can do mobile astrophotography with Apple's Night Mode with an Ultrawide lens!
Additionally, this 16mm Sandmarc lens is designed to add a phone camera lens filter to – 40.5mm step-up rings. Can you say super-wide smartphone long exposures?
The 0.56x magnification and 110° field of view is so impressive – you'll rarely go into nature or a city without it. Add in the fact that the Sandmarc Wide lens weighs in at 71g (case not included) and you have the recipe for serious competition for the Moment Wide 18mm Lens and Beastgrip Pro Kenko Series.
Let's learn more about the best wide lenses for smartphones in 2020!
Comes with:
Macro lens
Lens hood
iPhone case
Clip-on mount
Lens pouch
Front & back lens caps
Lens cloth
The 25mm 10x magnified Sandmarc Macro lens is less expensive than it's competition, so does it perform less too? No – absolutely not.
While the Sandmarc Macro Lens does have some issues (watch the video above for more information) it performed better than expected against the Moment 10x Macro Lens. No, Sandmarc doesn't have Moment's level of customer service (you've heard about Moment's lifetime warranty, right?). But, they do make some seriously impressive mobile photography lenses.
The 25.4 g macro offering won't feature offending vignetting and will produce crisp macro shots if provided the right lighting. From personal experience, the clip-on option is marginally better than the case. Normally I vastly prefer a mounted lens to a clip-on one, but the Sandmarc phone case doesn't lock the lens into place. The lens actually fell off the case once and I was seriously worried about a cracked lens. While the lens made it out in one piece, I'll live with the terror of that falling lens for the remainder of my days. I've never had such an issue with my Moment lenses and M-Series case.
Does smartphone macro photography sound like something you'd be into? Read all about mobile macro here!
Comes with:
Tele Lens
iPhone case
Clip-on mount
Lens pouch
Front & back lens caps
Lens cloth
Sandmarc's 60mm Tele lens gives you 2x optical magnification. So, if you have a multi-camera set-up like I do on my iPhone 11 Pro, then you'll have a number of new focal lengths with which to work. Add your new Sandmarc Tele Lens to the Wide Lens for 2x magnification and add it to the Tele Lens for 4x magnification.  The 48° field of view is pretty narrow, but that's the point of a tele, or telephoto, lens.
This lens is meaty, weighing in at 61g. While this doesn't compare to the weight of a traditional camera lens, it's still worth mentioning. Phone photography is about mobility, so any instance in which you're encumbered must be noted.
As is the case with most Sandmarc lenses, add filters to your tele by using steps to get the 40.5mm. With the right phone camera filter, you'll be taking beautiful beach photos of friends and family in no time!
Tele lenses are ideal for portraiture photography. Do you want to learn how to do it on your smartphone? Then check out the smartphone portrait photography guide!
Comes with:
Fisheye Lens
iPhone case
Clip-on mount
Lens pouch
Front & back lens caps
Lens cloth
Here's the thing about fisheye lenses – they're a bit gimmicky if used incorrectly. Their 5x ultra-wide field of view looks awkward in the wrong situation, so your fisheye is best used sparingly. That being said, if you're planning to pick up the whole Sandmarc line-up anyway, then the fisheye lens from Sandmarc will inevitably become your friend.
For example, the 10mm 0.2x magnified lens has become my filming lens because it gives me a unique look from my iPhone 11 Pro's front camera. To be honest, I didn't expect to even use it. While the selfie camera isn't as technically impressive as the rear ones, it has enough specs to produce Youtube worthy video even without the fisheye. By adding the fisheye I've created a look in our that not many people out there have.
So, what is a fisheye lens? Well, they've got a massive field of view – Sandmarc's is 210.° A fisheye lens effect creates a warped look in the center of your image. You know the black hole graphic right? For me personally, it's the best way to conceptualize what the fisheye effect looks like.
All in all, the multi-element and multi-coated glass in the Sandmarc Fisheye Lens is high-quality. The 25.4 g weight of the lens is comparatively pretty lightweight.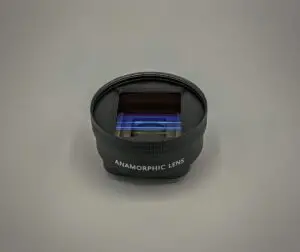 Comes with:
Anamorphic Lens
iPhone case
Clip-on mount
Lens pouch
Front & back lens caps
Lens cloth
Are you ready for cinematic video from your phone's camera? Well, a 1.33x smartphone anamorphic lens will give you that 2.4:1 cinemascope aspect ratio. Unsure what that means? Hollywood style wide-screen and Michael Bay inspired lens flares, my friend.
In an effort to provide additional creativity, Sandmarc also offers a 1.55x Anamorphic lens with a 2.75:1 aspect ratio. You won't need both lenses for your mobile filmmaking, so use this video to choose between the two.
The field of view for the two lenses is certainly impressive – 113° for 1.33x and 120° for 1.55x. As with multiple other lenses on this list, you can attach a filter to the lens via the 40.6mm outer thread (though you'll need the 40.5mm steps to attach it).
So, you've heard of the Moment Anamorphic lens being called the, "Holy grail of mobile filmmaking." Learn more about it, here.
Review of Sandmarc Lenses – Legit or Lacking?
Is Sandmarc better than Moment? How about Beastgrip? That seems to be the direction this post is going, right?
Do you feel like you should understand the differences between the various types of phone camera lenses a little better before purchasing? We do too. Give this a read to see the five types of lenses compared.
Well, I wish it were that simple. The mobile photography world is still young and these companies still have time to grow into themselves. For context, if you had asked me this same question a year ago, I would've answered in a heartbeat. Today, however, I can't give a simple answer. This Sandmarc lens review has unequivocally altered my opinion of the company.
Moment's M-Series mounting system is better than Sandmarc's – bar none. Sandmarc's lenses though are meatier and seemingly better constructed than Moment's. At the same time, depending on whose review you look at, the Moment M-Series cases are susceptible to breakage and the Sandmarc lenses have serious vignetting issues. While I came to neither of these conclusions – the opposite actually – it must be noted that these conclusions were reached by certain reviewers.
For me personally, Sandmarc lenses are legit. I viewed them as the ugly stepchild of the mounted mobile photography lens industry and upon further reflection, I have to admit that I was misguided. The result of this Sandmarc lens review is that I will be using a mix of Moment and Sandmarc lenses moving forward. To see the two compared frequently, stay tuned to our Instagram.