A mobile anamorphic lens is probably the best piece of mobile filmmaking gear one could purchase. While other lenses or a gimbal may help you on your quest for cinematic smartphone video, they won't give you the cinemascope aspect ratio or Hollywood-style lens flares that the Sandmarc Anamorphic Lens or the Moment Anamorphic Lens will.
But, what if you've decided that you're adding an anamorphic – you just don't know whether it'll be from Moment or Sandmarc. Don't worry – the video and this guide will help you decide! If you haven't made any decisions yet, the video and the whole Sandmarc vs Moment Series can also help with that.
Moment 1.33x Blue Flare Anamorphic Lens vs Sandmarc 1.33x Anamorphic Lens
View this post on Instagram
Now, before we get into the nitty-gritty of how we tested and compared the lenses head to head it's worth noting that these aren't the only mobile anamorphic lenses out there. Sandmarc and Moment are premium offerings, but they aren't alone in the category and there are some impressive budget offerings too. Learn more about our favorite smartphone anamorphic lenses here.
Both of these lenses are going to feature the same aspect ratio, though there is some discrepancy as to Sandmarc's 1.33x designation. In my research for the video, I can across this review by Atti Bear that explains, in no uncertain terms, that the Sandmarc Anamorphic Lens is not 1.33x, but 1.42x. As a result, if you don't have the high powered editing software to check and rectify this slight issue, then you're going to have warped footage because the desqueezing options in most mobile filmmaking apps are 1.33x and 1.55x.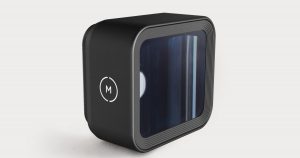 First thing worth noting in regards to the Moment Anamorphic Lens is that they recently introduced their Gold Flare anamorphic too. I only had the Blue Flare option, but if you want those lighter gold light hits instead of the harsh blue ones, then Gold may be the route for you.
Now, as far as mounting that anamorphic lens on your smartphone goes, Moment is going to make you purchase their M-Series Case. While they do offer a lens mount, the difference in cost is negligible and the performance of the case's bayonet lens locking system doesn't compare. There are negative reviews of Moment's phone cases out there, but I can't stress how good the three cases I've purchased have been.
In terms of the performance of the lens goes, the Moment Anamorphic Lens didn't disappoint. I tested the lenses during an early evening jaunt in a Denver snow flurry, so the ability to switch between the two lenses and cases was paramount. The Moment 1.33x Anamorphic Lens undoubtedly outperformed Sandmarc in this area (most likely due to Sandmarc sending us their old cases!).
In the lens flare area, however, the Moment Anamorphic didn't produce as natural a lens flare as the Sandmarc. The multi-toned look of Sandmarc's lens flares make it hard to pass up.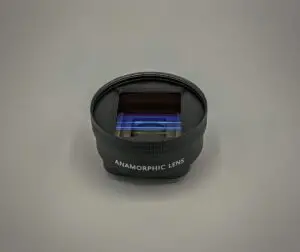 So, if Sandmarc's lens flares are superior, then this has to be an easy answer, right?
Wrong. Sandmarc sent the wrong phone case and that can't be ignored. Learn more about the Sandmarc Pro Case, though, because it does improve usability of the lenses because it doesn't take three minutes to screw in a lens. If the mounting system for a lens is so bad that it makes using the lens frustrating, then the lens is warranted, basically, useless. I'd love to edit this in the future and say that the Sandmarc phone case currently in my possession solves all these issues, but at this juncture that seems unlikely.
As previously mentioned, the aspect ratio of the Sandmarc Anamorphic Lens is under question as well. Now, in an effort for transparency, I didn't do all of Atti Bear's testing because I was convinced right away (now I can't unsee it actually). If you have the know-how and desire to fix the aspect ratio of all your smartphone anamorphic footage, then by all means go ahead. For me, it seems like a major pain.
Cinematic multi-toned lens flare aside, I'm going with Moment when it comes to anamorphic lens for your mobile.