Moment Lens Review On Google Pixel 4a With 5G
The Google Pixel 4a with 5G offers the flagship camera of the Google Pixel 5 in a budget package. Fortunately, Moment makes their M-Series cases for the Pixel 4a with 5G too which means there's a new opportunity to get into serious mobile photography (and maybe filmmaking) at a serious discount.
In this Moment lens review on Google Pixel 4a with 5G you'll learn about Moment and Google before exploring the differences between the Moment lenses by seeing example photos from each. Then, you'll get a brief explanation of what you should see so that you can purchase with confidence.
Photos With Phones is able to provide you with high-quality videos and articles only via funding from advertising and affiliate programs. We may receive a commission from products purchased from links on this page (at no extra cost to you). Thanks for your support!
Are Moment Lenses Good on Google Pixel Smartphones?
Moment makes the most widely usable mobile photography and filmmaking lenses. They're designed specifically to work with Apple, Samsung, Google, and OnePlus devices via Moment's dedicated M-Series Phone Case though Moment also offers a universal mounting option as well. While there is debate as to how well Moment lenses stack up against Sandmarc and BeastGrip, purchasing a Moment lens is purchasing a high-quality piece of gear that features a dedicated mounting option.
Learn more about the tech specs and mounting options by checking out the comprehensive Moment Lens Review video after watching the video above.
Is The Google Pixel 4a with 5G Camera Good?
For the money, the Google Pixel 4a with 5G camera is one of the best out there. That being said, there are some under some underwhelming things to consider. These include:
A heavy reliance on software that causes usability issues at times (namely color accuracy when quickly shifting or switching lenses, lack of control in all modes, and an annoying interface between the camera app and Google Photos)
Poor video performance is clear with the high presence of ISO especially in moderate low light
Android has a lack of reputable apps that allow the user to take full control of the smartphone camera
Reviewing Moment Lenses on Google Pixel 4a with 5G
DO NOTE – you can only mount Moment Lenses on the main camera on the Google Pixel 4a with 5G, not the ultrawide
The Moment 18mm Wide Lens increases the field of view of the main camera on the phone by 0.62x, or approximately 50%. The effect of the Moment 18mm Wide Lens is noticeable albeit not glaringly so compared to other options from Moment. The Google Pixel 4a with 5G does include the Pixel 5's ultrawide camera but Google's software causes color accuracy disparity between the two lenses so I rarely even use Google's ultrawide. Instead, I use this Moment Wide Lens to get a similar result with more accurate color.
Moment's 58mm Tele Lens provides a narrower field of view by including 2x optical zoom when mounted on the Pixel 4a with 5G's main camera. In addition to that increased optical zoom, the Moment 58mm Tele is supposed to increase the bokeh and depth of field in your images. This means that the subject of your shot will appear closer to the background while everything but the subject is shrouded in a nice bokeh blur. In practice, the Moment 58mm on the Google Pixel 4a with 5G doesn't really show increased bokeh or depth of field unless in Portrait Mode. It is also worth noting that the user has to be 7.25″ away from their subject to achieve minimum focus on this lens, which in practice is seriously unfortunate.
Before I had all the Moment lenses, I figured the fisheye would be the one that I used the least. In actuality though, the Moment 14mm Fisheye Lens may be my most used one – especially for shooting Youtube videos. The fisheye effect in this lens is clear, but not as blatantly distracting as others fisheye lenses for smartphones. In fact, I quite like the look of Moment's 14mm Fisheye as a chance to truly provide a sense of scale in magnificent locations or as a more interesting looking vlogging lens. In addition, it also has some usability in close range because the working distance is 0.6″ which creates an indescribably cool look.
The performance of Moment's 14mm Fisheye on Google Pixel 4a with 5G was impressive, especially for photos. In certain cases when shooting video with this fisheye on the Pixel 4a with 5G, clarity towards the edges of images can become compromised.
Google's software made using the Moment 10x Macro Lens in the Google Pixel native camera a massive pain. That being said, the results I got using the Google Pixel 4a with 5G with the Moment 10x Macro were possibly the most impressive of all. Google did introduce the ability to lock focus and exposure in recent releases which does improve the process of using macro lenses with Pixel phones. That being said, even with focus locked in the native camera app getting and keeping focus was a serious challenge.
Check out this Instagram Reel about the potential of the Moment 10x Macro Lens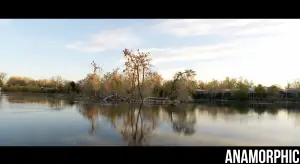 Anamorphic lenses are designed for mobile filmmaking so the above is a screenshot from the Youtube video where you can see the widescreen black bars they create. In addition to the black bars, under the right lighting scenarios you'll also get Michael Bay style lens flares. In some cases I find these lens flares to be very harsh,
You'll need to shoot your video in an app which desqueezes the footage for you too. To explain, you camera is really capturing the image above without the black bars and an app is squeezing the footage from the 16:9 aspect ratio to the 2.40:1 one that the anamorphic creates. To my knowledge, the only option for desqueezing anamorphic footage on Google Pixel 4a with 5G is the Filmic Pro app which is heinously expensive ($15 base price plus an additional $15 for the cinematographer's pack). If you know of any other options for desqueezing anamorphic footage on Android then let me know about them in the comments so that I can share that information with others!
Consensus – Moment Lens Review on Google Pixel 4a with 5G
When it comes to mobile photography with Moment lenses on Google Pixel there's little not to like. Google's camera software produces crisp shots while Moment's lenses change the focal length of the main camera in a myriad of ways. In choosing the Google Pixel 4a with 5G over the Pixel 5 you'll also get the same camera at a fraction of the cost and you can use the money you saved to fill out your Moment lens bag.
Are you impressed by the Google Pixel with Moment lenses attached? Let's discuss the results below in the comments.