If you're a mobile filmmaker like me, then you know the difficulty in choosing between the best options on the market. While Filmic Pro is the industry standard, Beastcam and Moment Pro Camera have their merits too.
But, which should be your everyday shooter? We'll go over each of the three and then explain why we use the mobile filmmaking apps that we do.
Comparing Mobile Filmmaking Apps
Before we get into this, let me just say that I use a combination of apps on a daily basis depending on what it is that I'm doing. Stay tuned until the end to see which apps I use in which situations. My favorite mobile filmmaking app – the one I primarily go with – may surprise you!
Filmic Pro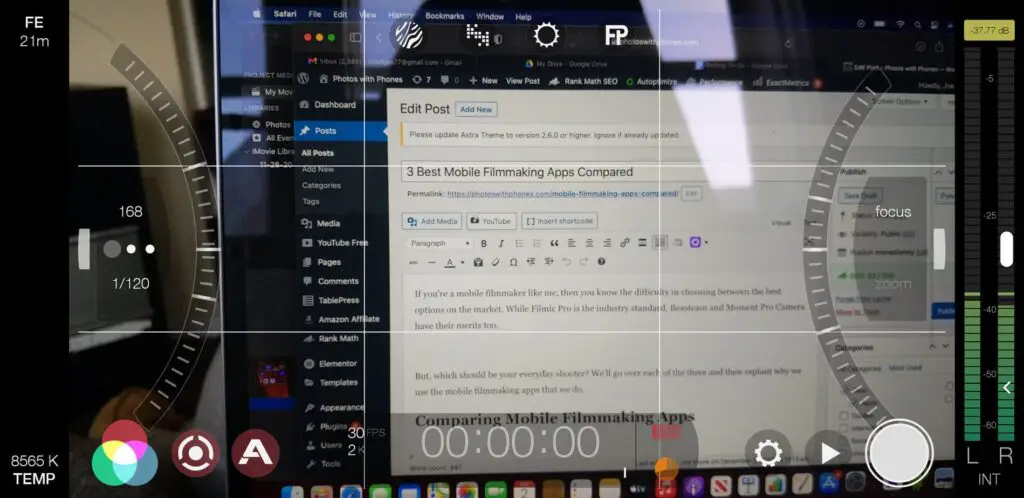 Filmic Pro app Price: $14.99 on App Store (additional purchases available)
Download Filmic Pro app on iOS
Filmic Pro has been the go-to mobile filmmaking app for quite a while now. But, is it competitive enough to retain it's staying power? And, at more than $30 for both the full mobile video app and photography app is Filmic Pro worth it?
Now, if you're not into mobile photography, then you can skip the Filmic First Light app at $8. But the base Filmic Pro app is $14.99 and to add the cinematographer's pack that makes Filmic Pro stand out from the competition is another $13.99.
Did I mention that the reviews of the app on the iOS store are shockingly mediocre for the price point? And, in my own personal experience, I can see why. I experienced numerous issues recording audio and with files becoming corrupted. In truth, I haven't used Filmic Pro in months because the issues were so bad that it made mobile filmmaking no fun anymore. There was a time when this app was the greatest in the game, but those days are long gone now.
Pros
Multiple color profiles
Extensive manual control (focus, exposure, frame rates, zoom, ISO
Effective visual analytics (zebra stripes, false color, focus pulling)
Cons
Super expensive
Multiple buy-in options
Mediocre reviews
Issues with corrupted files
Audio recording issues on Android (specifically Google Pixel 3a)
App Features Include:
Multiple shooting modes – one for any skill level

Easy-sync audio at 24, 25, 30, 48 50 and 60 fps.

Depending on the phone, shoot in 60,120, 240 fps (NOTE – my Pixel 3a could only capture 24, 25, and 30 fps in the app so do you research!).
Enjoy support for Apple Watch – start, stop, and preview recordings

Shoot both vertical and horizontal video

Time-lapse capability

Tri-mode histogram is a nice touch that stands out against the compeititon

Settings for image stabilization

Customize multiple shooting presets for efficiency when 

filming
Multiple compositional overlay guides
Consider FiLMiC Remote instead of a bluetooth camera remote
Manual control for:

Exposure

Zoom

ISO

Shutter Speed

Focus
Beastcam Pro Camera
BeastCam Pro Camera app Price: $4.99 on App Store
Download BeastCam Pro Camera app on iOS
If you want manual control over both photo and video with no lagging, corrupting, or anything remotely similar, then Beastcam Pro Camera app from Beastgrip is for you. In almost six months of shooting on Beastcam, I have not had a single instance of a lost file. Can any other third-party mobile filmmaking app make that claim?
In my experience, not a damn one but Beastcam. While it lacks the LOG color profiles, time-lapses, and other frills this app is undeniably reliable and, in my opinion, is more user-friendly than the competition. If you're on the fence about which is the best mobile filmmaking app, then I would recommend going with Beastcam for the sake of your sanity.
Pros
Manual photo and video capability in a single app
DOF adapters allow you to attach traditional lenses to your smartphone
Multiple stabilization options (lag present when in effect)
Quickly change frame rates, aspect ratios, and more
No bugginess
Intuitive setting adjustments
Effective organizational tools
Easily navigable user-face
Cons
No time-lapse capability
No color profiles to choose from
No slow-shutter
Expensive for no bells and whistles
App Features Include:
Hardware attaching (DOF adapters for traditional lenses and anamorphic lenses)
Image/video stabilization
Compositional guides
Dedicated lens switch tab
Different frame rates, resolution, and export qualities
Extreme audio control
Complete external flash dimmability
White balance
Focus
Magnification
ISO, Shutter Speed, and SE (combination setting of the former and latter)
Presets
Timer
Multiple aspect ratios and file formats
Moment Pro Camera
Moment Pro Camera app Price: $4.99 on App Store (additional purchases available)
Download Moment Pro Camera app on iOS
If you're a phone photographer or a phone videographer, then you have to consider the Moment Pro Camera app.
You know about Moment, right?
Because they're phone videographers and photographers they developed an app for mobile creators, by mobile creators.
They've got tools for both photo and video that are easy to use and provide professional results.
Note – not still developing for Android.
While the Moment Pro Camera app packs a lot of power into a cost-effective app by way of photo, video, slow shutter, and time-lapse features if you purchase all the in-app stuff. I recommend doing this as in my experience the slow shutter and time-lapse features are the most useful of the whole app.
When I purchased Moment Pro Camera, I was most excited about the LOG color profile. Shooting in LOG allows for more post-processing power – sort of like the video equivalent of RAW. What I found however was that my footage was always corrupted when shooting in LOG on the Moment Pro Camera app. It's tough to have a positive comment about an app that fails to do what you were most excited about it doing.
The reason that I do mention that the app is worth purchasing is the slow shutter and time-lapse modes. The slow shutter mode is great for light painting and long exposures – the professional level controls facilitate a higher-quality result than the native camera's Live Photo trick. The results that you'll get for $8 are well worth the price.
When it comes to time-lapses, Moment Pro Camera performs better than the native camera too. While the time-lapses in the native camera are acceptable, they're missing the motion blur created by real time-lapses (i.e. taking one step at a time, taking a photo, and then stitching it all together). Moment Pro Camera adds this motion blur and the final product is much preferred to that of the native camera app.
Pros
Photo and video support with single payment
Cost-effective compared to the competition
Multiple color profiles
Extensive manual control (focus, exposure, frame rates
Effective visual analytics (zebra stripes, false color, focus pulling)
Competitive app support
Cons
Relatively expensive for an app
Multiple buy-in options
Performance is spotty
LOG color profile
App Features Include:
Manual controls for photo and video
Improved video to native camera app
Long exposure capability (Motion Blur + Light Trails)
Timelapse mode with epic motions blur
Slow Shutter mode which gives you full manual controls for long-exposures
Focus peaking, false color, and zebra stripes
Support for RAW and TIFF files
Burst mode
Color Profiles designed for film
RGB and Histogram