Steven Soderbergh shooting Hollywood feature films on his iPhone is your inspiration, and now you want to do the same thing. But, where to start? What are frame rates? Do you need any additional gear?
Mobile filmmaking 101will answer all these questions and more. I've been doing this for a while, so let me get you primed for your journey as a mobile filmmaker in a way that I never was.
The Differences Between Traditional Filmmaking and Mobile Filmmaking 
Filming the Steven Spielberg or Wes Anderson way is undoubtedly different from grabbing a smartphone and getting creative with it. Still, this doesn't mean that the latter is less artistic than the former. 
In fact, mobile filmmaking can be the perfect entry point for an aspiring filmmaker or even as an additional tool for a veteran. 
Here are some of the differences between the two methods. 
The gear used in traditional filmmaking is complicated, bulky, and mostly expensive.  The gear for mobile filmmaking is the phone in your pocket and maybe a few extra pieces of gear.
A large number of trained crew is needed to operate the various equipment. While significantly fewer people are needed in mobile filmmaking. 
Shooting in public spaces requires meticulous preparation, permits, insurance, and huge setups. That's not the case if you're shooting on a smartphone. 
The small size of the mobile allows it to access spots that are practically impossible with the large cinematography cameras.
The time needed to shoot a single scene using traditional methods exceeds that needed for mobile filming. 
The overall cost involved in traditional filmmaking far exceeds that of mobile filming. 
Is Filmmaking All About Your Gear? 
"The gear never matters, tell a great story, tell a great story REALLY well, and people will forgive whatever gear you shoot it on."

Casey Neistat
No one can deny the importance of super-technology and mega-rigs in creating the stunning movies we enjoy on Netflix and Hulu. However, bear in mind that some of the greatest films of all time were made with modest equipment compared to what we have today. After mobile filmmaking 101, you'll find yourself with all of the technological tools to pull off a great story.
Your favorite movies aren't dependent on professional cameras, and in fact, the way you move the camera is far more important than its tech specs. And along the same lines, the cuts and transitions from one scene to the next can make or break a movie. 
Filmmaking is the art of telling stories, and that's on what you need to focus. Gear comes secondary – ALWAYS. 
Mobile filmmaking is more cost-effective, with impressive results that are only improving. A top-grade cinema camera can cost upwards of $50,000, and the results are only marginally better.
How to Make a Movie with Your Smartphone 
Filmmakers have been making movies on smartphones for almost two decades now. Most of them agree that the basics are the same: pre-production, shooting the film, and then post-production. 
The main difference between traditional and mobile filmmaking lies in the basic material requirements needed to start. When it comes to everything else associated with mobile filmmaking, 101 experience is the best teacher, so the more movies you make, the better you'll get.
Preparation is the key to the success of any project, and making movies is no different. Planning the gear that you need for your project is essential. Choosing from the list below will ensure that you're getting the right stuff.
Focal Lengths for Smartphone Video
One of the most significant differences between traditional and mobile filmmaking is that the former offers adjustable focal lengths, whereas smartphone focal lengths are fixed. That being said, many newer smartphones feature multi-camera set-ups that include multiple focal lengths. For example, my iPhone 11 Pro features a 13mm ultrawide (0.5x), a 26mm wide (1x), and a 52mm tele (2x) in its triple-camera set-up.
In addition to the possibility of a multi-camera set-up on your smartphone, you can add lenses to your mobile for more focal lengths. In both our Moment Lens Review and Sandmarc Lens Review, you can better understand the differences in focal lengths made possible by adding these lenses.
Frame Rates for Smartphone Video
When it comes to frame rates for video, there are two essential things to note:
Choosing frame rate for smartphone videos

24/25 frames per second – in the U.S. videos are shown in 24 fps and everywhere else its 25 fps but the point is that 24 or 25 fps is the most authentic frame rate to what the human eye sees. As a result, most movies are shot primarily in this frame rate.
60 frames per second – this frame rate offers the most possibilities as you can slow the video down slightly (max 40%) or use it as is and it retain audio with a slightly dreamlike feel. Be cautious with 60 fps in your smartphone videos though because in my experience the results aren't as great as expected.
120/240 (or more) frames per second – slow motion reduces camera shake – especially for smartphone macro films – and most smartphones offer a 1/4 and 1/8 speed options albeit at 1080p resolution as opposed to 4k or 8k

Achieving authentic motion blur in videos on your smartphone – while the native camera app on your phone is good, taking extra control can be beneficial. The best of example of this in smartphone video is with shutter speed and the 180-degree rule. To explain, the most authentic and natural motion in mobile video – achievable by using one of the third-party apps discussed below – occurs when the shutter speed of the camera is 2x the frame rate.

24 fps – 1/48 shutter speed
60 fps – 1/120 shutter speed
240 fps – 1/240 shutter speed
The Best Mobile Filmmaking Gear 
Here's a round-up of the possible gear with which to jump-start your mobile filmmaking journey. In each section, I'll share just how necessary the piece of equipment is and provide options at a variety of price points.
Smartphone   
Get real – any phone will do. That being said, if you're in the market for a new smartphone, then these are the mobiles with the best video capability. If you can't afford a new smartphone, though, don't fret. Here are some impressive options that are a little older.
The newest Samsung S-Series smartphone comes with loads of mobile photography and filmmaking features. From the extra powerful 108MP camera to the 8k video capture capability, the Galaxy S21 Ultra 5G is arguably the best option on the market for mobile content creators. 
I realize that the iPhone diehards will point out the Galaxy S21 Ultra 5G shortcomings, and they aren't wrong. The iPhone 13 Pro Max is the best performing smartphone for photos and videos for a reason. The Galaxy S21's 108MP primary camera and 8k video capability are technically superior to the iPhone's 12MP primary camera and 4k video capability. Still, for someone that does substantial photo and video shoots, there's no comparison. The impressive tech specs of the Galaxy S21 come at a cost, and that cost is efficiency. Load times and lagging are an issue when shooting for long periods with the Samsung Galaxy S21, whereas the iPhone 12 Pro has no such problems.
The Galaxy S21 Ultra 5G has storage options of 128GB, 256 GB, and 512GB with a 6.8″ screen and weight of 8.08 oz. The Octa-core 2.84GHz CPU that comes standard features impressive AI for an optimal user experience too. The 120Hz screen resolution is great for editing photos and videos too.
In terms of cameras, the most impressive is the wide-angle 108MP with f/1.8. While the rest of the rear cameras aren't nearly as sharp, they're comparable enough to the newest iPhone, and the dual-telephoto set-up is definitely nice to have. The 3x 10MP telephoto features f/2.4, while the 10x 10MP telephoto features f/4.9, so you'll also notice a varied bokeh and depth of field compression. The ultrawide is 12MP with f/2.2, which isn't anything to write home about. The 40MP front camera, on the other hand, blows the competition out of the water, so if you record videos from your front camera frequently, then the Galaxy S21 Ultra 5G is worth a look.
The Galaxy S21 Ultra 5G also boasts a 5,000 mAh, which means that you can shoot for days without a charge. However, it is worth noting that Samsung is no longer offering an SD card slot, which is a big bummer for some users.
As good as the introduction of the triple camera set-up was with the iPhone 11 Pro, Apple has significantly upped the bar for mobile filmmaking with the iPhone 13 Pro Max. Increased bitrates plus a LiDAR Scanner, which improves low-light performance, and a faster A15 Bionic chip in tandem with a new image signal processor made what was good, great. Add in Macro and Cinematic Mode, and you have the best all-around smartphone for mobile filmmaking.
The HDR Dolby Vision introduced in the iPhone 12 Pro also improves color accuracy compared to the iPhone 11 Pro. The improved processer in the iPhone 13 Pro Max takes the color accuracy up yet another notch. With all of these impressive tweaks, Apple did nothing to the hardware of its triple camera set-up. You'll still get three 12MP options – a 13mm ultrawide, 26mm wide, and 77mm tele. After reading about the tech specs of the Samsung Galaxy S21 Ultra, the iPhone 12 Pro specs may sound underwhelming. But don't fret – the results are anything but underwhelming.
And, perhaps the most significant positive about choosing iPhone for mobile filmmaking is the iOS apps – both for shooting and editing.
You can get this 6.7″ 8.46-ounce behemoth in 128GB, 256GB, 512GB, or 1TB, which is an impressive array of storage options. Per usual with iPhones, the 13 Pro Max is rated IP68, which means it can be submerged in water at a maximum depth of 6 meters up to 30 minutes. To be honest, though, I haven't tested my IP68 rating because it's a very expensive phone.
In terms of the cameras, the 77mm 3x telephoto features ƒ/2.8, the 26mm 1x wide features ƒ/1.5, and the 13mm 0.5x ultra-wide features ƒ/1.8 and 120° field of view. While these three 12MP cameras don't jump off the page, they feature an impressive 6x optical zoom range and 15 digital zoom potential (though we recommend not using digital zoom).
Night mode on the 13 Pro Max also works with portraits now, thanks to the improved LiDAR Scanner. You'll also be able to capture impressive 63MP panoramas.
Your photos will pop more than ever before, too, thanks to Smart HDR 4 and Apple ProRAW. The former improves the dynamic range of your shots while the latter finally allows iPhone users to capture in the coveted RAW files format that's so important for photo editing. The last thing I'll say about photography on the iPhone 13 Pro Max is in regards to Apple's new Photographic Styles. This new feature allows you to save your shooting preferences to shoot in your desired look instead of having to add it afterward.
Now, let's talk mobile filmmaking 101 again. The new Cinematic Mode is for recording videos with shallow depth of field, and I was super excited to try it. Once I found out that it only worked in 1080p at 30 fps, though, I was understandably disappointed.
On the other hand, I was immensely impressed with the HDR video recording with Dolby Vision up to 4K at 60 fps. I typically shoot in 24 or 120 fps, but the ability to shoot HDR video in 60 fps may change that. You also have ProRes video capability up to 4K at 30 fps (or 1080p at 30 fps for 128GB storage) which is impressive.
The less than impressive hardware shines most in video thanks to dual optical image stabilization in the telephoto and wide cameras. You'll also have sensor‑shift optical image stabilization with the wide.
Digital zoom in video mode is limited to 9x, but the nifty introduction of audio zoom is excellent for mobile filmmaking.
Per usual with iPhones, slo‑mo video options work in 1080p at 120 fps or 240 fps. You'll also have time‑lapse video with stabilization and a new night mode time‑lapse feature. Pro-tip, though, Andy To doesn't use Apple's timelapse feature.
Another fantastic choice that's not quite as well known as the big two above is the Sony Xperia 5 II. If you know traditional photography, then you know Sony. What you may not have known until now is that Sony makes smartphones with impressive cameras. It has incredible audiovisuals, easy-to-navigate menus, and amazing Lecia cameras. Lecia is a traditional photography lens producer, and their lenses are notoriously good. It's a total workhorse that's resistant to water and dust, and its battery lasts forever too. 
The prices of the big guys are well north of $1000, while the Sony comes at a more moderate price point of about $800 (though Sony makes other more impressive options too). If you're looking for something a little less expensive with a little less remarkable camera, then check out the Motorola Edge+.
The triple camera set-up on the Sony Xperia 5 II features ZEISS lenses and Real-time Eye AF, the combination of which creates easy-to-capture yet super high-quality results. The Xperia 5 II also allows 4k capturing at 120 fps which is simply unheard of on smartphones.
The 240Hz screen is also ideal for editing your mobile films straight on the phone.
Because of Sony's history with traditional cameras, this phone also features advanced pro controls and RAW file capture capability. The cameras feature larger sensors and faster processors than the competition, which allows them to capture impressive low-light shots.
In terms of mobile filmmaking features, the Xperia 5 II boasts a Cinematography Pro mode which, according to Sony, is "powered by CineAlta." You'll also love Sony's intelligent wind filter when recording in the wind as it will cut the white noise and leave you with better audio.
This particular Sony smartphone comes with improved colors gradation at 10-bits. The phone is constructed with Corning Gorilla Glass 6 and is IP 65/68, making it water-resistant. With a 4000mAh battery and fast USB PD charging, Sony doesn't win any battery life awards, though. The only storage option available with the Sony Xperia 5 II is 128GB with 8GB of RAM, so you'll need to frequently offload footage to shoot your mobile film in full.
That being said, the impressive Qualcomm Snapdragon 865 Processor combined with Sony's SteadyShot with 5-axis stabilization makes the Xperia 5 II the first Sony phone to really compete with the likes of Samsung, Apple, and Google for mobile filmmaking.
Sound
Filmmakers, vloggers, and videographers all agree that the most cinematic shots and engaging sound design are useless without good audio. We're always trying to optimize sound quality, and this starts with your microphone. 
If you can afford to purchase any gear from this entire guide, it should be a microphone. The native audio on your smartphone is really not good enough to use in anything other than home movies. Below, you'll find microphones for smartphones – both iPhone and Android – at a variety of price points to satisfy all levels of mobile filmmakers.
Want to learn more about audio and mobile video? Check out our guide to smartphone microphones.
Types of Microphones for Smartphones
Shotgun mics – the kind of microphone that attaches to the camera and captures everything in its path. If you're filming run-and-gun style stuff or vlogging then this is undoubtedly the best type of mobile microphone for you. I find that shotgun mics are fairly useful for capturing the sounds of your setting too which can improve the sound design of your mobile film immensly. In my experience, investing in a windcat can greatly improve audio in windy conditions.
Lapel mics – the kind of microphone that attaches to your shirt collar. If you're filming interviews or talking head stuff from a stationary location then a lapel microphone may suit your needs. In my experience, a bluetooth offering is prefered as the wires can get jostled and affect sound quality if you aren't careful. I had a lapel microphone and eventually found myself prefering to use a more-professional shotgun microphone at all times.
A lavalier lapel mic is an absolute necessity for certain types of shooting but refer to the types of microphones section above to ensure it's best for you. This PowerDeSire Mic is wired and must be placed as close as possible to the actor's mouth. The result is that you get a pure signal that's mostly free from distracting noises. 
It comes with a few limitations, though, as you need to hide the clip-on mic and the wires from the camera. Don't worry, though – good framing and some tape can achieve that. In addition, this arrangement works best when there's only one actor in the scene, or you'll need additional mics and/or phones.
This no-frills Neewer shotgun mic comes with mounting, Android and iPhone compatibility, and a windshield and foam cover. While there are other better shotgun mic options out there they're over 4x the cost and come with less. I purchased this shotgun mic for my iPhone 11 Pro and was so impressed with how well it performed for the price that I wrote a whole post about it.
Shure is the pinnacle of audio and their MV88+ video kit is dedicated to to mobile filmmaking as it comes with everything you could possibly need to get started the right way – Android and iPhone compatible cables, a mini-tripod, a microphone mount, and a universal smartphone mount.
This Rode VideoMic Pro+ microphone I use attached to my iPhone 11 Pro and iPhone 13 Pro Max for our Youtube videos and I've been impressed so far. I was using the Neewer CM14 Shotgun Mic and this offering from Rode has provided much more control which results in an easier editing process. If you do decide to purchase this smartphone microphone I would recommend experimenting with the decibel settings to find which is best for your needs. I find that in different environments (i.e. inside vs outside) employing different settings leads to drastically different results.
This offering will require the purchase of an additional adapter cable to use with a smartphone.
Stabilization 
Shooting a film requires total stillness at times, with the camera fixed on a tripod. At other times, however, you'll need to be running around with the camera, shooting all sorts of action sequences. In both cases, the camera should be steady and completely stabilized (except sometimes when you want a handheld look). Your options for smartphone stabilizers are, in order of every day usability, as follows:
Tripod – the most commonly known way to stabilize a camera. Tripods come in a variety of shapes and sizes – from bendy-legged vloggings ones to super-stable ones designed for higher winds. Choose the kind of tripod you want carefully as some are utterly useless in certain circumstances. You can always use a camera arm and a universal mount to make your tripod a little more versatile. If you want more tripods after consulting this list then consult this more thorough tripod-only list instead.
Gimbal – this is how you get buttery smooth movement in your smartphone films. Yes, walking as carefully as possible – sometimes called a ninja walk – eliminates some vibrations from your video, as does shooting in slow-motion. But, sometimes you need to move at a faster pace and capture audio – enter the gimbal stabilizer. Think of this piece of gear like a tripod, a motor, and a level all rolled up into one. All you have to do is put your phone in the mount, balance the gimbal, and then shoot as normal. Voila, stable video.
Slider – while this piece of gear is cool, it's not very useful aside from its very dedicated purpose – it slides. Most options will come with some sort of app or controller that allows you to set the pace and distance of the slide so that you can focus on directing.
You can easily mount your smartphone on this UBeesize tripod, and adjust its height to the level you need. The handle allows you to move the mobile camera vertically or horizontally, as well as to tilt it in a variety of angles. You can flip the phone into a portrait or landscape position in a giffy to suit your scene requirements. 
This tripod is perfect for indoor or outdoor usage, and it folds into a much smaller size that can fit easily in a backpack. It's a lightweight prop that complements the portability of your smartphone.   
OSMO gimbals were always the leader of the pack in the motion stabilization category. And their newest gimbal, the DJI OM 4, is surreal in its capabilities. Starting with the three-dimensional shock absorption, that keeps your videos smooth and free from jitters.
With the magnetic snap-on feature, you wouldn't waste anytime at all fastening your phone to the gimbal. And its versatility continues with the handle that converts into a tripod for capturing still sequences. 
In addition to the active tracking, gesture control, and dynamic zoom with its signature 'Hitchcock effect'. 
Sometimes, there are nooks and crannies that can only be accessed if you bend or kneel too much. 
In such cases, using a remote controlled device can extend your reach. This dolly slider from Zecti can move smoothly in neat lines or follow a curved path. It could also reverse its direction, pause, or slow down.   
Lenses and Filters 
Mobile phones often come with powerful cameras. But a lot of their capabilities are digital rather than optic, which poses some limitations on the final image you get. The newer phones are constantly trying to overcome these setbacks, and some provide extra lenses for a more wholesome visual experience. 
Having a few lenses in your toolbox is a sure way to convert an ordinary scene into a cinematic one. Anamorphic lenses are particularly important for achieving that. 
Filters are also pro tools that add purity and reduce noises from a shot. It's a lot like wearing sunglasses to see better out in the glaring sun. 
The Neovu is a true cinematic lens that shoots in the format of ultra-widescreen at 2.76:1. This is what we often see when we go watch a movie. You can record in 4K with that attachment, and it would catch every bit of data in the scene. 
This lens is compatible with most smartphones, as well as tablets, and similar devices. But you'd need to install a videography app like FiLMic pro to work with it. 
Beastgrip is among the best brands you can use. And this lens works with the 2.4:1 aspect ratio in video, which is also a filmmaking necessity. Their 1.33x M-Series anamorphic lens is designed for a dramatic feel, wide field of view, sharp details, and unique perspectives. 
It's commonly used in iPhones, but there are twin models for Android. The Moment Gold Flare Anamorphic Lens has similar attributes, and it can be used with most smartphones. Both lenses have the same price and general quality.
Working outdoors means facing the sun, and that's not a particularly amusing situation for any camera. You often get over exposure and blurred details. This filter is perfect for reducing these unwanted effects. 
A Moment filter mount might be necessary to attach this filter on your mobile phone lens.
Light 
The three-point lighting technique used in traditional filmmaking still holds in mobile phone filmmaking. However, the size of the lights, their powering up, and their placement differs a little. Also, when using mobile phones, it's best to utilize natural lighting as much as possible. 
And here's a pro tip: always light up your scene more than what you think is sufficient. This results in a detailed image devoid of grain which results from high ISO. You can adjust the brightness and saturation levels while editing in post but it's always best to get your lighting correct while shooting.
Aputure AL-M9
This twin-light set-up from Neewer is capable of much more than just adding extra brightness. You can use it to set the mood and even some visual effects to the scene. You can adjust the color temperature from too cold to extra warm, and the brightness from near dim to glaring.   
The SAMTIAN 600 LED Video Light is suitable for your 3-point set-up, and it's adjustable in every way. It has a battery pack in addition to the mains cable, so you can use this rig indoors and outdoors. While the initial purchase of the lighting setup is expensive, you won't need to purchase any additional lights for quite awhile.
A close up might not need the elaborate lighting of the previous set-ups – a properly placed ring light will give you the right amount of light for the shot. This Movo Desk Ring Light set-up is very similar to what I started with. You have to start somewhere, right?
I can't think of anything more versatile than a light that you can attach anywhere and all the Ulanzi RGB Light requires is a 1/4″ mount. It's compact, bright, and adjustable all at an incredible price.
Processing and Storage 
If you're shooting a short, you might not need extra devices at all. You can do the necessary processing, editing, and storing all on your phone. 
However, a film that's longer than 10 minutes, will likely require a bit of extra processing help from a PC or laptop. For reference, videos on our Youtube channel are edited on my laptop with Final Cut whereas videos on our Instagram are edited on InShot with my iPhone 11 Pro. If you're shooting in 4K, then most likely you'll need external storage as well. If you're shooting in 8k like you can on newer Xiaomi, OnePlus, and Samsung devices then you definitely need extra storage.
Filming and Editing Software 
The native apps on your phone are often sufficient for filming and editing. But sometimes a bit more glam is needed, or an extra lens requires specific software. In that case, you might need to install an app or two.
In terms of actually shooting your movie, there are really three options available to you outside of the native camera app – Filmic Pro, Moment Pro Camera, and BeastCam. Each of these third party apps for mobile filmmaking have their pros and cons but all are preferable to the native camera app when shooting a movie on your phone.
As previously mentioned, quality audio is imperative and perhaps the biggest plus to shooting on one of these three apps is the improved audio control. In addition, all will offer traditional visual analytics (i.e. Zebra Stripes, Focus Peaking, and False Color) in tandem with a full suite of manual camera controls.
All that being said though, Filmic Pro only offers base manual video control for $15 ($25 more for the additional cinematographer's pack and ability to take still photos), BeastCam offers basic but reliable manual control for photo and video for $15 (but frequently heavily discounted), while Moment costs the least at $4.99 for photo and video control with the option to add slow shutter and timelapse modes to the app for nominal fees.
Filmic Pro offers the most legitimate LOG color profile (similar to RAW files for photography in that they contain substantially more information to play with in post), while Moment claims to offer LOG and FLAT color profiles, and BeastCam offers no color profiles. In this Youtube video however, it's pretty clear that Moment's LOG color profile isn't even close to the quality of Filmic Pro's LOG. For Android filmmaking do note that Filmic Pro is the only option.
In terms of editing your mobile film on your phone, the options available to you aren't quite as useful. Editing a video, in my opinion, takes more skill than shooting the video and also requires meticulous organization. The timeline for your video will end up being massive as you cut and trim clips, adjust audio levels, and add sound effects and music. When editing video on a smartphone there isn't an option on the market right now that provides the same depth of timeline building that Final Cut Pro or Adobe Premiere do, but there are still options with which you can learn.
In the beginning, I edited a lot of videos on my phone because it's what I had. From there I upgraded to iMovie and now Final Cut Pro but the lessons I learning in the beginning still drive every edit I do.
My favorite options for smartphone video editing are iPhone and Android compatible and include:
The Final Bell – Mobile Filmmaking 101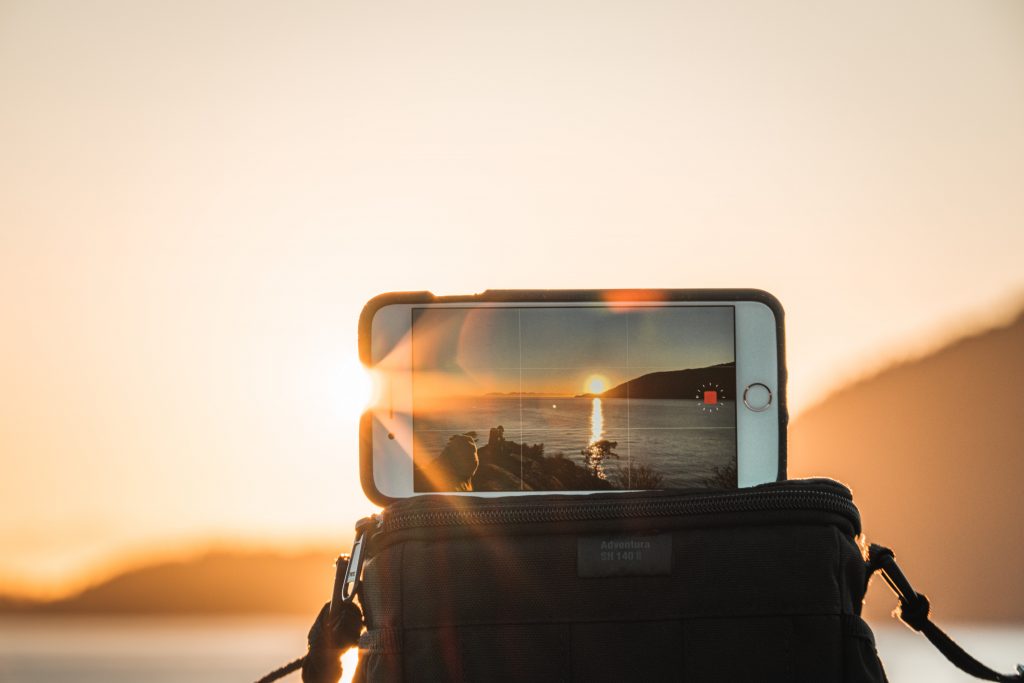 Making a movie is daunting but is something more accessible than ever before. Telling stories that inspire and engage isn't impossible – in fact, mobile filmmaking really requires just the smartphone in your pocket.
Filmmaking is far more accessible today than ever before, and with every new movie you create you'll find your voice and sharpen your style. Do you think you have what it takes to be a mobile filmmaker? Let me know in the comments section below what type of content will help you say yes!