There are certain companies in every industry that move the needle. In the world of photography, Peak Design is such a company. In our totally non-biased opinion, Mobile by Peak Design showcases the company's propensity to push the envelope in the tastiest way.
This ecosystem of mobile accessories aims to rid the world of all the competition – R&D at Peak Design has had this baby in the oven for four years. They've been meticulously researching and methodically testing until they were ready to share their creation with the world. It'll be available to the masses in Spring 2021.
Well, Peak Design Kickstarter #10 is finally here, and it's for mobile. Let's see what it's all about, shall we?
Peak Design Mobile
So, what's a mobile ecosystem? Well, that's a fair question first off. The idea behind Mobile by Peak Design was creating a product that took care of all of your needs- similarly to how a healthy forest ecosystem has everything a squirrel needs.
Do you want a bit more information about Peak Design? Then watch this video from 2014.
Now, this mobile ecosystem from Peak Design features several different moving parts, each with varying degrees of usability. I'll go over all of them in more detail below. The idea, though, is that you'll never need another mobile accessory.
The Everyday Case
In my experience, the Everyday Case is the high point of Mobile by Peak Design. The SlimLink design – really just means super-skinny 2.4mm profile – certainly makes the phone feel smaller than it normally does.
While this is nice, the phone does not feel very well protected while in the Everyday Case. Protection, though, is not the name of the game for the Everyday Case. It was made to be the secret sauce of the whole mobile ecosystem, and it doesn't disappoint.
Behind its nylon canvas fabric exterior and polycarbonate build, the Everyday Case features an array of Zirconia and magnets. The layout of these gives the case its magnetic moxy and does outperform the competition.
Interestingly, the case uses mainly magnetism to do its magic, while the Bike Mount features a mechanical connection as well. In my brief experience with Mobile by Peak Design, this added stability while using all the ecosystem bits would've been appreciated.
The Mobile Tripod
Before we get into the nitty-gritty, let's just say that the idea for the Mobile Tripod is top class.
Now that we have that out of the way, you probably shouldn't use this outside. I did two separate mornings of testing and found out the hard way within ten minutes of fiddling with the gear that the Mobile Tripod disagrees with the wind.
I had the Mobile Tripod positioned on a table in a grove of bushes to mitigate the issue of wind, but the smallest gust sent my $1000 iPhone 11 Pro plummeting towards the concrete.
Thankfully, because of the ecosystem's magnetic nature, my phone didn't disconnect with the Mobile Tripod until it clattered across the concrete. If my screen had cracked, this certainly would've been a silver lining.
In the end, the Mobile Tripod is useful at your desk or to do Zoom meetings on the go. I would not, however, say that it has much use for mobile photography and filmmaking unless you have the best phone warranty in the universe.
The Wall Mount
When I pulled Peak Design's Wall Mount out of the packaging, I was immediately taken aback by the idea's simplicity and genius. A mount that you can mount anywhere is certainly a game-changer, and the design was so classy. I was sold.
Within ten minutes of using the Wall Mount, though, and I was unsold. The mount attaches via either magnets or 3M adhesive – you flip it depending on the material you're sticking the mount to. This sounds great, but if you've ever used 3M adhesive, you know that it stays sticky for about the same length of time that Juicy Fruit stays juicy.
On top of that, the 3M adhesive really requires a super-clean surface to work. So, you'd need to walk around with a box of alcohol wipes to be able to use the Wall Mount in the safest fashion. On top of that, if you drop the mount and get some dust on the adhesive, it becomes unusable. If you think about it, this is seriously problematic as I don't know how to store to Wall Mount in a way that dust wouldn't accumulate.
I trusted the design and witnessed two phone tumbles before moving on. I think the only way that this could work is by sticking a Wall Mount somewhere and leaving it indefinitely.
I also feel that a Wall Mount that doesn't allow you to use the back cameras is a waste of money. Selfie cameras are improving, but the variety of cameras on the back of modern phones has to be taken into consideration when designing a mobile ecosystem for photographers and filmmakers.
The nylon canvas fabric also came loose within twenty minutes of having the Wall Mount out of the box.
The Universal Mount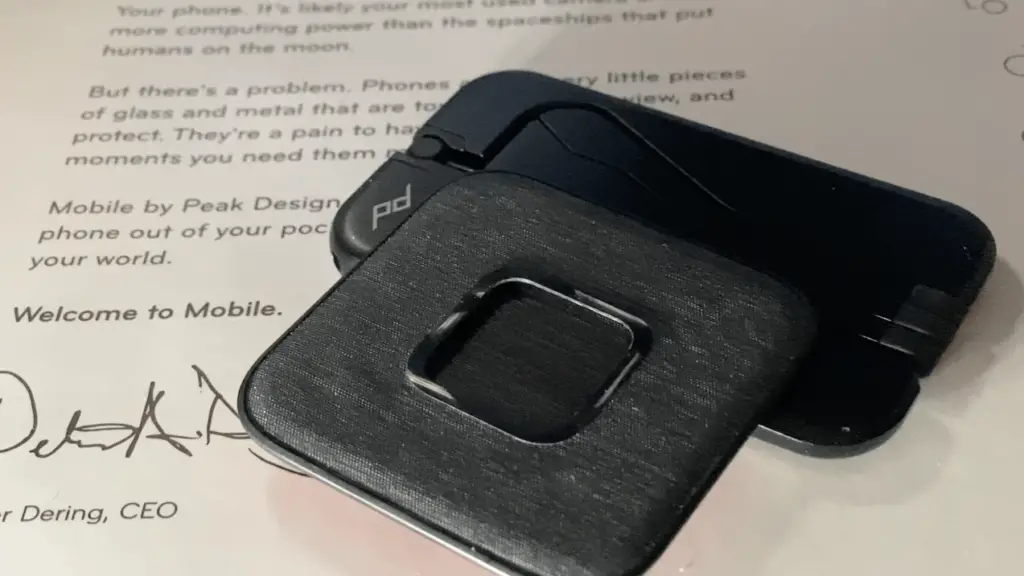 At this point, Mobile by Peak Design will only be available on newer iPhones and Samsung Galaxys. But, Peak Design has assured us that more models will be included eventually. At the same time, Peak Design's Universal Mount aims to allow anyone to use Mobile today, no matter the device.
The design for the universal mount is super simple, albeit effective. Just like the rest of Mobile by Peak Design, the Universal Mount's use is predicated on its sticking to something via magnets after sticking to your phone via 3M adhesive. The mount then interacts with the rest of the mobile ecosystem just as the Everyday Case would. It is not a noticeably superior or inferior experience to using the Everyday Case.
The Universal Mount does give those that enjoy adding a mounted lens an opportunity to do so. Attach the Universal Mount to a Moment M-Series Case for example, you have something that looks like it's designed for photographers and filmmakers.
The Bike Mount
I don't own a bike – I know, how un-green of me. But, in my defense, Denver is not a very bike-able city. If I lived in Amsterdam, I'd definitely have a bike and would definitely have a lot more to say about the Bike Mount by Peak Design.
What I do have to say stems from me testing the Bike Mount with the Everyday Case. The mount attaches to your bike using reliable hardware, so I wasn't overly concerned with testing it. Of the entire Mobile by Peak Design ecosystem, I have the least concern with the Bike Mount's stability because it fastens in a fashion that promotes security. Even the connection between the phone and the mount – both magnetic and mechanical – is done with additional security in mind.
It is worth noting that the Bike Mount offers no adjustability without completes unscrewing a rescrewing all the hardware. To best explain why this is an issue, I'll give a brief example.
If I were trying to make Casey Neistat style vlogs, I could envision myself having to pull off the road every ten minutes to make subtle changes to vantage points and focal lengths. In doing this, I'd also have to take out a screwdriver to make the adjustments to the Bike Mount. Why wouldn't the design revolve around a ball head like in the Car Mount?
I can't even fathom an answer. The Bike Mount is designed for bikers to have directions – not for photographers and filmmakers.
The Car Mount
I've been looking for a car mount to replace the poor excuse for one that is currently crammed into my air vent, and when I saw that Mobile by Peak Design included one I was relieved. I know Peak Design's gear and expected something to knock my socks off.
What I got was like getting socks on Christmas morning.
The mount itself is sturdy as all get out – perhaps too much so. I found that the ball of the mount was so solid, that adjusting it ripped the 3M adhesive from my dash. Just to be clear, I meticulously cleaned the surface with the included alcohol wipe and left the adhesive to stick for over twenty minutes before doing any testing.
Had the Car Mount actually stuck to the dash of my car though, I still would have some concerns. Again, the design of this product is not ideal for photography and filmmaking. I expected a car mount that I would be able to use for driving time-lapses, but the mount isn't tall enough to use for anything other than directions and I don't even have the iPhone 11 Pro Max.
If your phone is too big, I would venture to guess that you cannot use this car mount in any capacity. Even if your phone is small, you'll only be able to use it for directions.
I'll begin by saying that Peak Design didn't share the starting price of Mobile. As a result, is Mobile by Peak Design worth it, is a bit of a tough answer.
At the same time, based on the price points of Peak Design's current line up, it can be assumed that Mobile won't be cheap. To be frank, I don't think that Mobile by Peak Design is worth $100 in its current form for mobile photographers and filmmakers. It doesn't have the usability necessary to warrant a steep price tag at all. You're much better off spending your money on the products of a company that has been making smartphone photography gear for years.
Perhaps by the Spring of 2021 improvements are made, and our opinion changes. I sure hope so, because I expected a lot from Mobile by Peak Design. My opinion at this juncture, however, is not favorable.