You probably know that houseplants are becoming increasingly popular, but you probably didn't know how easy smartphone plant photography is. It's a niche worth working in! In fact, there's an entire massive Instagram community for indoor plant lovers.
But maybe you prefer your plants outdoors. Perhaps the wildflowers you see growing along the trail on your weekend hike inspire your creativity, but you feel a pang of disappointment. Plant photography is something that can only be done by DSLR photographers, right?
Wrong!
Whether you're a longtime plant lover or simply looking for a new subject, plant photography is a great way to sharpen your mobile phone photography skills.
With the right accessories and techniques, you can take stunning plant photos with your smartphone. No expensive camera required!
Smartphone Plant Photography
So, what's the key to taking perfect plant photos on a phone? Well, there are the usual things to keep in mind when shooting, but with plants, you should be taking extra time with lighting.
Here are some lighting specifics to consider.
The Importance of Lighting When Photographing Plants With Your Phone
Good lighting can make or break your plant photos, but the challenges you face here will depend on the location of your subjects. If you're using your mobile phone to photograph plants outdoors, you'll need to work with mother nature to get the right lighting. Beautiful photos of indoor houseplants may require a little more effort.
The Golden & Blue Hours
For outdoor plant photography, avoid taking photos in the middle of the day when the sun is at its highest point. The lighting at this point of the day tends to be too harsh for good photos, and your photo may appear washed out. Getting a decent photo without severe shadows can also be a challenge in the midday sun.
Instead, try to schedule your plant photography sessions during the golden hour, around sunset or sunrise. The light at these times will be softer and warmer, which can enhance the colors of your plants. The enhancement of color is especially true if you're photographing orange, yellow, or red plants and flowers.
Overcast? No Problem!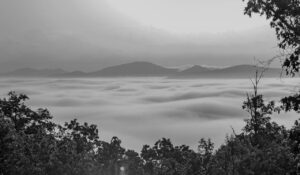 Just because it's overcast doesn't mean you can't photograph your favorite plants! A little cloud cover might just create the perfect lighting, especially for cooler colored flowers or plants.
Of course, if the outdoor plants you're trying to photograph with your smartphone are planted in pots, you can simply move them around your outdoor space to get the perfect lighting.
Say No to Harsh Light
If your goal is to capture beautiful images of your indoor jungle, you may need to add a little light – the right light mind you. Obviously, having bright natural light in your space is beneficial to both your plants and your photography, but a little fill light may be necessary.
Take a look at the image above – lots of natural light, right? If your dwelling features similar lighting then you can try photographing plants without a light source. If on the other hand, your pad is darker and dingier than the photo above, then do consider adding an external flash.
There are plenty of lighting options available to you thanks to product photography (did you know it's a great way to make a little extra cash?).
Recommended Gear for Smartphone Plant Photography
When it comes to photography niches and their associated gear, plant photography is pretty cost-effective. To be honest, you can do passable beginner-level plant photography with just your smartphone.
But, if you want to continue to improve so that you can compete with professional plant photographers, then you're going to need some niche-specific gear.
Smartphone Camera Lens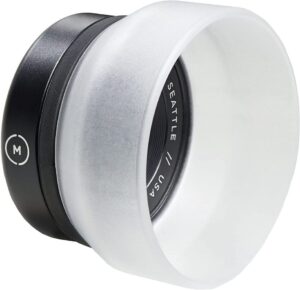 If you're ready to step up your smartphone plant photography game, one of your first steps should be investing in lenses. Sure, the lens on your phone's camera will take great pictures, but you can do so much more by using a clip-on lens.
One lens, in particular, you might consider for plant photography is the Magniband Macro Lens. You may have noticed that your images tend to be a bit blurry if you get too close to your subject. But with a high-quality macro lens, such as what you can get with the Moment 10x Macro Lens, you can be sure your close-ups are always in focus.
Lighting/ External Flash
If you're photographing indoor plants with your mobile phone, you may need to add a little extra light. Instead of using the harsh flash on your phone's camera, consider an external light source such as a ring light or flash.
The Aputure AL-M9 will give you all the lighting help you can ask for at a reasonable price point. You risk your external flash being similar to your phone's native flash if you buy too cheap.
The AL-M9 features nine different levels of dimmable light, so the aforementioned problem is taken care of. In addition, this Aputure product is easy to charge and easy to use. That combination is pretty much what you should expect from an external flash.
Smartphone Tripod
When it comes to smartphone plant photography, you want the sharpest photos possible. To accomplish this, most experts recommend using a tripod to eliminate camera shake. If you've never used a tripod with your mobile phone before, here's why you should invest in one.
When it comes to mobile phone plant photography, a basic tripod will suffice. This one, the Joby GripTight ONE GorillaPod Tripod, ticks all the boxes without breaking the bank.
Bluetooth Camera Remote
Using a tripod to keep your plant photos sharp is excellent, but if you're using your finger to press the shutter on your phone, you're putting your perfect plant photo at risk. Using a shutter remote will keep your hands off your smartphone so you can take flawless pictures of your favorite plants. Think we're mad? Check this out.
This Bluetooth Shutter Remote from Moment does everything you'd expect it to do at a reasonable price point. Plus, because it comes from Moment it features their warranty and product guarantees.
Tips And Techniques For Plant Photography With A Phone
Don't be afraid to get close to your plants, especially if you're doing smartphone macro photography with a macro lens. Whether you're photographing succulents or flower gardens, plants abound with distinctive colors, textures, and patterns. Getting up close and personal with your plants will allow you to capture the details that make each species unique.
Perfect Plant Photography on a Phone Tip #1 – Be Wary of Backdrop
As you're taking your photos, don't forget about your backdrop. You don't want to capture the perfect flower photo only to discover later that you left your gardening tools out. Try taking a photo or two and then taking a quick look at them to make sure your backdrop isn't too cluttered or distracting (this idea also works for phone food photography by the way).
Perfect Plant Photography on a Phone Tip #2 – You've Got to Move It, Move It!
If you're photographing potted plants, try moving them around to different areas. By experimenting with various backdrops or lighting, you might find a way to see everyday plants in a new light.
While you're experimenting, try taking photos with different depths of field. Use a wider aperture to soften a distracting background and bring the focus on a single plant. Or take a few pictures at f/22 to keep the focus on the entire plant or group of plants. Just remember, the sharpest area in your photo will be what viewers focus on, so make it count!
Perfect Plant Photography on a Phone Tip #3 – Procure Plenty of Plant Photos
One of the best ways to ensure you get a good photo of your plants is to take plenty of pictures. Try experimenting with different angles. The more pictures you take now, the more you'll have to choose from later.
To get the most out of your smartphone's photography capabilities, consider using a third-party camera app, rather than the one that comes on your phone. Many third-party camera apps give you nearly as much control over your photos as with a DSLR, so they can really take your mobile phone photography to the next level.
Perfect Plant Photography on a Phone Tip #4 – Practice and Master Photo-Editing
Once you've captured the perfect image, you'll want to really make those plants pop by downloading an editing app. Here are some of the best apps for editing your photos. Sometimes just a subtle adjustment in exposure or contrast is enough to make your already stunning image even better.
Plant Photography on a Mobile – The Round Up
So, you know both what you need and how to photograph plants perfectly with your phone, so what're you waiting for – get out their in a wildflower meadow and get to shooting! Be sure to tag us in your favorite smartphone plant photos using #photoswithphones – maybe you'll be asked to be featured on the site. Comment down below if you have any favorite tips for capturing great content of your plants that weren't mentioned in this guide.