So, your camera roll on your smartphone is full of unique and incredible photos. Now what? You can always share them on social media, but what if you want to decorate your home with your art?
Traditional photographers have the luxury of being able to print their photos, but how to get smartphone photos printed is a whole other question. Or, is it? Whether you'd prefer to print them yourself, go out to have them printed, or have them printed and delivered straight to your doorstep, we'll show you how to get your smartphone photos printed.
How to Get Smartphone Photos Printed
It's a pretty rewarding feeling to watch one of your smartphone photos turn into a printed piece of art. At least to me, it makes me and my work feel more professional. There are a number of options available to you when it comes to how to get smartphone photos printed, so choose the one that's best for you.
Printing Photos at Home
If you're the kind of photographer who prefers to do everything yourself, you might prefer printing your images in the comfort of your own home. 
No, we're not talking about that dusty inkjet printer in your home office. Most inkjet and laser printers won't produce professional-quality photos, especially if you aren't using actual photo paper. So, to get smartphone photos printed correctly, one needs a dedicated printer.
If you're not a stickler for quality, but just want a physical copy of your favorite photo to hang on your fridge, those types of printers may work out fine, but it's important to realize you do have options.
For example, you'll be able to print your photos from the comfort of anywhere you choose with the compact and portable photo printers on the market today. No matter if you're at home or away at a photoshoot, you can print your photos then and there.
Here are two great travel-size options for printing your smartphone photos yourself.
Do you miss the days of Polaroid cameras and the convenience of instantly having your photos in your hands? The Polaroid Lab instant printer gives you a taste of nostalgia with the convenience of modern technology. 
The Polaroid Lab prints your smartphone photos directly onto Polaroid Film, so you can print with the confidence of knowing you're working with a brand you know and trust. The printer can use either i-Type or 600-Type Instant Film by Polaroid.
The dedicated app also allows you to print collages and is compatible with AR tools.
Priced at $129.99 the Polaroid Lab gives you the opportunity to turn your mobile memories into classic Polaroid photographs.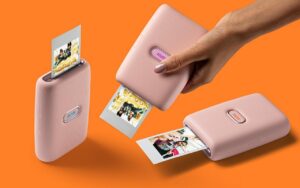 This nifty little printer connects to your smartphone via Bluetooth and allows you to print your photos using the free Instax Mini Link app. 
You will need to purchase Instax Mini film, which is available in several options. You can choose from color, monochrome, or black border film.
The Instax Mini Link app allows give you the option of customizing your images with nearly 30 unique frames. You can also create collages, split print, and print photos from your favorite videos.
One of the best features of the Instax Mini Link Printer is that you can connect up to five different smartphones, so you can share your cool new gadget with your mobile photography friends.
The Instax Mini Link Printer is priced at $99.95 and the film costs between $14.99-$19.99 depending on the type you choose.
Printing Photos at a Store
If you don't print enough photos at home to justify the cost of a new printer, you can always have your photos printed at a store, just like the old days. In the past, you had to drop off your film to be processed and come back several days later to pick up your photos, but fortunately, things are more instant nowadays.
Many of your local stores such as Walgreens, CVS, Target, and Walmart can print your photos and have them ready for pickup the same day. Some stores, such as Walgreens, can even have your photos ready to go in about an hour. Convenient, right?
Most stores that are capable of printing smartphone photos allow you to upload your photos for printing via their app. Whether you have an iPhone or an Android, you should be able to print your photos with very little hassle.
Some stores will not only allow you to upload photos from your camera roll, but their apps may also be compatible with social media apps such as Instagram and Facebook.
The benefit of having your photos printed at a store, rather than at home, is that you can rely on their professional-quality printers to produce photos worth showing off. You've done the hard work of capturing those images, so let them take care of the printing.
Online Photo Printing Services & Delivery
Between your mobile photography, personal life, and other obligations, you might not have the time or desire to drive over to a local business to have your photos printed. You might not have the instant gratification of printing your photos the same day, but if you're the patient type, consider having your photos printed and delivered to you via the mail. Online photo printing services are surprisingly popular, so there's bound to be an option that fits your budget.
There are plenty of websites that allow you to upload your favorite photos and have them printed in any size you'd like. Some of the most popular online photo printing services are Shutterfly, Snapfish, Mixtiles, and FreePrints.
Some of these online photo printing services will also allow you to plaster your work on canvasses, tiles, acrylic blocks, and more. You can even have them turned into photo books, Christmas cards, invitations, and other types of stationery.
This can be a great way to keep physical copies of your favorite photos or gift them to your friends and family. Depending on the type of photography you do, photobooks can also be a great way to showcase your work to show to potential clients.
Most of these online photo printing services also have an app, so you can upload your photos directly and choose how you'd like them printed. You'll also have the option of uploading photos either from your mobile device or from social media.
Depending on what material you'd like your photos printed on, shipping can vary between a couple of days and several weeks. You'll likely have the option of paying slightly more for rush delivery if you're in a hurry.
Whether you're interested in having your favorite photos printed on a coffee mug or calendar, having your photos printed and delivered is the way to go if you need something more than just a simple physical photograph.