If you've ever seen smartphone concert photography shared on social media, you're probably familiar with how bad they can turn out. Your friends are eager to share how much fun they had seeing their favorite band live, but the pictures are often blurry, over or underexposed, and generally disappointing.
So, does all smartphone concert photography have to be like this, or is it possible to take professional-looking images at a concert?
With the right tools and techniques, it's completely possible to take breathtaking images at concerts. Your concert photos will soon be the envy of every live music fan you know.
Smartphone Concert Photography Gear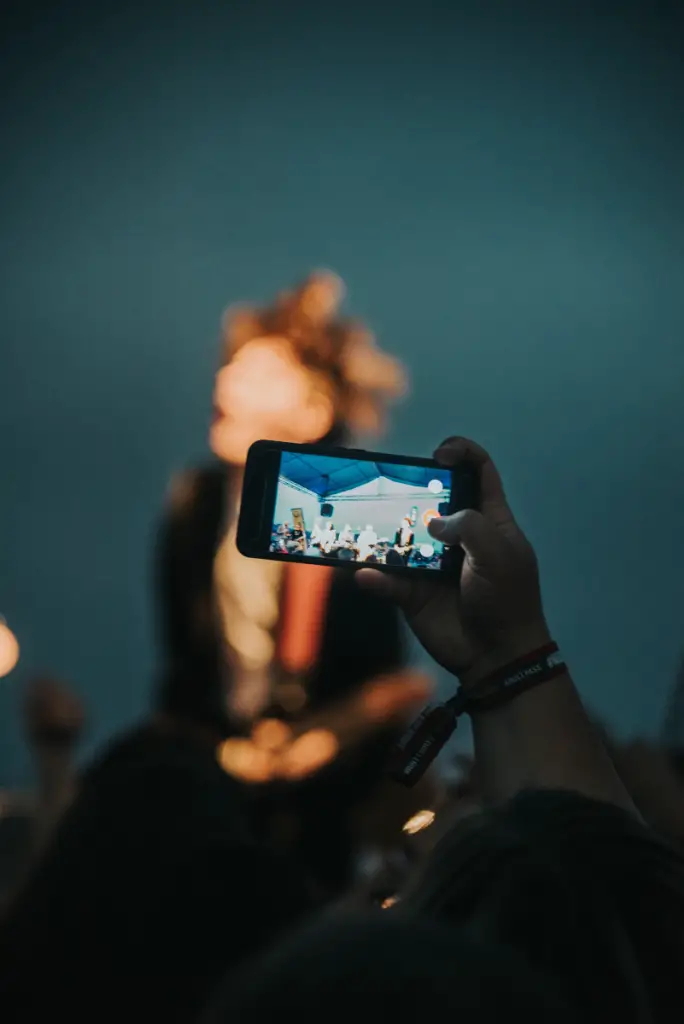 Necessary Equipment for Smartphone Concert Photography
One of the downsides of concert photography is that you may or may not be allowed to bring much equipment with you into the venue unless you're there as a professional photographer.
However, you don't actually need much to take high quality concert photos, so don't be afraid to leave that bag full of gear at home.
Tripod or Selfie Stick
If you are allowed to bring a tripod or selfie stick into the concert venue, it can be a great way to help stabilize your shots, especially in low light. However, not all concerts are ideal for tripod use.
If you're at a relatively low-key concert, you may be able to set up your tripod and take as many photos as you like without any disruption from fellow concertgoers. Setting up a tripod in the mosh pit at a metal concert might be a different story.
In many cases, a good alternative to a tripod would be a monopod or selfie stick. Not only will it help you stabilize your smartphone to get the perfect shot, but you also have more options in terms of points of view.
You won't need to worry about a photo full of the backs of people's heads when you can hold your smartphone camera above them.
Smartphone Camera Lens
More smartphones are being manufactured with two or more lenses to choose from, so if you're unable or unwilling to take your lenses to the concert with you, you should still be able to take great photos.
However, if you are open to idea of bringing along an extra lens, consider making it a wide-angle lens. Wide-angle lenses are great for capturing a lot of the scene in front of you, which is perfect for concerts with big stages and even bigger crowds. The biggest question you'll be asking yourself is Sandmarc or Moment?
Concert Photography Techniques to Try on Mobile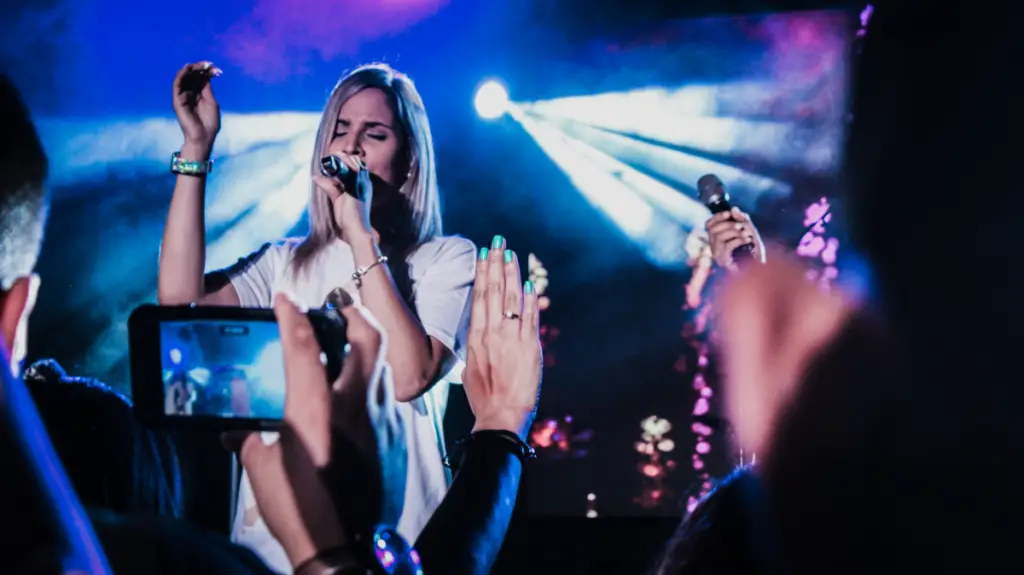 Photographing a concert with your smartphone can be challenging, but with a few adjustments to your techniques, you'll be able to capture flawless images of the action.
Remember, the more photos you take, the more chances you have to get it right, so don't be afraid to take more pictures that you think are necessary.
Learn Limited Lighting
Concert lighting can be tricky, so it's important to use the lighting available to your advantage. Unfortunately, bringing your own lights along or using flash aren't good options, so you'll need to work with what light you have available.
Obviously, outdoor concerts during the day will be the easiest to photograph since you'll generally be working with natural sunlight. Most smartphones will be able to capture great images in these conditions with little trouble.
If you're attending an indoor concert, or an outdoor concert after dark, you may have a bit more of a challenge. However, you should be able to use the bright lights to capture spectacular silhouettes of band and audience members alike.
In the past, smartphones struggled to capture quality images in low light environments, but smartphone technology is making that a problem of the past. Many smartphones have specific settings in their camera app to accommodate low light situations, so you may need to experiment with your settings to see what works best for you.
Whatever you do, avoid using your camera's flash. Not only will you brighten up the view of the hair of anyone in front of you, but the flash will also catch any smoke that may be in the air, resulting in a subpar photo. Plus, flash can be distracting to the artists onstage.
Crafty Composition
If you've seen the artist perform before, you may know what to expect from their show, but if you're seeing the show for the first time, you'll need to pay close attention to figure out what your best shots will be.
Depending on the type of music, there might be a lot to focus on. Musicians jumping in the air, pyrotechnics, smoke, and dramatic lighting can all lead to a great photo if you can compose it just right.
As previously mentioned, don't be afraid to take a ton of photos to better your chances of getting the perfect shot. Some of the most well composed photos are captured by accident. To make your content as on purpose as possible, consider these mobile photography composition tips:
Golden/Blue Hour
Rule of Thirds/Odds
Leading Lines
Uncluttered Backgrounds
Change Vantage Points
Texture, Symmetry, and Things That Pop
Framing Photos and Videos
When taking concert photos, don't forget to include the crowd as well as the band. They're an important part of the experience and will make anyone who sees your pictures feel like they're part of the action too. This is where wide-angle lenses come into play
If you're struggling to get the perfect shot, don't use the zoom feature on your phone's camera app. The result will be blurry and potentially pixelated. Instead, physically move yourself closer to the stage if possible. That way, your photos will stay as crisp as possible.
Editing Concert Photos from a Phone
After the excitement of the concert has worn off, it's time to edit your photos. Editing is one of the most frequently overlooked aspects of smartphone photography, but it's essential in producing the best photos possible.
Editing takes your already great images and makes them even more incredible. Whether you're brightening the image up a bit, enhancing colors, or removing unsightly flaws, editing is what makes your smartphone photos appear professional quality.
If you don't already have a favorite editing app, here are the three best choices for videos and still photos. Remember, you don't need to spend hours over-processing your images, but the details are going to make a difference so make sure they look good.
Once you're finished editing, you're ready to share to social media. Don't forget to tag the artists so you can connect with them and all their fans!
The Final Word on Mobile Concert Photography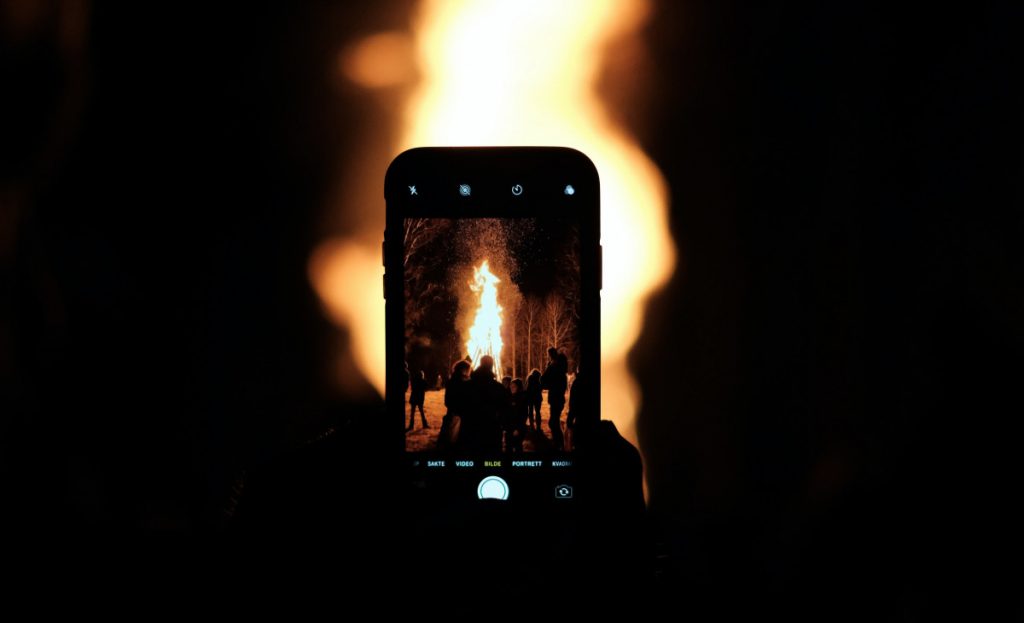 We may not be able to go see live music in a traditional fashion right now, but eventually things will return to normal. Are you ready to employ these smartphone concert photography tips when they do?
With the right gear and mindset, you'll be shooting great stuff without too much practice. Remember, one of the better phones for night photography is going to be best in those low light conditions. Adding a wide angle lens to your phone's native camera will also lead to better results than your phone's ultrawide camera, so consider one of those too.
At the same time, if you follow these mobile concert photography tips then the gear that you use won't matter too much. If you do take any shots that you love, tag us on Instagram at #photoswithphones.