The technology contained in today's smartphones is more than enough for you to get started in mobile journalism. Not only are mobile phones capable of capturing incredible photos and videos, but you can also take notes and even record interviews.
Journalism on a smartphone is blossoming into a new style of media storytelling. The BBC has reportedly hired thousands of mobile journalists around the world in the last few years. The popularity of this new style of journalism is mainly due to the convenience of having everything you need in your pocket. But, the growth of mobile photography cannot be dismissed.
The heavy and expensive equipment of traditional journalism is quickly becoming a thing of the past. Now is a great time to begin your journey into cell phone reporting. With the right gear and a little practice, you'll be able to call yourself a true mojo (mobile journalist)!
Gear for Mobile Reporting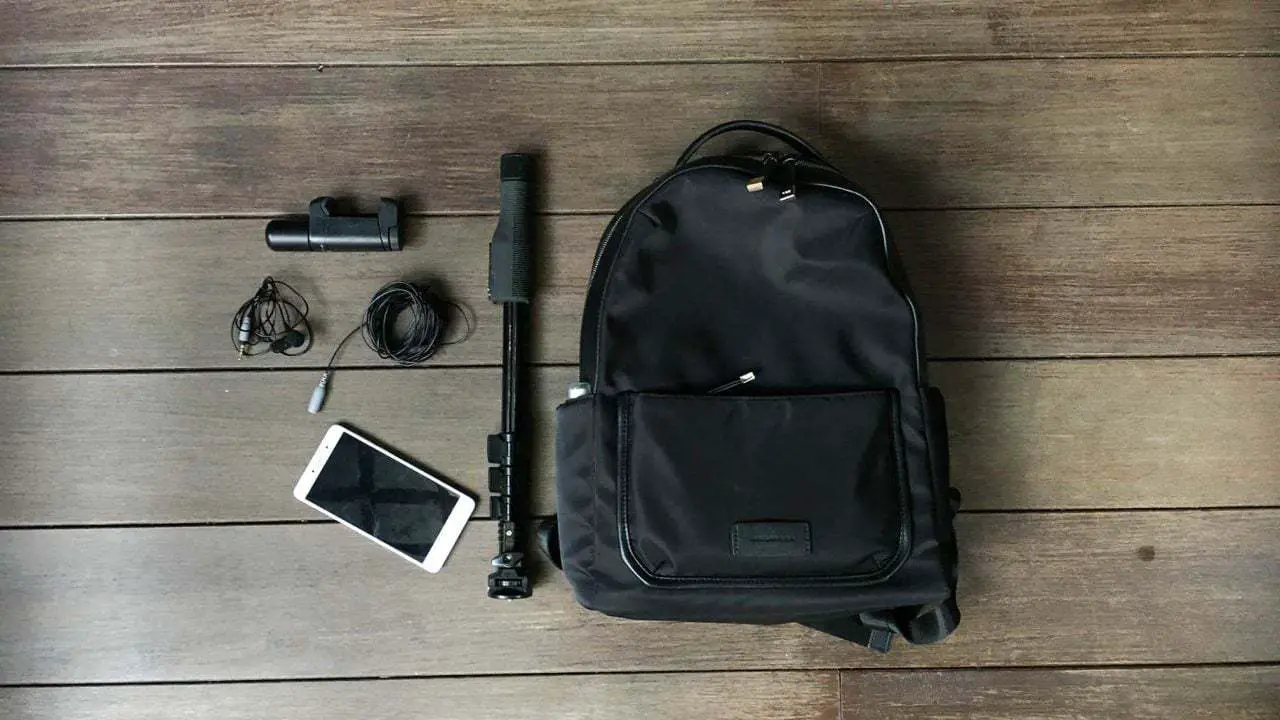 Although your phone is capable of recording high-quality sound, photos, and videos, you might want to consider adding a few pieces of equipment to your reporting gear bag. These tools aren't all completely necessary, but they will take your reporting to the next level.
Phone Journalism Tools – Tripod
If you're reporting from a single location, you should consider investing in a tripod for your smartphone. Smartphone tripods are available in a variety of sizes and shapes to suit your needs.
Our guide to the 9 Best Phone Tripods is worth checking out because it breaks the products down based on size, durability, and price,
If you frequently report from many different locations, a smaller, more portable tripod will be your best bet. The Manfrotto Mini Tripod with Universal Smartphone Clip is a great option that can conveniently fit in your bag or jacket pocket. It's also great for a tabletop setup, which is ideal for certain types of interviews.
A taller tripod may be more effective if you don't have a tabletop or raised surface to set your phone on. Interviewing people on the street or reporting from an outdoor location may require a tall tripod, such as the 54″ Manfrotto BackPacker Tripod, in order to capture you from the right angle.
If you decide to use a tripod, don't forget to pick up a remote camera shutter. This will enable to you take photos or videos without having to touch your phone. That means you'll spend less time editing out the video of you walking to and from the camera to press the record button. Adding a tripod is sure to improve your mobile photography as a whole.
Phone Journalism Tools – Gimbal
If you like the idea of the stability of a tripod, but your style of journalism requires more movement, consider using a gimbal. Gimbals will give you a smooth video without the shakiness that comes from holding your phone or tripod in your hands.
Gimbals are available in two types: two-axis and three-axis. Though more expensive, three-axis gimbals will provide the most stability and there are some great smartphone-dedicated options on the market. The DJI Osmo Mobile 3 3-Axis Gimbal is one a super easy to use option that won't break the bank. If you're shooting relatively simple videos, a two-axis gimbal may be more than enough. The Zhiyun Smooth X 2-Axis Smartphone Gimbal is ideal for reporters looking for a high-quality two-axis mobile phone gimbal.
Phone Journalism Tools – Microphone
Again, you'll have several different options when it comes to smartphone-compatible microphones. Most mojos choose either a handheld or lapel microphone, but you may also consider a microphone that attaches directly to your mobile phone.
When it comes to handheld microphones, the Comica HRM-S Microphone is one of the top choices because it was specifically designed for use with smartphones. It was also made with reporting in mind, so you can be sure that your interview audio will be crystal clear.
The RØDE Lavalier GO clips discreetly to your shirt or jacket and captures your voice clearly. The included wind muffs protect your audio from annoying background noises such as wind, cars, and passersby. It works with both iOS and Android devices.
Phone Journalism Tools – Lens
Depending on what you're reporting on, you may also want to consider using a different lens than the ones that are already on your smartphone. If you're doing professional journalism, then you'll definitely need to use a mounted lens. For a lot of videos, an anamorphic cinema look and profile like above is preferred (i.e., wide-screen, lens flares, etc.) For mobile reporting, however, this isn't always the case.
A wide-angle or telephoto lens might be just what you need to give your report a professional touch. If you're unsure of which type of lens would be best for your style of journalism, read our guide on the differences between lens types here.
6 Mobile Reporting Tips and Techniques
Don't have a degree in journalism from NYU? No problem!
The introduction of modern technology and the internet means that you no longer need to waste all that money on a fancy degree or traditional camera. With just a couple of tips and a bit of mobile phone gear, you can do the hard-hitting reporting of which you've always dreamed.
Reporting on a Phone Tip #1 – Activate Airplane Mode
Before you begin reporting, you should consider activating airplane mode on your smartphone. This will save you the extra time and frustration that comes with having to reshoot a video or edit out the vibrations or noises from any text messages, calls, or notifications that might pop up while you're recording.
Reporting on a Phone Tip #2 – Love Landscape Not Portrait
If you're familiar with news broadcasts, you may have noticed that the video is typically shot in landscape orientation rather than portrait. Although it's common for everyday smartphone users to shoot video in portrait mode, this won't fly in mobile journalism, so be sure to keep your phone horizontal.
Reporting on a Phone Tip #3 – Single, Continuous, or Manual Focus
Depending on the type of phone you're using, you might also want to consider locking the camera's focus if possible. This will prevent your video from going out of focus every time autofocus kicks in. On the other hand, if you're shooting any action, you may want to keep autofocus active to make sure you capture everything.
Reporting on a Phone Tip #4 – Plan, Plan, Plan
It can be helpful to plan out your shot ahead of time, if possible. If you're reporting on an event that isn't time-sensitive, consider checking the area out ahead of time so that you can choose the perfect filming location. Remember, even if you or your interviewee are the focus of your piece, the backdrop can enhance or detract from your story.
Reporting on a Phone Tip #5 – The Third-Party App for You
The mojo expert will choose to record their reports using third-party apps, such as FiLMiC Pro. These apps typically offer you more control over your image and video settings than your native camera app. As a result, you also have more control in post-processing.
Once you're finished recording, don't forget to edit! Editing will give your work a polished and professional touch. You may not even be able to tell that it was recorded on a smartphone! Here are some of our favorite video and photo editing apps.
Reporting on a Phone Tip #6 – Practice, Evaluate, & Improve
As with any other type of smartphone photography or filmography, it's important to remember that practice makes perfect! The more you know about how your camera operates, how to interview people, and how to edit your work, the more you'll be able to show off your journalistic talent!