Professional headshots can make or break your career. Having a tasteful and professional photo on your social media accounts, website, or Linkedin portfolio lets people know you're more serious than if you chose to use just a selfie. Doing those headshots on a smartphone is surprisingly both professional and straightforward in 2020.
Business headshots are an essential aspect of creating your personal brand, but they can be expensive. However, with the incredible technology of today's smartphones, you can take professional-looking headshots on a mobile phone. The idea also applies to actor headshots.
However, if you're new to the business of face photography, you may consider investing in a few pieces of gear before getting started.
Professional Smartphone Headshots
What Equipment Do I Need For Headshots on a Smartphone?
Obviously, you'll need a mobile phone – that's a given. Preferably, you want a smartphone with some sort of Portrait Mode. If you're unsure as to what that is, then give our complete smartphone portrait photography guide a read to become acquainted with the necessary terminology.
First, you should consider using a tripod to help eliminate camera shake. Your headshots won't look professional if they're blurry, so you want all the stability you can get. Depending on where you're shooting, you should consider either a tabletop or a full-size tripod.
To maintain that stability, you'll also need to use a camera shutter remote. These nifty little devices connect to your phone via Bluetooth and allow you to snap a picture with the press of a button, without ever touching your mobile phone from up to 60 feet! If you don't have one, then use Apple headphones – or for Android any headphones with volume controls – and set up shutter control to volume. This trick won't allow you to get very far from your subject, but it will allow you to take headshots without touching your smartphone camera.
Depending on the type of smartphone you're using for your headshots, you may also want to consider investing in a new lens. Though many modern smartphones have pretty incredible cameras already, an external lens might be the key to better face photography. We highly recommend Moment's collection of lenses. As far as which lens is best for mobile phone headshots, you should look into tele, or telephoto, lenses because of their optical zoom.
What's the Ideal Headshot Background
The background of your headshots can have an impact on how people interpret your subject, so be sure to choose a background that reflects your subject's personality. If they enjoy nature, try shooting outdoors, or if they're more of a minimalist, try using a solid-colored wall.
When deciding where to shoot your headshots, find a location or set up a backdrop that is simple and neutral in color. Your headshot background should keep the focus on your subject, so any clutter or complex background should be avoided.
It would be best if you also made sure there are no strange objects or lines that might look awkward in photos. It's disappointing to take a series of beautiful photos only to realize it seems like there's a telephone pole sticking out of your subject's head.
If you're interested in outdoor headshots rather than working in a studio, look for simple and natural backdrops such as walls, fences, or greenery. When shooting outdoors, it's crucial to continually pay attention to what's happening behind your subject as you have less control over your environment than you do indoors.
Lighting Your Portrait
Depending on where you decide to hold your headshot photoshoot, you may need to make adjustments in terms of lighting. The lighting should be natural and should flatter your subject.
You'll likely want fairly bright light as you're looking for a more professional headshot rather than a portrait. You may need to use external fill lights or reflectors to get the most flattering light.
Whatever you do, you must avoid using your camera's flash. No matter how good your smartphone's camera is, the flash will always create a harsh and unflattering look, and you may even end up with strange shadows and a washed-out complexion. Pick up an external flash or LED light for a less harsh lighting option.
Posing and Posture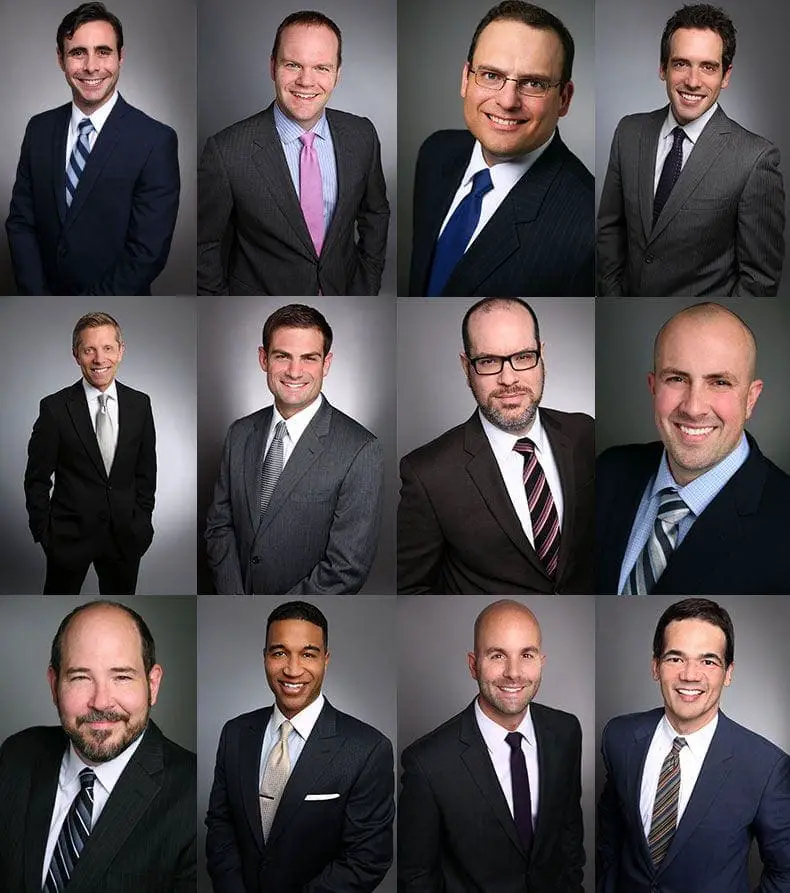 Whether you're shooting female or male headshots, you want to pose your subject in a relaxed manner – this isn't a mug shot. Have them stand with their body slightly angled away for the most attractive look. The more comfortable your subject is, the more natural the photos will look. Because you're doing headshots on a smartphone instead of a traditional camera, your subject should be a bit more at ease anyway.
Many people struggle with what to do with their arms in photos, and the result can be a stiff and awkward pose. If the person you're taking pictures of seems to have this problem, you can advise them to keep their arms folded or place their hands on their hips or in their pockets. You want to direct your subject into a pose without an awkward posture, so do whatever you've got to do.
To get the most flattering angle of your subject and avoid the dreaded double chin, have your subject keep their shoulders down and back and their chin up. They'll thank you when they see the great photos you've taken.
What to Wear for Professional Headshots
What a person wears for professional headshots will depend on what type of business they're in. For example, if you're shooting corporate headshots, your subject may prefer to wear a suit, while a professional writer may prefer a more casual ensemble.
The most important aspect of choosing what outfit to wear for headshots is that it reflects who you are. Headshots should represent your personality as well as your brand, so choose something that suits your career and character.
It's also crucial that you choose an outfit that stands out from your background of choice. Your headshots will appear lackluster and unprofessional if you decide to wear something that blends in with the backdrop.
Tips for Professional Headshots on a Smartphone
Tip #1 – Remember, headshots should focus on the subject's head, so you don't need to worry about what they're doing with their lower body. For this reason, it's acceptable to have subjects either sitting or standing, whichever they may be more comfortable with.
Tip #2 – You should also stay focused on the composition of your photo and make sure that there is adequate space around the head and shoulders. Up close and personal headshots may seem more portrait-like and less appropriate for professional settings. Do your research and use your best judgement.
Tip #3 – When determining the correct distance to shoot from, it's essential that you move yourself and your camera to move in or out. Using zoom on a smartphone will only reduce the quality of your photo because its digital, and not optical, zoom.
Tip #4 – Depending on the industry you're working in, it may be appropriate to shoot either color or black and white headshots. You'll need to know where the headshots will be published as well before making this decision.
Tip #5 – As always, be sure to take plenty of pictures. Have your subject make slight adjustments to their position so that you have plenty of subtly different photos to choose from.
Tip #6 – If you're struggling with posing or determining what a headshot should look like based on your subject's business or career, you can always research headshot examples. Looking through other photographer' work is a great way to seek inspiration when you need it.
Tip #7 – Finally, no matter how good your photos are, be sure to edit them before publishing. Editing gives you the chance to remove those minor flaws or enhance certain colors to make your headshots stand out from the crowd.