One of the best ways to celebrate summer is with beach photos. Taking family photos on the beach is a classic photoshoot option for DSLR photographers, but you can also do great beach photography on a smartphone.
Smartphone beach photography can be a fun way to relax and practice your craft. Both kids and adults are typically more at ease and more playful at the beach than they would be in a studio or more urban setting.
Whether you're interested in capturing the perfect portrait or photos of your family playing on the shoreline or in the water, the beach is the perfect place for a photoshoot. It's also a great option for couples or engagement photography. There's nothing more romantic than a walk on the beach holding hands!
Beach Photography Gear for Mobile
Depending on the type of photography you're doing at the beach, you might consider investing in a new lens. The lens on your phone's camera might be good enough for beach portraits, but if you're shooting landscapes, you might consider a wide-angle lens.
One of the best wide-angle lenses on the market is the Beastgrip Pro-Series Kenko 0.75x Wide Angle Lens. It's designed specifically for use with high-resolution smartphone cameras and is capable of filming video up to 4K. Its field of view is about 25% wider than the average smartphone camera lens.
You should also consider using a tripod for your smartphone beach photography. It can be incredibly disappointing to think you've snapped the perfect beach photo only to later realize that it's blurry.
You can eliminate that blur and disappointment by using a tripod to make sure your photos are as sharp as possible. Just be sure to set your tripod up carefully. Sand isn't the most stable of surfaces and you don't want your phone to fall over mid-shoot.
Once you've set up your smartphone and tripod for your beach photoshoot, you can ensure that precious stability with the use of a remote shutter. These handheld devices connect to your phone via Bluetooth and are ideal for taking photos without touching your phone and risking blur. If you're going to do beach photography on a smartphone, then one of these remotes is simply imperative.
What to Wear for Pictures at the Beach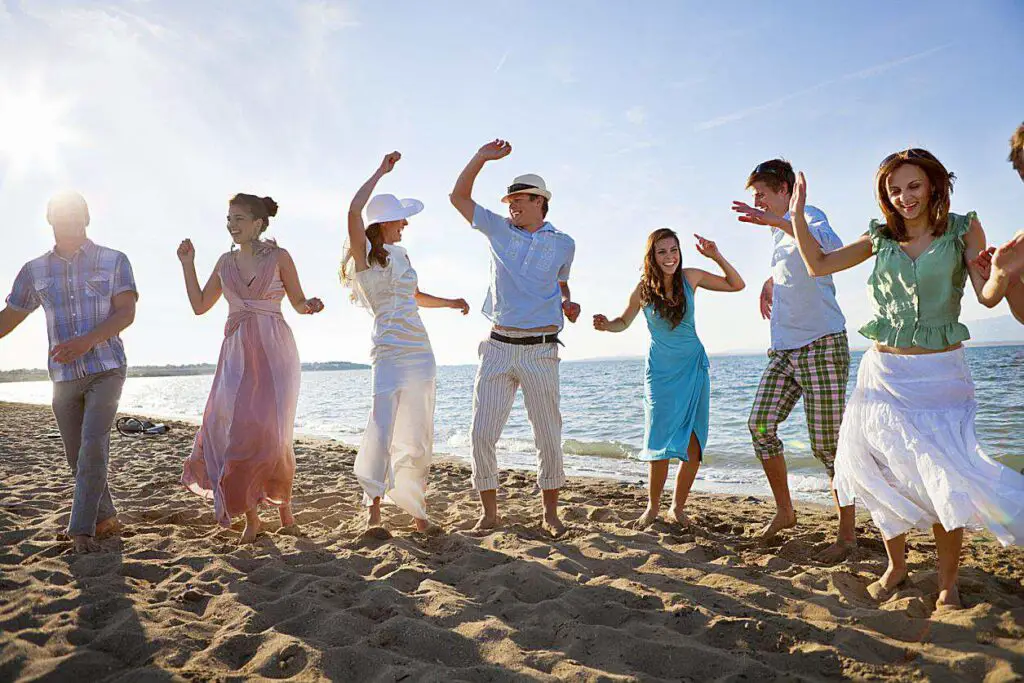 One of the most challenging aspects of taking family pictures at the beach is deciding what to wear. Family beach outfits should be coordinated so that the photos look professional rather than candid. Just because you're doing beach photography on a smartphone doesn't mean we aren't concerned with professionalism. 
However, most photographers discourage families from dressing in matching outfits as it can be a little cliché. Instead, choose outfits with coordinating colors. By choosing clothes in the same color palette, each person can express their individuality in their outfit, without looking out of place.
Complex patterns should be avoided as they can be too distracting and draw the viewer's attention away from the subjects and beautiful scenery. Instead, choose solid colors such as pastels, white, tan, and most shades of blue.
When choosing outfits for family photos at the beach, comfort should also be a priority, especially for children. Overly formal clothing can seem out of place at the beach, so choose outfits that are comfortable to walk around in and won't be ruined by sitting or lying on the sand.
If you opt for pants rather than a dress or shorts, consider rolling up the hem of the pant legs for a beachy look that will also keep your pants from getting wet in the surf. This also applies to long-sleeve shirts. Rolled up sleeves look more casual, relaxed, and beachy.
You should also avoid overly formal footwear. The beach is no place for dress shoes or heels, so try to choose more open footwear such as sandals. You can even choose not to wear any shoes at all and still have your family beach photos turn out great.
Smartphone Beach Photography Tips
The beach can be an incredible place for a photoshoot, but how do you make your photos stand out from the crowd? By using color creatively. 
The brown sand and blue water and sky can get a bit boring, so try to spice up your smartphone beach photography by incorporating unique colors. Whether you're focusing on the pink and white seashells you just found or have your family dressed up in coordinating colors, don't be afraid to step outside the box in terms of color.
A good way to practice this idea is by doing aquarium photography – the backdrop colors are similar and fish are quite flamboyant. Learn more about doing aquarium photography on your smartphone, here.
Another way to make your beach photography on a smartphone more interesting is by playing with reflections. Using the way images reflect in water can add creativity to an otherwise uninteresting photo. This is especially true with the unique lighting around sunrise and sunset.
You should also consider experimenting with silhouette photos at sunset. Though silhouette photos at the beach can seem a bit cliché at times, there's plenty of ways to add your own creative touches to make your photos pop.
Need some more general smartphone photography composition tips? This video has all the information you need!
As always, you want to make sure you take plenty of photos. It's better to take more photos than you need than risk missing out on the perfect photo because you were a moment too late with the shutter. 
Consider using burst mode, especially if you're photographing people playing in the sand or surf. Some smartphones will activate burst mode if you hold down the shutter button, but you may need to turn the feature on in your camera app.
You should also try experimenting with different points of view. Standing on the sand photographing people with the water behind or around them is fine but you might miss out on more interesting photos if that's all you do. 
You can even wade into the water some distance to get the perfect shot. Just be sure to protect your phone with either a waterproof case, or careful handling.
Finally, don't forget to edit your photos once you've finished your beach photoshoot. There are plenty of great photo and video editing apps available for both Android and iPhone devices. Here are a few of our favorites.
Editing gives you the chance to perfect your already great photos. You can remove those minor flaws or enhance the color of the sunset. After you've edited your beach photos, they're ready to share on social media!