So, you're in the market for a smartphone photography bundle – otherwise known as a lens kit plus some extras. You want the bare minimum in gear so that you can see if photography on a mobile phone is for you.
We can respect that.
We're going to tell you why this stuff is essential because, here's the deal, you need it. Seriously, the right gear will make smartphone photography easier (the best gear will make it more fun.).
Then, once we explain why you need the tools, we'll let you know which products to buy (or download for free in some cases).
The Complete Smartphone Photography Bundle – Lenses Kits and Photo Editing Apps
These bundles include the things that you have to have to be a successful smartphone photographer. Well, outside of the right mindset and an innate desire, of course.
This mobile phone bundle guide allows for less personalization than ones we've done in the past, so if you're looking for more control to up your game, then consider our smartphone photography starter pack instead!
Mobile Phone Camera Bundles
First things first, it's worth pointing out that what we're discussing here is an ambiguous thing. By this, we mean, some people call it a bundle, other a kit, and still others a set. See, it's tricky business compiling this list because there's no industry standard by which to call it.
Regardless of this fact, in these bundles, you can expect to find lenses and a handheld of some sort. If a cell phone bundle comes with something more and has excellent reviews, then it's probably worth a try. We've included three smartphone photography bundles – a Best Quality  Option, a Budget Option, and a Best Deal Option.
If you've got some money burning a hole in your pocket and you want to start creating high-quality content, then the Moment Digital Creator Kit is for you. With this bundle, you can begin to create what you've always dreamed as soon as you get it out of the box.
While you will spend a little more on Moment's products, their vastly superior performance is worth the extra cost. The Digital Creator Set is ideal for those you have some experience. The bundle includes:
a choice of Moment M-Series Phone Case for your smartphone
a selection from all of Moment's Lenses (hint – we recommend the Wide for photography and the Anamorphic for videography)
a Manfrotto Mini Tripod
a GripTight Phone Mount
a Wavo Mobile
Best Deal Smartphone Camera Lens Kit – Moment Starter Set
So, you're ready to move on from that first camera phone lens you purchased from Amazon, but you want to find the perfect deal. Well, here it is – the Moment Starter Set. As with anything from Moment, you know you're getting high quality with this set. While the starter set doesn't come with a handheld, it comes with enough to make it our favorite deal. Just get one of these smartphone tripods to complete the bundle.
Yes, there are less expensive options out there. But, do they compete with Moment's stuff? No – no, they don't. So, spend the extra money and get something that performs. You're going to waste money buying multiple lens kit options if you don't! The bundle includes:
a choice of Moment M-Series Phone Case for your smartphone
a selection from all of Moment's Lenses
a rear lens cap
a lens pen (for cleaning)
When it comes to smartphone photography accessories, you're going to get what you pay for – just like with everything else you buy. However, there are certain cases where going with the budget option is a good idea. This Pixlplay lens kit is one of these times.
Included in this kit is everything you'll need to get started as a smartphone photographer and nothing you don't. Seriously, we have guides on why you need a smartphone camera remote and why you need a smartphone tripod. Pixlplay hit the nail on the head with this bundle.
Both iPhone and Android compatible
Comes with mini-tripod
Includes Bluetooth shutter remote
Three different lenses (fish-eye, wide-angle, and macro)
Accessory Case
What Else You'll Need – Photo Editing Apps + Sharing Platforms
Even the best professional photographers who use DSLR and mirrorless cameras do a little editing! While they choose to do their editing on a PC and not a phone – hint, you should too if you can – the point is that they're making their photos better.
Don't take our word for it! Take Peter McKinnon's.
Using a useful editing tool is just as crucial as any essential photography equipment for smartphones. While we're only discussing a few options here, we've talked about editing in the past.
Don't worry; we'll discuss only three editing tools below for those too lazy to click through the 37 above.
The Best Photo Editing Tool: Adobe Suite
There is no competing with Adobe in terms of photo editing.
If you can afford their basic package, and at less than $10, we think you probably can, then you definitely should bite the bullet and smash that purchase button.
To not purchase Adobe Suite is to severely handicap your ability to compete in the smartphone photography world. While the tools take some time to learn, the benefit of learning how to use them certainly outweigh any cons associated with this product.
Worst case scenario, you can purchase an Adobe Creative Cloud for Dummies book and learn everything you can from there.
The Best Value Photo Editing Tool: Snapseed
So, the primary value in Snapseed is that it's free.
Who doesn't love that?
Price aside, however, Snapseed is a powerful editing tool that takes all of what Instagram's photo editing tools can do to another level.
If you're on a budget and looking for a cheap and effective fix, then Snapseed is the tool for you.
The Best Photo Editing App: Adobe Photoshop Lightroom CC for Mobile
Adobe's mobile app is free.
Maybe you should go read that again.
Well, before you get too excited, it's worth pointing out that the full toolbelt available on Adobe suite on the desktop version isn't available on the app without a subscription.
At the same time, as far as we're concerned, the Adobe Photoshop Lightroom CC for Mobile app is leaps and bounds ahead of the competition when it comes to editing photos on the phone.
While it is better than its peers, like the desktop version of the product, there is a little learning curve associated with the tools. If you are a smartphone photography beginner, it may be advantageous to start with an easy to use app to at least develop an eye for the different things available in the editing stage of photography.
Adding to Your Smartphone Photography Bundle – The Less than Essentials
Maybe you're interested in a little more than what has been outlined above from the outset, or you started your smartphone photography journey based on this post, and now you're back to add to your toolbelt – it doesn't matter to us. All that matters is that you're here now.
At this point, we've got you a basic lens, and we've told you how to go about editing your photos. But maybe you want something that's going to take your photos to the next level.
The two tools we'll discuss will help you in doing just that, and if you're interested in an even better run down on them and other gear like them, then we've looked into it all in the past.
It is worth noting that as this is the essential photography equipment for smartphones, these are the budget options. If you're interested in something a little bit more legit, then the link above is for you.
Most of the bundles above included a smartphone tripod, but one didn't. Why do you even need a tripod for smartphone photography?
Well, in short, to keep the camera still during the shot. Did you know, for example, that standard shutter speed is about 1/60th of a second? If you drop below that, which you can do in manual mode by the way, then motion blur can be a serious concern.
Do you know what solves the issue of motion blur? A tripod, of course! The one above is an excellent option if you're just looking for a cost-effective alternative to keep your smartphone still.
This smartphone photography tripod by Joby won't blow your mind when it comes to features. But at less than $40, it might blow your mind when it comes to cost. It's the perfect tripod for someone looking at beginning their smartphone photography career. The bendy legs and quality workmanship from Joby make the GripTight ONE GorillaPod quite durable as well.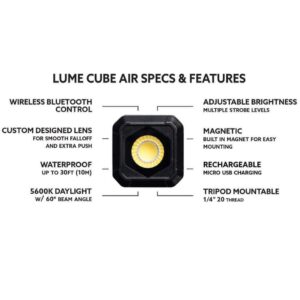 Ideally, you're doing most of your shooting during the blue or golden hour. And, if you're not, then you've read our guide on lowlight photography, right?
Maybe you need a little extra assistance – it's ok. This offering from Lume Cube will, in a cost-effective manner, solve all your lighting problems. It's like they perfected lighting in the simplest way.
All you have to do is twist the Lume Cube light onto your smartphone tripod. From there, fiddle around with the different light settings until you find the ideal one for you. This lighting aid is suitable for low light photography as it adds light without the harshness that comes with your phone's flash. Enjoy the peace of mind that comes from the magnetic attachments. Don't worry about water either – the Lume Cube Air Light is waterproof up to 30 feet!