While dual SIM phones were not very well received when they first entered the phone market back in 2000, their functionality has since come into its own. Today the capability has become almost a necessity in virtually all modern cell phone devices.
Indeed, the ability to use multiple SIM cards simultaneously has opened a whole new world of possibilities for smartphone users. We refer to any phone that comes with dual SIM functionality as a dual SIM phone.
With dual SIM mobile devices, you can switch between two different mobile networks either manually or automatically, or maintain both connections at the same time using individual transceivers.
Why are dual SIM phones great for mobile photographers?
Thanks to advances in technology, dual SIM smartphones are better than ever before. But what exactly makes the functionality of a dual SIM phone so appealing for mobile photographers?
When it comes to photography, the most significant advantage of having a dual SIM phone is in its versatility and connectivity, especially when you are traveling to a different country.
Need an example of why dual SIM phones are the way to go?
Suppose, for instance, you are going on a two-week trip to Singapore with your colleagues and want to capture every moment and immediately share them with your followers. Ideally, you want to save the files in an online storage platform such as the cloud to avoid losing them. Once the back up is complete, you can upload them to Instagram or Flickr or send them via Facebook or WhatsApp.
To do this, however, you need a SIM card that will allow you to connect to the internet. Traditionally, there were only two options: either use your current SIM card and incur costly carrier roaming charges or get a local SIM card and install it in an unlocked handset.
Using a local SIM card is cost-effective for keeping in touch with your colleagues in Singapore, but you would still have to fork over incredible roaming fees to telephone anywhere else. What's more, unplugging your original SIM card means that you would not be able to keep in touch with your contacts back at home.
With a dual SIM phone, you can kill the proverbial two birds with one stone. You can stay online for anyone looking to reach you on your original number and then use the second SIM card to upload your photos online cheaply and more conveniently.
What are the best dual SIM phones for photography?
[table id=1 responsive="collapse"/]
So, you've decided that a dual SIM set up will help you on your mobile photography journey. But, you'd like some help in determining which offering on the market today is your best option.
Well, we've broken down all the top options below plus we've made it easier than ever before to go about purchasing one. If you want some additional information on these phones, then giving the absolute best camera phones a read is what you should do next.
Our Choice – iPhone 12 Pro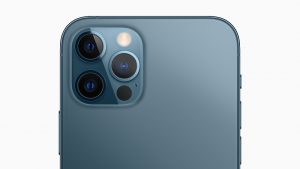 If you have a larger budget, then you're best off going with Apple's newest iPhone release, the 12 Pro. With Dolby Vision, 10-bit video, and the introduction of Lidar Apple has knocked this year's offering out of the park. The triple-camera set-up isn't the most impressive on the market in terms of megapixels, but the similar looks between all three lenses is great to see.
As always, Apple's video capability and stabilization are pushing the envelope too and you'll notice improvements over last year's iPhone 11 Pro. Again, Apple doesn't pack the superfluous specs into their smartphone cameras. Instead, what they do is create products that perform consistently and impressively. Additionally, the photo and video apps are light years better on iOS than the Play Store.
12MP Wide Camera –
Nothing new to the camera specs here – all the improvements have been made under the hood. Apple's new Lidar, 10-Bit color, and Dolby Vision takes the content that comes from your iPhone's camera to a new level.
This 26mm equivalent f/1.6 lens also features awesome auto-focus and optimized OIS.
12MP Ultrawide Camera –
To many, the iPhone ultrawide lens was a revolution in the smartphone camera game because it allows the user to capture so much scene. All of Apple's improvements to the iPhone 12 Pro are evident when using the ultrawide option. The f/2.4 ensures that the scene has a decent amount of depth too, without completely overdoing it (it's especially reasonable when compared to the apertures of the other iPhone lenses)..
12MP Tele Camera –
As far as I'm concerned, this upgrade in megapixels for the iPhone's Tele Lens is the most significant over the 11 Pro (Dolby, Lidar, and 10-Bit aside). In my experience, the 11 Pro's Tele Lens was impressive albeit not to the level of the two other rear cameras. Upgrading this lens will go a long way in improving the usability of Apple's triple-camera setup and in converting the traditionalists.
12MP Front Camera –
A massive improvement over the iPhone 11 Pro – say hello to 4k video at 24, 30, and 60 fps. If you make videos for social media then you know how much of a gamechanger front facing 4k 60 fps is. If you don't, then let me just say – front-facing video at 60 fps is the greatest breakthrough to happen on the display side of phones in years.
Your Choice – OnePlus 8 Pro
Have you heard of OnePlus? To be fair, neither had I until I was introduced to Moment lenses. Now, though, I have to say that I'm a fan. OnePlus hits the nail on the head in terms of expertly blending performance and cost-effectiveness. No, you won't have access to iOS apps on the 8 Pro which means the best mobile filmmaking apps are out of the question, but the performance of the native camera for photo and video doesn't disappoint.
Did I mention that cost wise the OnePlus 8 Pro is about 30% less than the newest iPhone? Hop on this craze before it fully takes off because OnePlus is here to stay (and maybe take some of Pixel's marketshare?).
48MP Wide Camera –
I'm not one for megapixel counting, but this baby has more than necessary and its clear in the output. Photos are super crisp and not in an AI altered kind of way (looking at you Google). The Sony IMX689 sensor puts the 8 Pro in a league of its own and the f/1.78 is unique when compared to the competition. The 1.12 µm pixels are just another reason to make the switch to OnePlus. The 48MP Wide lens also features OIS and EIS which increase the usability of the device for both photo and video drastically when compared to less desirable options on the market.
8MP Telephoto Camera –
I'll be the first to say that 8MP for a Telephoto lens on a smartphone like this is a little bit of a bummer. As a result, the photos taken from this lens won't be quite as crisp as those taken by the 48MP Wide (the 1.0µm pixels only further this claim). The f/2.44 look stands out compared to other native tele lenses, but not when compared to the 8 Pro's other options. This lens features OIS but no EIS so it's preferable for photography over filmmaking.
48MP Ultrawide Camera –
A crisp ultrawide option is something that a lot of phones don't get right. For context, my iPhone 11 Pro's ultrawide lens is 12MP whereas the Pixel 4a with 5G is 8MP – the difference in the two is clear.
Just think about 4x the megapixels in the 8 Pro over the iPhone 12 Pro – if you're going to do a lot of establishing shots then this device may be for you.
5MP Color Filter –
There isn't much to say bout the Color Filter other than it works. Think of this as OnePlus's version of a Depth Camera and leave it at that.
16MP Front Camera –
16MP in a front facing camera is pretty legit. It's clear that OnePlus set out to make a device for content creators, and boy did they succeed.
Budget Choice – Samsung A71
If you're looking for a budget smartphone camera and don't like the idea of he iPhone SE or the Google Pixel 4a, then the Samsung A71 may be the device for you. While this is Samsung's budget offering, there are options for 5G and the camera setup is unbelievably impressive at the price point. It's worth noting that the A71 only comes with one storage capacity (128GB) but allows for external storage via a memory card slot.
So, in the past I've been pretty harsh on native macro lenses in smartphones and the Samsung A71 won't get away unscathed either. The 5MP Macro offering leaves some to be desired, also, why no tele lens? The measly 5MP would be easier to accept if the phone also came with a 5MP tele offering just because it would make creating varied, albeit uncrisp, content easier.
5MP Depth Sensor –
The depth lens is really just here to make the Depth of Field and bokeh better. The results are ok, but not overly impressive.
64MP Wide Camera –
64MP at this price point is insane. But, does the Samsung A71 perform up to the level that one might expect with these tech specs? Not quite, though it doesn't perform poorly enough to scare you away. If you're looking for a smartphone that'll take crisp still photos from its main camera without breaking the bank, then you have to consider the A71. If you need your mobile device for video and editing though, then you may want something with a little more capacity.
12MP Ultrawide Camera –
It's wide but not nearly as sharp as the 64MP Wide Lens which makes the usability of the lens for video negligible. It is nice however to get an ultrawide lens included at this price point.
5MP Macro Camera –
If you like smartphone macro photography at all, then don't buy this mobile device for the macro lens.
32MP Selfie Camera (8MP output) –
This is a prime example of an instance when you could get megapixel mania. The A71 features a 32MP Selfie Camera – that's unbelievably good for all front-facing mobile cameras though, so what gives? Well, your photos are going to output at 8MP, so about 24MP. Do not buy the A71 on the merit of its front-facing camera alone because you'll be disappointed.
Get the Picture: Why Dual SIM Phones Are Ideal for Photography
Well, now do you see the merit in dual SIM phones?
So, if you don't travel much then having and utilizing a dual SIM phone might be a waste. But, as you can tell from the list most popular phones today are actually dual SIM phones. So, if you don't want to use this functionality, then just don't.
On the other hand, maybe you're a frequent traveler and would benefit from a dual SIM phone to aid in your adventures around the globe. Thankfully, at this point most of the phones you would be interested in come with dual SIM capability standard. To be frank, what you have in your pocket is probably a dual SIM phone.
If you're a frequent dual SIM user, then mention some more benefits of using this setup in the comments section!