Did you know that the movie Tangerine was shot entirely with a few iPhone 5s? Well it was (and it won some awards too).
So, if you're a budding content creator, Twitch streamer, or Youtube personality is it in your interest to try camera phone videography before investing in a cinema-grade camera?
Short answer, yes.
Long answer, yes (but with some caveats).
Smartphone videography is undoubtedly doable, and with the continually improving technology, it's only going to continue to grow as a niche of cinematography.
You owe it to yourself, your cinematography, and your wallet to keep reading.
2020s Complete Camera Phone Videography Guide
So, you're inspired to be a filmmaker. Join the club.
Before we get into the specifics of what accessories are necessary for phone cinematography, let's make sure the right stuff inspires you.
In my cinematography class at university, the professor recommended a few films that could – and probably should – inspire you too!
The movies included:
With those films in mind, think of your favorite movies. Did any of your favorites make the cut? If not, then you may need to expose yourself to the best of what cinematography has to offer.
Consider this a cinematographic christening if you will.
Obviously, none of these films were shot on a mobile, but the world of videography is much more challenging to break into than it was for a young Hitchcock, Spielberg, or Nolan. The ability to shoot on your phone at a reasonable cost compared to shooting with costly cinematography gear is a game changer that you should be taking advantage of (the director of Tangerine did).
So, now that you're inspired, we'll teach you what gear you'll need to turn that inspiration into high-quality camera phone videography.
Best Phone Videography Accessories –
Having the right gear is imperative in all kinds of photography, but when it comes to camera phone videography, if you don't have the right accessories then you're pretty much wasting your time.
To explain, phone manufacturers have been improving the camera for years now. Their improvements, however, have primarily come in regards to the phone's ability to shoot still photos.
Well, that's not great for me, a phone videographer, right?
That's where you're wrong. So, phone cameras still take better photos than videos, but the gap is closing. By adding a little gear to your videographer's tool belt, your phone can shoot Hollywood-quality films on your phone in no time! Do note though that great video editing is the most important piece of the puzzle as mobile video content creators.
So, let's learn what gear it'll take to get there, shall we? The lists below include the best budget option, the best deal option, and the best quality option so that no matter your purchasing needs, we've got you covered.
Best Phones for Videography –
[amazon table="1483″]
Yes, there are huge differences in the quality of the video you'll get with each phone even if all the newest models are shooting in 4k resolution. The best phones for video do the extra things too. Maybe they shoot 8k video like the Samsung Galaxy S20+ or feature a powerful budget conscious camera like the Google Pixel 3a.
It's worth noting that all the phones included are high-quality options when it comes to phone videography, so you can't go wrong choosing off this list.
Keep in mind that this is going to be your phone, too, so you want it to be able to do everything you'd want your mobile device to do. At the same time, it's 2020 – all phones are pretty good at being phones. But do note that choosing the Pixel 4 XL over the 3a is a personal preference choice, but one that you'll have to deal with until it's time for an upgrade.
What we're looking for here is for the mobiles that take the best video for the category at hand. As a result, certain popular phones didn't make the list. It's worth mentioning that if you decide to go the Apple or Samsung route, you'll be more than satisfied with the quality of the phone's video capabilities.
Best Deal Option – LG V40 ThinQ
[amazon box="B07P6T82LC"]
Best Budget Option – Google Pixel 3a
[amazon box="B07R7DY911″]
Best Quality Option – Huawei P30 Pro 128GB
[amazon box="B07PX3ZRJ6″]
Best Apps for Phone Videography
Best Quality Option – Filmic Pro
If you're looking for the most professional control over your phone's camera for videography, then you're going to want to go with Filmic Pro. The app offers impressive controls for video, though the base Filmic Pro app doesn't include as many features as the less expensive options on this list.
Some things worth noting are that the app does not do photography, requires an additional $15 buy-in (total of $30) to unlock all the features, and has both connectivity and crashing issues. Filmic Pro is accepted as the industry standard and that's why it's here. Do note though, that I stopped using Filmic Pro months ago because of the bugs and haven't looked back.
Best Budget Option – Moment Pro Camera App
Like Filmic Pro, the Moment Pro Camera app does require an initial app purchase and additional in-app purchases. Unlike Filmic Pro though, the Moment app comes in at under $10 completely purchased. Moment Pro will give you full control over photography and videography as well as the capacity to shoot in RAW (best for photos) and LOG (best for videos).
If that wasn't impressive enough, those in-app purchases will unlock improved timelapse features and slow-shutter capability. Maybe you've always wanted to take eery long exposure photos but just haven't had a phone capable of doing it. Well, thanks to Moment, if you have a new enough iPhone you can! Do note that recent reviews of the Moment Pro Camera app show a drop in usability and overall support.
Best Deal Option – Beastcam Pro Camera App
I mentioned that I'm no longer shooting on Filmic Pro. This is because I reviewed the Beastcam Pro Camera app from Beastgrip – the difference is night and day. For half the cost of a complete Filmic Pro app (still without photography mind you) Beastgrip delivered an app that does 97% of the same stuff, but better.
Seriously, Filmic Pro's settings are difficult to get right – the sliders are finicky as all get out. Beastcam solved this issue by having similar sliders featuring clickers to hone in your settings. The process of recording high-quality camera phone videography is simplified without consequence by the Beastcam Pro Camera app.
Best Lenses for Phone Videography –
[amazon table="1487″]
To do quality videography on your phone, you're going to need a quality anamorphic lens – end of the story.
These lenses shoot video well, and they come standard with those cinematic flares that make films pop. An anamorphic lens is also going to frame your shots for you in the standard widescreen that films are shot in.
So, if you're shooting with your phone's native camera or with some cheap clip-on lens, then you're already behind the curve. Do some reading on the Moment Anamorphic Lens and on Beastgrip before deciding on the best option for you.
You can shoot great videos on an old phone, but it's much tougher to shoot even passable phone videos without an anamorphic lens.
Best Quality Option – Beastgrip Anamorphic Lens
[amazon box="B07RGVGZLX"]
Best Budget Option – ULANZI 1.33X Anamorphic Lens
[amazon box="B07SJ6M5SY"]
Best Deal Option – Moment Anamorphic Lens
[amazon box="B07FK5DVBL"]
Best Gimbals for Phone Videography –
[amazon table="1377″]
Yes, you could probably get away with using a tripod for your first few films, but using a gimbal gives you just enough extra control to make it worth it.
Any phone videographer worth their salt needs a gimbal. You ask how to take stable videos on a phone, and a gimbal is the simplest solution. Check this out if you want to learn more about 2020s best gimbals.
If you're looking to shoot any sort of action, then this is the piece of equipment for you. The gimbal's technology will keep your camera steady while you dart around set, change your vantage points frequently, and do everything you need to do to shoot cinema-quality stuff.
Best Deal Option – DJI OSMO Mobile 3
[amazon box="B07RHJ7LWH"]
Best Budget Option – Feiyu Pocket Gimbal
[amazon box="B07TJFG3PZ"]
Best Quality Option – Zhiyun Crane M2
[amazon box="B07VKT1BZJ"]
Best Microphones for Phone Videography –
[amazon table="1378″]
Audio is a pretty crucial part of any movie, so why would a movie captured on your phone be any different?
Actually, one of the best ways to improve your camera phone videography is to get a quality microphone for your phone. The native phone microphone is trash when it comes to trying to record cinema level audio.
So, do yourself a favor and spend some money on a microphone for your phone. Your viewers will appreciate that you did.
Best Deal Option – PowerDeWise Omnidirectional Lapel Mic
[amazon box="B01AG56HYQ"]
Best Budget Option – Hotec Handheld Wireless Mic
[amazon box="B0797S6977″]
Best Quality Option – PowerDeWise Unidirectional Mic
[amazon box="B07RG4J7WY"]
Best Lens Filters for Phone Videography –
[amazon table="1441″]
An easy way to set yourself and your films apart is by using an awesome lens filter to shoot. Seriously, a lens filter is like watching a film through a pair of sunglasses. You may not realize it, but a lot of films that you like employ a lens filter to get that cinematic effect.
By adding a lens filter to your phone you'll get a little more boost to help you stand out. The lift your work will receive will also help get you to that saught after Hollywood look.
Do some reading about smartphone camera filters before purchasing so that you can acquaint yourself with terms like Polarizing and Neutral Density!
Best Deal Option – Moment D16 Lens Filter + Filter Mount
[amazon box="B07WXHLHFH"]
Best Budget Option – Hoya Filter Kit
[amazon box="B00309HOKC"]
Best Quality Option – K&F Concept Variable Fader
[amazon box="B07M8LTQ98″]
6 Tips for Phenomenal Phone Videography –
The best gear for smartphone videography will help, but you'll need the skills to go with them if you want to make it as a phone cinematographer.
So, you're up to the challenge? These tips, if employed correctly, will get you taking high-quality videos on your phone in no time flat. But remember, experimentation is the key to improving your art.
While these tips will help you improve, it's only with your drive to push the envelope of film that you're going to get noticed.
Hell, maybe you could be the first phone videographer to film a Hollywood blockbuster completely mobile. Just keep shooting to find out!
We've simplified it a lot here to help get you started, so, by all means, keep on experimenting and learning. If you find a resource worth sharing, drop it in the comments section!
Mobile Videography Tips #1 – Vertical is Very, Very Bad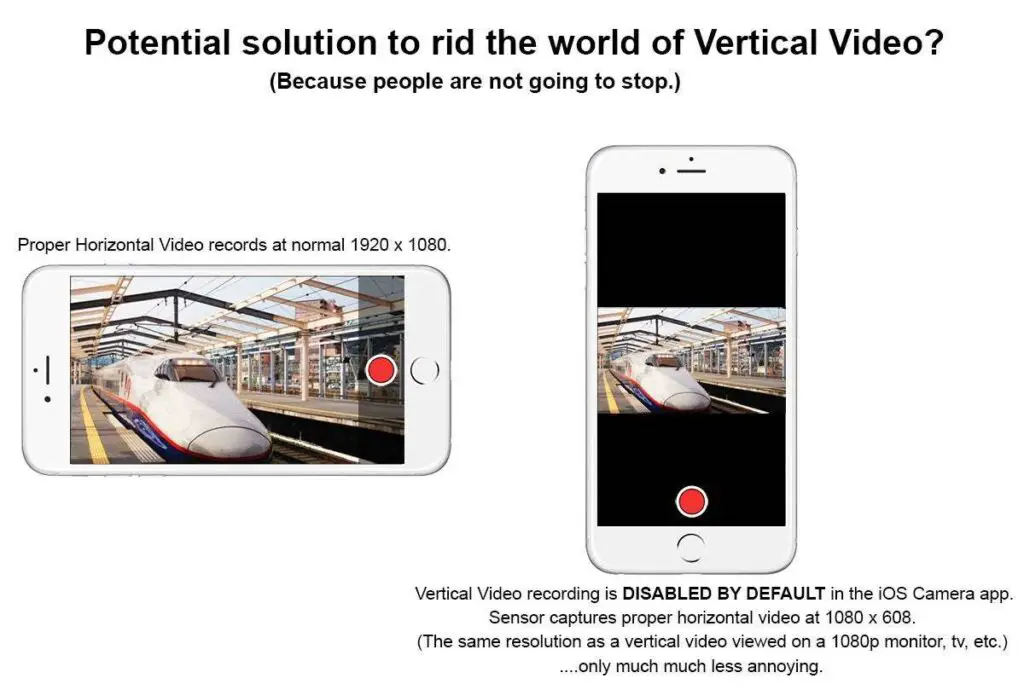 Name a movie shot in vertical.
Or, better yet, name a single scene from any movie shot in vertical.
The fact that you can't name one is an indication that shooting in vertical is never a good idea (phone photography included).
This concept should be as simple as lens versus lense, but somehow it isn't. Get it through your thick skull; vertical videography is not allowed.
Mobile Videography Tips #2 – Compose Your Shots Like Nothing is Different
So, you're using a phone.
Remember, nothing changes when it comes to the rules of composing your shots. Seriously, you're doing the same things just with a different piece of technology.
Need some assistance with photo or video composition? Click here.
Using the Rule of Thirds is perhaps the simplest and easiest way to improve your composition. Do note that some phones don't have the grid in video mode. Just quickly switch to photo mode to frame your shot, and then turn back to video mode to shoot.
Mobile Videography Tips #3 – Control the Controllable
You get to choose what gear you're using, where you're shooting (location, vantage point, angle of the sun), the settings of your camera, and maybe what your model is wearing. Everything else in your photoshoot is up to chance.
Shouldn't you control everything that you can? Of course, you should!
In an industry as unforgiving as mobile filmmaking, you have to take every possible step to be sure your work is as good as it can be. Being aware of what you can control and then adequately handling your business will help to ensure that you never miss a shot.
Mobile Videography Tips #4 – Learn to Exploit Lighting and Dare to Try Different Vantage Points
Anyone can splice some clips together on iMovie, throw in some music, and add some transitions, but that's not what we're trying to teach you to do here.
We're trying to take your camera phone videography to the next level. The easiest way to do that is to experiment and/or find inspiration in lighting and vantage points. I bet if you take two minutes to think about your favorites films, the clips that you'll remember will have two things:
Fantastic Lighting
Various Interesting Vantage Points
Seriously, great lighting and intriguing vantage points are the most essential thing in mobile filmmaking, aside from the story. When it comes to shooting on a phone, you can do a lot to move these two bits of your video along.
When it comes to low light video, turn on your phone's Night Mode. In terms of vantage points, use your imagination! Your mobile device is much smaller than a traditional camera; as such, climbing up to precarious vantage points is an option unique to mobile photography.
So, mastering those two skills will put you well on your way to shooting a quality movie on your phone.
Mobile Videography Tips #5 – Story is Always Most Important
At the end of the day, why do people make films?
Well, because they want to tell a story! You can make a film with sublime cinematography, ideal lighting, great audio, and titillating vantage points, but if the story sucks, then the story sucks.
Don't make a movie filled with frills and gimmicks. Instead, prioritize your story from the outset. You can add aesthetic touches to your film, sure, but you have to make sure that the meat and potatoes of what you're doing is pure-class first.
Mobile Videography Tips #6 – Get a Phone Rig
A camera phone videography rig is an integral part of any camera phone videographer's gear collection. The rig allows you to pack all of your mobile filmmaking accessories into one place.
It's a serious benefit to have your camera, lenses, lighting, and microphone all in one handy place. For those of you that prefer the feel of a traditional DSLR, the phone videography rig will be similarly cumbersome.
Oh, and that camera phone videography rig will help you look the part of a high-quality videographer too!
4 Hacks to Get Your Camera Phone Videography Out There –
https://www.instagram.com/p/B9lpe62h3RN/
So, outside of posting to Instagram and Youtube literally all the time, how is a new phone videographer supposed to get noticed?
Well, there are a few options available to you.
The best option is always to be passionate about what you're doing – passionate people make better content and are better able to discuss and market their work. Ditch that native camera app for one of these too so that you stand out from the pack.
I'm assuming you wouldn't be here if you weren't passionate about phone video so I'll get right to the tips.
Tip #1 For Phone Video Content Creation – Social Media
Unfortunately, if you're going to compete as a camera phone videographer, you're going to have to swim in the shark-infested waters of social media.
Starting, you're going to feel like a little fish in an ocean. You're going to see your competition getting 20,000 likes on their live mobile stream while you get a measly 14 likes on your vlog.
It's frustrating, but we've all started from the same place.
The key to success in social media is perseverance, so be ready for the long haul. In the end, though, winning in social media will surely bring you success as a phone videographer.
So, you've got no other option – just get it done.
Tip #2 For Phone Video Content Creation – Create Groups with Like-Minded People
The best way for you to improve your videography is to work on it – both pre-, during, and post-shoot – with other people. Constructive criticism in real-time is better than any guide you could ever read.
So, with that in mind, get your friends together and create a group where you videography on your phones. You can center the group around an activity if it helps get more people involved.
For example, your videography group could focus on:
running
skateboarding
pop culture
camping
video games
crafting
music
hiking
golf
Regardless of which activity you choose, as you're shooting, other people will be seeing the footage. They'll be able to discuss then what they like and dislike about your work – cordially and immediately.
You'll also be able to share tips and techniques amongst the group. The result – better phone videography skills for everyone!
Tip #3 For Phone Video Content Creation – Film Festivals
https://www.instagram.com/p/B7tEeeFHFxA/
Just because some phone cinematography is making it big doesn't mean that it's impossible to have one of your films featured in a festival.
It's actually easier than you may think. In many cases, all it takes is $10 to enter your film into the festival. This entry is, of course, no guarantee that you win, but it's cost-effective nonetheless.
Here are some mobile film festivals you should check out:
Entering your phone videography into a mobile film festival can be a great way to meet people in the industry. Communicating via Instagram, DM's, or Youtube comments is great, but it's good for business to put a face to a name.
Perhaps the biggest reason that you should enter your mobile films into a phone only film festival is its competition. Don't you want to see how your work stacks up against the rest of the industry?
An easy tip to help you stand out from the pack is to change your focal lengths. While phone cameras don't have traditional focal lengths, when you add a mounted lens they have an effective focal length.
If you have a multi-camera set-up on your phone, you can take extra advantage of focal lengths. If, for example, you have the iPhone 11 Pro Max and all the Moment lenses, then you have upwards of 10 focal lengths to play with. Imagine, how long it would take DSLR dude to deal?
Tip #4 For Phone Video Content Creation – Talk to People
We've said it so many times, and we'll keep saying it – talk to people.
It's not the best videographer that finds success, it's the videographer who's good enough and markets themselves well.
So, work on your cinematography with your phone, yes. But, force yourself to talk to people about your work more. Chances are you're more uncomfortable with the latter, and that's okay in the short term.
In the long term, however, you need to be able to communicate about your work intelligently, passionately, and without any sort of doubt.
Forcing yourself to try to do this early in your phone videography career will pay dividends in the long run.