Astrophotography is a very niche subject, one that was for a long time only available to those shooting on a traditional camera. However, many new mobile devices feature impressive low-light capability – add a few additional mobile astrophotography tools, and your phone is ready to rock.
[su_youtube url="https://www.youtube.com/watch?v=PFmvU3plxKI" autoplay="yes" mute="yes"]
Smartphone astrophotography is more popular than you may think; it can be rewarding to capture awe-inspiring photos of the great beyond without thousands of dollars in equipment. So, what are you waiting for? Shut off that nighttime Netflix binge session and get outside to shoot the stars.
Quick-Start Guide to Astrophotography on Your Phone
Can't you just take photos of the night sky and call it astrophotography?
Sure, but your photos are going to be extremely pixelated unless you're taking the necessary steps to combat the drawbacks of low light photography. As such, you'll need a little gear and software assistance to actually photograph space on your phone. A lot of apps say that they do astrophotography when in actuality, they're using AI to extrapolate your image. It looks okay, but it's far from legitimate.
So, how can you be sure that your smartphone astrophotography is the real deal? Well, keep reading because the answer isn't a cheap Amazon zoom lens.
What is Astrophotography?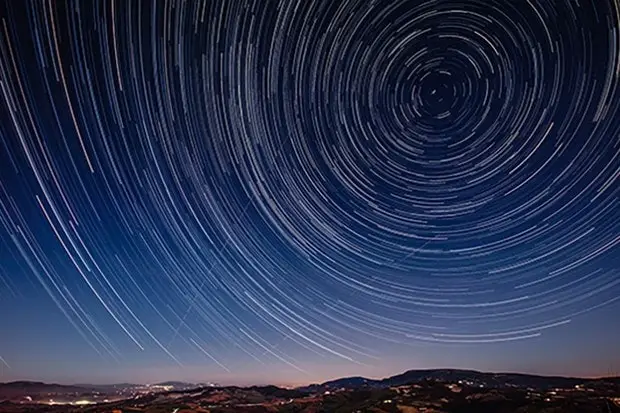 In the simplest terms, astrophotography is taking photos of things in space – meteors, stars, planets, satellites, and whatever else you can imagine.
Within the niche, though, certain subject matters tend to be more popular than others. I've discussed our favorites below.
Types of Astrophotography
How to Take Photos of the Moon – it may seem counter-intuitive, but the best times to photograph the moon are during the golden and blue hours using your phone's native camera app. Try to include interesting objects in the foreground of your photo, and remember, do not zoom! Any zooming done in your native camera app is digital zoom, or literally the same effect as cropping. Do yourself a favor, and just crop the photos when editing.
How to Take Photos of Constellations – have you ever done long exposure photography? Well, if you want to photograph constellations, then you're going to need to learn. Don't worry though, many newer smartphone models can do long exposure, and if they can't, well, there's an app for that. Whatever app you choose, you're going to want to lock your exposure for the best results.
How to Take Photos of Satellites and the International Space Station – finding the one you're searching for is the biggest struggle. The Heavens Above app is an excellent option for locating the satellite or planet for which you're looking. Once you've discovered your subject, locked your phone tripod into place, and started your long exposure, all you have to do is wait the allotted amount of time.
How to Take Photos of Star Trails – perhaps the trickiest type of astrophotography on the list is capturing star trails. While the premises are the same as the others, the composition is much tougher. Composition is hard when shooting star trails because you can't actually see them. As a result, it's sort of a shoot and hope kind of photography. At the same time, you can crop and rotate your photo when editing to ensure that composition is correct.
Can You Do Smartphone Astrophotography?
What's the best astrophotography camera? Well, arguably the one that you always have on you. Your phone's camera is pretty powerful, after all. So, of course iPhone astrophotography is a thing – and a popular one at that.
But, if you're going to do it legitimately, then you're going to need a telescope (or the Google Pixel 4's Astrophotography Mode). Don't worry; the telescopes aren't too expensive compared to the traditional full-frame camera variety. The Pixel 4, though, will run you a pretty penny.
Necessary Astrophotography Tools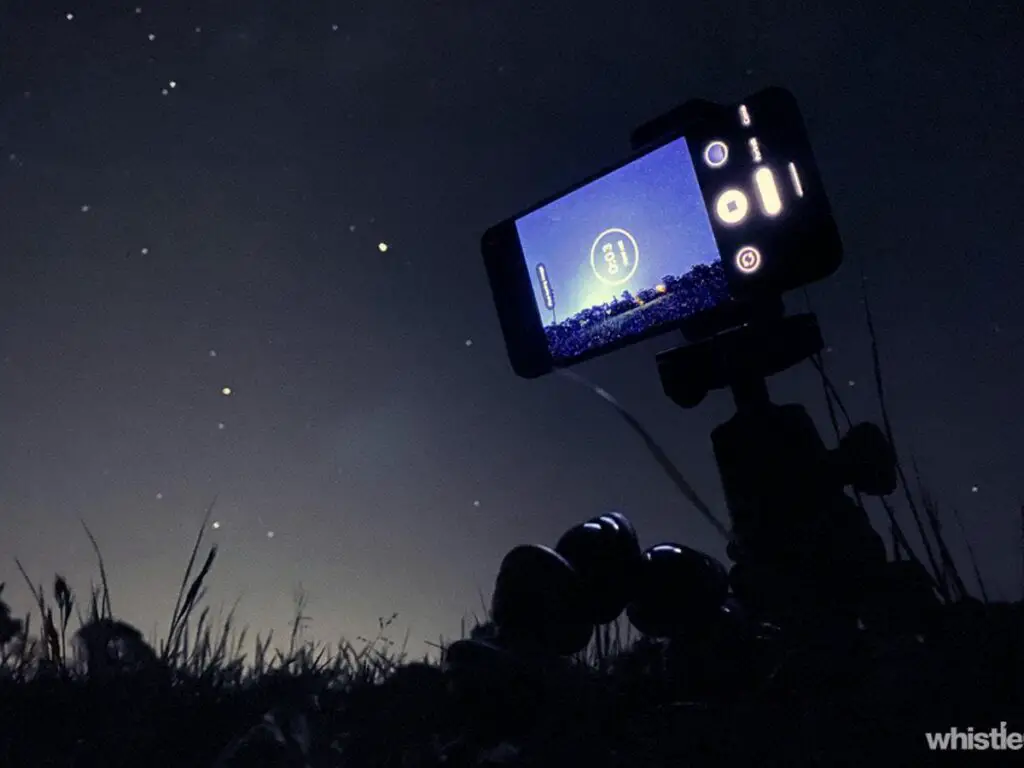 After a phone tripod, telescope, and editing app, you're really just adding to your mobile photography tool belt. At the same time, if you can find a use for an astrophotography tool from this list in another niche, then let us know about it in the comments.
Best Mobile Phones for Astrophotography
Best Quality Option

Preview

The Verge

Title
Huawei P40 Pro
Weight
7.37 oz
Camera Set-Up
Lecia Quad Cam
Storage
256GB
Our Rating
9.4/10
Cost
$$$
Link
Check Price
Best Deal Option

Preview

Amazon

Title
Google Pixel 4
Weight
5.71 oz
Camera Set-Up
Dual Camera (plus Night Sight)
Storage
64GB or 128GB
Our Rating
9.3/10
Cost
$$$
Link
Check Price
Best Budget Option

Preview
Title
Apple iPhone SE
Weight
5.22 ounces
Camera Set-Up
Single Rear Camera
Storage
64 GB, 128GB, or 256GB
Our Rating
8.6/10
Cost
$$
Link
Check Price
Chances are your cell phone is new enough that you don't need to upgrade, but where's the fun in that? If you want some more information on the best phones for night photography, then click here. You should see if your mobile device has some sort of Night Mode, though, as many of 2020s newest smartphones do.
Cell phones are – well, we would argue were – notoriously bad in low-light, so be patient as you learn to hone in the correct settings and methodologies. Shooting in manual focus or pro mode will give your smartphone astrophotos the best results.
Best Smartphone Telescopes for Astrophotography
Best Deal Option

Preview
Title
Celestron Inspire 80AZ Refractor
Optics
80mm refraction telescope
Tripod
Adjustable 50.2 inches
Compatibility
Smartphone adapter
Our Rating
8.9/10
Cost
$$$
Link
Check Price
Best Quality Option

Preview
Title
Gskyer Telescope
Optics
Three adjustable f/6.7 lenses (24x, 60x, & 120x)
Tripod
31.5-49 inches
Compatibility
Comes with a smartphone adapter
Our Rating
9.2/10
Cost
$$$
Link
Check Price
Best Budget Option

Preview
Title
Gosky Universal Cell Phone Adapter Mount for Telescopes and Binoculars
Optics
N/A
Tripod
N/A
Compatibility
Works with phone camera set-ups measuring between 28mm-47mm and phones measuring 54mm-90mm
Our Rating
7.5/10
Cost
$
Link
Check Price
Yes, the best lens for smartphone astrophotography is a telescope; who would've guessed it? Well, if you've read our explanation of telephoto lenses here, then you know that optical zoom makes sense for space photography. While there are super cheap lenses available on Amazon that claim to be astro-capable, they don't perform up to expectations.
You're going to have to spend a little bit of cash if you want to do real astrophotography. On the other hand, your whole space photography set-up will cost you less than a traditional camera would.
Best Phone Tripods for Astrophotography
Best Quality Option

Preview
Title
Peak Design Travel Tripod
Weight
2.8 lb
Max Height
60.2 inches
Compatibility
DLSR, Mirrorless, and Smartphone
Our Rating
9.5/10
Cost
$$$
Link
Check Price
Best Deal Option

Preview

Moment

Title
MeFoto BackPacker Tripod
Weight
2.54 lb
Max Height
54.7 inches
Compatability
DLSR, Mirrorless, and Smartphone
Our Rating
9.1/10
Cost
$$
Link
Check Price
Best Budget Option

Preview

Moment

Title
Manfrotto Mini Tripod with Universal Smartphone Clip
Weight
5.1 ounces
Max Height
12 inches
Compatability
Smartphones and anything with a ¼" -20 screw
Our Rating
8.2/10
Cost
$
Link
Check Price
If you're going to shoot long exposures, then you need a phone tripod – end of story. Without something to stabilize your phone camera, the image will lack clarity and crispness. If you're photographing the night sky using long exposure, then this is particularly important because bumps and jostles will ruin the clean look of your shot. Imagine a light trail that's clearly been bumped off course – not as aesthetically pleasing, huh?
Ever heard of chromatic aberrations? Well, they're little bumps and jostles that can ruin a photo. The best solution? A tripod and bluetooth camera remote.
A tripod isn't expensive, and it'll really help your mobile photography. Learn more about how and why here.
Best Apps for Astrophotography
If you need an astrophotography tool that'll make a difference, then one of these apps is for you.
NightCap Camera – So, the NightCap Camera app performs in low-light similarly to the Pixel 4. However, the app also gives you a higher ISO capability than any native or third party app, so this isn't surprising. The real benefit of the app in terms of smartphone astrophotography comes with its dedicated modes. These include long exposures, light trails, photography of stars/meteors/the ISS. While the AI and manual controls are nice to have, they don't work quite as well as expected.
Camera FV-5 – Okay, you got me – Camera FV-5 isn't a dedicated astrophotography app. But, the level of manual control that you get in the app makes it the best option for Android users who want to photograph the stars. Camera FV-5 gives more control to the user than Filmic Pro and features a much higher rating. There are some astrophotography dedicated options in development for Android, though, so check back for updates.
Do remember to make the standard adjustments to your photo – contrast, exposure, etc. – using a photo editing app like Snapseed or Lightroom Mobile. If you want more information on photo editing apps, then check this out. Consider focus framing and focus stacking, too; both can aid in the clarity of your night sky photos.
How to Shoot Astrophotos On Your Phone
To do astrophotography on a phone, you'll need a tripod, a telescope, and the ability to shoot long exposures. Anything outside of these three pieces of gear is unnecessary.
Best Location for Smartphone Astrophotography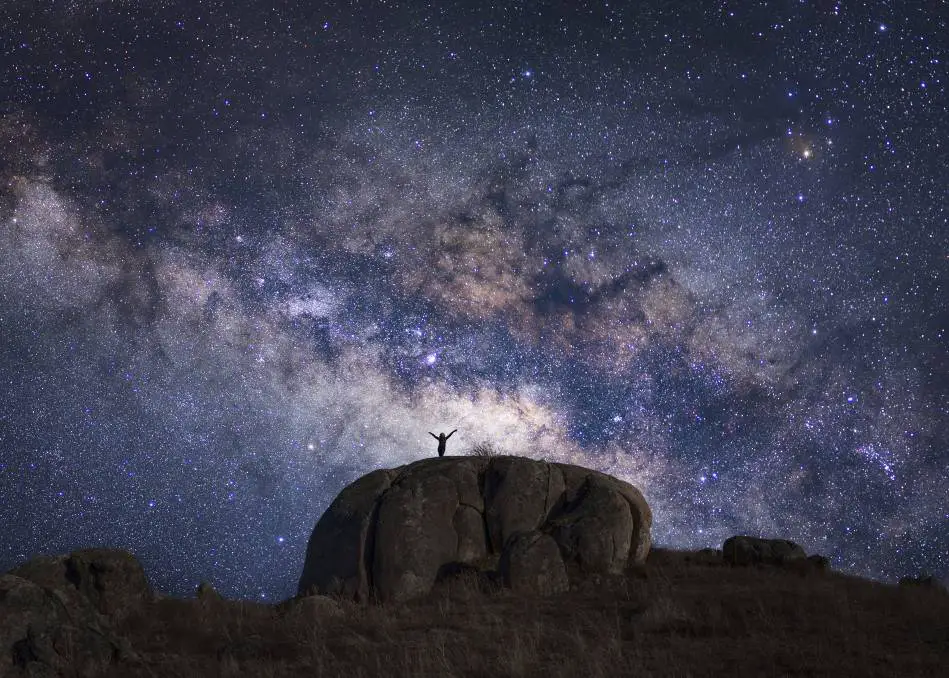 So, where to go? Well, it depends on the effect that you want. If you want to capture it all, devoid of any human tainting, then you're going to have to get away from civilization.
A National Park is a great place to go because you can be sure that you're far enough away. If you don't have access to a National Park, then just find the biggest field you can away from bright lights.
You can also photograph space without the full immersion. By this I mean, use a less powerful lens and use objects in the foreground to frame the shot. You can create an interesting depth of field effect this way – especially when doing a long exposure.
Setting Up the Shot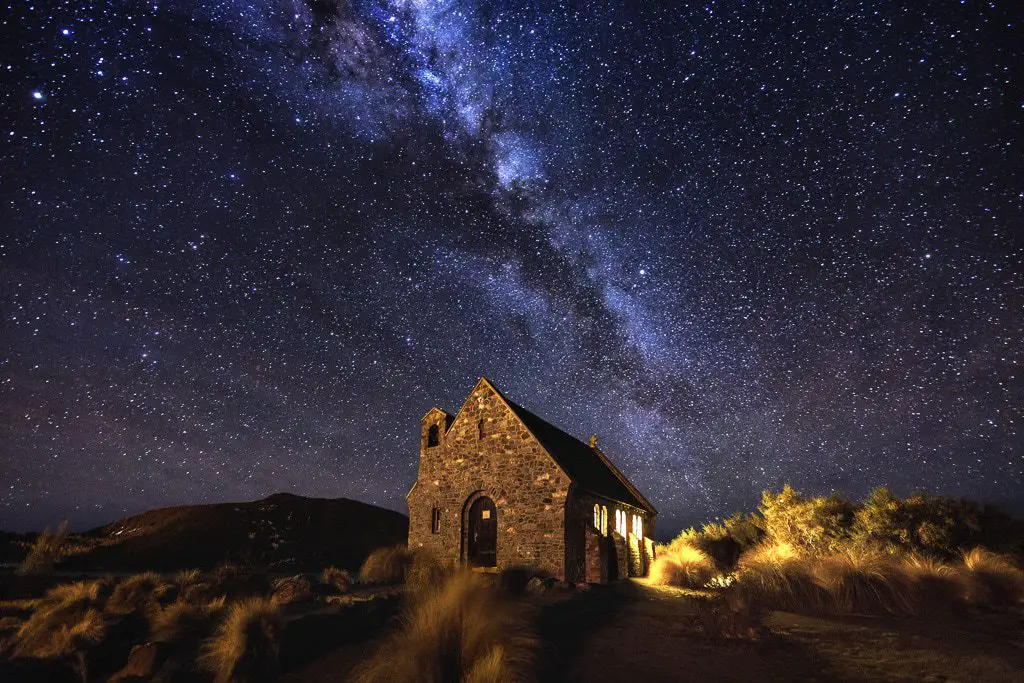 Have you ever been to a telescoping (astronomy – either professional or amateur) event? If so, just set-up similarly to how you saw them set-up. If you have no idea what I'm talking about, then I'll walk you through it.
You're going to need to locate your subject first. You've already downloaded the Heaven's Above app just for that, right? Then you'll need to think about what angle from which you want to shoot your subject.
Consider what constellations or other astronomical things you can fit in the background. When doing smartphone astrophotography, it is not uncommon to get multiple usable images from one larger picture, so plan accordingly.
Phone Camera Settings for Astrophotography
You're on location, you've got the tripod all set-up, you open one of the recommended apps, and you realize you don't know what your phone camera settings should be. You don't even really know the difference between ISO and saturation, so you're totally out of your depth. Never fear – I've simplified it all big time.
White Balance – This is what tells your phone camera what plain Jane white is. When doing astrophotography, set the white balance to daytime or auto because there shouldn't be any real white in your photos.
Exposure – I've talked a lot in this post about long-exposure, so it only makes sense to discuss exposure here. Exposure is how much light hits the image sensor – over-exposed images tend to be bright and washed out, whereas under-exposed photos tend to be dark and lacking detail.
Do note that the latter is preferable as an under-exposed photo or video retains more image information and is thus easier to work with when editing. For astrophotography try to set your exposure between the 15 and 30 second mark.
ISO – is how much or little the image sensor reacts to light. Cranking up that ISO is a common photography trick when shooting the stars, but what's the benefit? Well, an increase in ISO means you don't have to increase the shutter speed, which you can't really do on the phone anyway (apps like Filmic Pro, Moment Pro Camera, or Camera FV-5 give the most control).
As a result, adjusting the ISO is your best option for control over the light. Somewhere in the 400-1600 range is ideal.
3 Smartphone Astrophotography Tips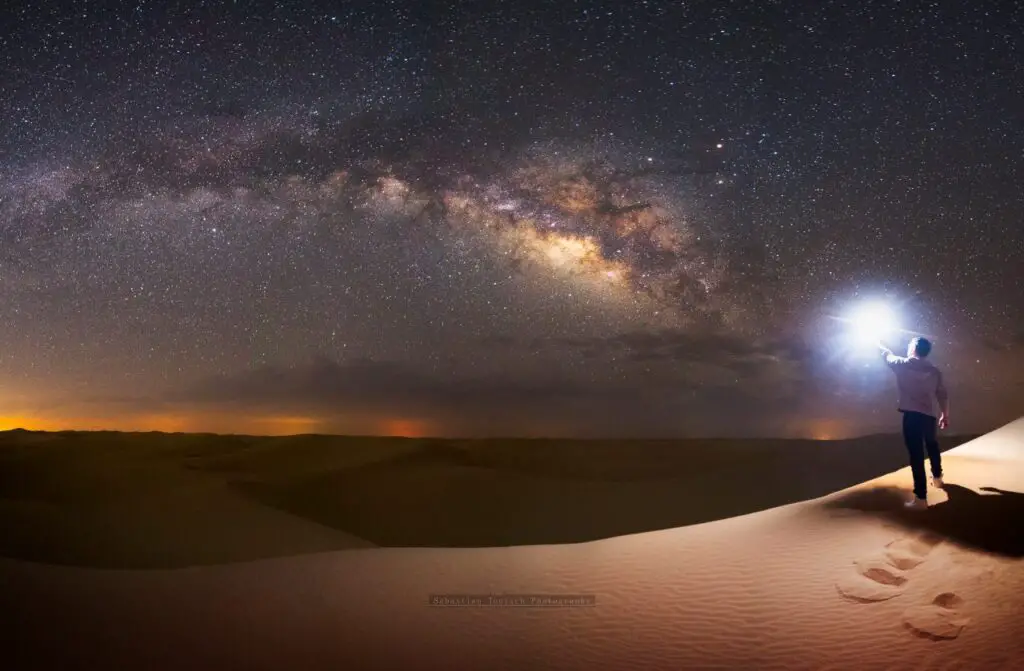 Tip #1 – Get Out There
Astrophotos taken in Yosemite are better than those taken in your backyard (for the most part). The reason for this is that Yosemite Valley is not tainted by the unnatural light that your backyard is. As a result, the sky has more 'pop' to it.
You've heard about the big open star-filled skies of Montana, right? Well, it's true. The Montana sky is this way because the state's population – and as a result, unnatural light production – is comparatively small. These types of locations are ideal for smartphone astrophotography.
Tip #2 – Invest in the Right Astrophotography Tool
If it's not clear at this point, legitimate smartphone astrophotography requires some gear. It's not worth investing in crappy stuff, so go ahead and invest in the right tools from the outset. If your equipment can't do what it needs to do, no one is going to enjoy your photos or videos.
You only need the three things anyway – telescope, tripod, and an app that gives full manual camera controls. That isn't an obscene amount of gear; on the contrary, it's quite reasonable, especially when one considers what they get for their investment.
Tip #3 – Plan
You should always plan your photoshoot beforehand, but when doing smartphone astrophotography, a little extra forethought is required. You see, in order to photograph the stars and the night sky, you'll need to be far enough away from mass human-made lighting. This means, if you live in a big city, then you're going to have to plan to take a relatively lengthy trip.
For reference, I live in Denver, Colorado – one of the biggest cities in the American Mid-West. I wouldn't even consider doing smartphone astrophotography unless I was way out in Rocky Mountain National Park – about an hour and a half of driving – because the city lights will ruin the shot. Because you've got to get out there to do great astrophotography, you need to plan your trip. Otherwise, you're going to get to a dark location without a plan; that's not conducive to doing this well.
Becoming a Mobile Astrophotographer
So, now you know what it takes. In my experience, a basic tripod and the right app go a long way in getting passable astrophotography on your smartphone. For context, I shot the photo above on my iPhone 11 Pro, the NightCap App, and Mobile by Peak Design. Tag us in your smartphone astrophotos on Instagram with #photoswithphones if you want to be featured on this post! Comment down below how you're shooting your astrophotography on your phone.