Ask any photographer what they think about phone cameras and they'll quickly dismiss them as being relevant only to amateurs (they won't even try comparing phone cameras). They'll question the phone's capacity to take quality professional like images; if you think about it though, their logic makes sense.
More importantly, ask them again after a few Moscow Mules (or whatever it is photographers drink) and their response is less of a scoff and more of a concern.
So, that's why we're comparing phone cameras released in 2018 as well as discussing their relation to the photo behemoths. To prove to you that you don't need to spend hundreds on the latest and greatest from Canon or Sony. To prove to you that you just need to do a little extra research before upgrading your mobile phone.
Comparing Phone Cameras –
See, lens and camera companies are becoming keen to the fact that the amateur photographers – the soccer moms, the Instagram models, and the action shooters alike – want a quality product too.
https://www.instagram.com/p/BliZTx2lf6r/?hl=en&taken-by=travelswithmyphone
The cameras on the newest phones rival those released by the titans of the camera industry over the last decade (here are some tips for unlocking your phone's potential). We can give you all the tips in the world, but the camera has to hold up its end of the bargain. Above all, it has to perform.
Boy, do 2018's phone cameras ever perform. Hitting the 12-megapixel mark for consumer grade cameras, for example, was only a recent achievement. How about your smart phone's camera?
2018's cameras certainly do. The 12-megapixel capability is available in each of this year's biggest releases – the iPhone 10, the Samsung Galaxy 9, and the Google Pixel 2. Oh, and there's more…
See, increasing the megapixels on these bad boys though is only the beginning.
For a while, phone cameras were only good in the 'front' mode. The 'back' mode was reserved almost exclusively for selfies. Yea, that's changed too (don't worry though, there have even been upgrades to 'selfie-mode').
At this point, phone cameras are well on their way to breaking into the professional ranks. There are loads of great gallery-level photographers that utilize their handhelds at times in lue of breaking out the big bulky camera.
If the quality is comparable, then why not shoot with the phone?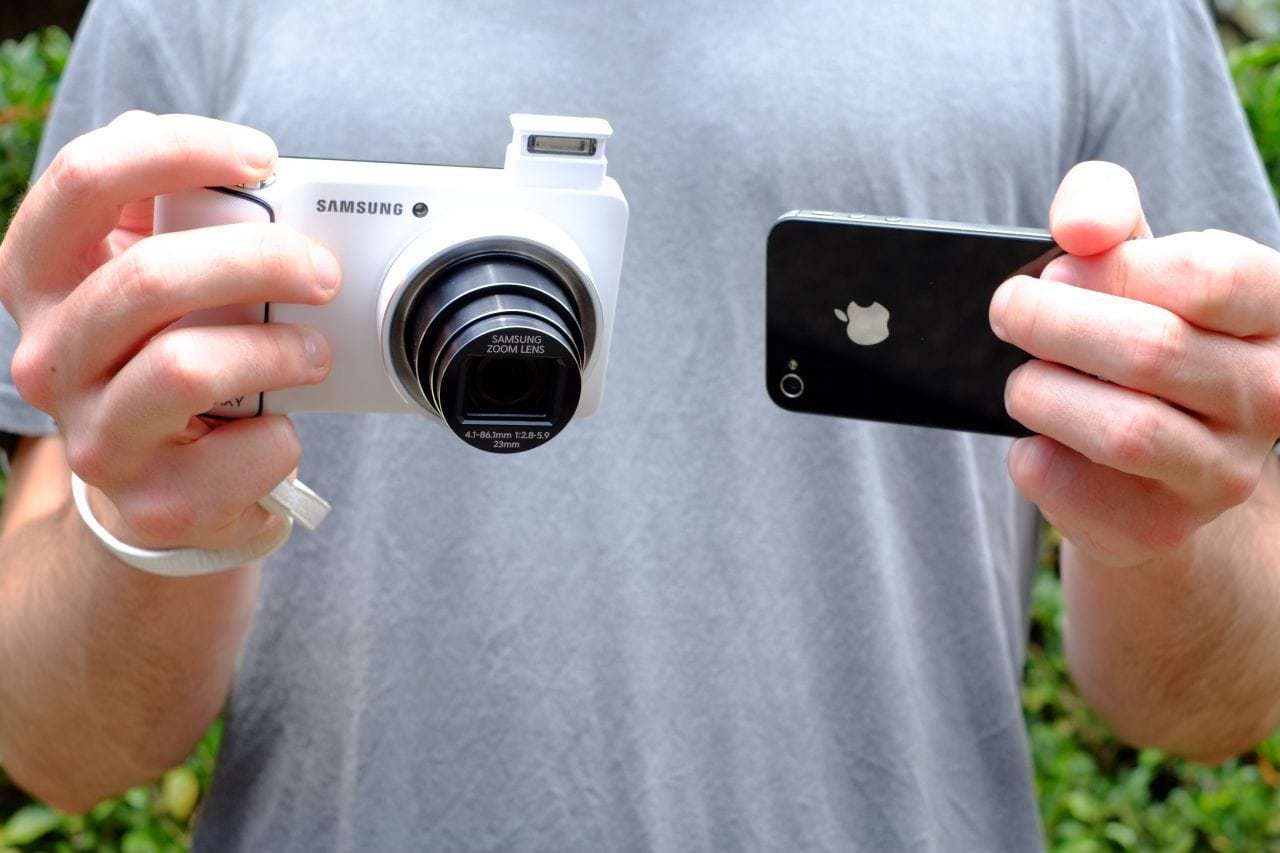 In this article, we'll show you the specs and features that come with each of 2018's major releases, so that you can make the most informed decision when purchasing.
Purchasing a phone with competitive capabilities to replace that outdated and bulky camera that is.
Specs and Features – Explained –
Sensor –
There are lots that we could tell you regarding sensors, but the jist of what's important is the size and the actual (or 'equivalent') focal length. It sounds confusing, but it's really not…
Size – So, it used to be that lower quality cameras had a smaller sensor size while better quality cameras had a larger sensor size. This rule of thumb becomes less valid with each passing day. As technology continues to press on, lenses producers are developing new ways to make smaller sensors better.
Why? Well above all, it's because it's in their best interest to. The sensor is the most expensive part of the camera to manufacture, so a smaller sensor means less expense for the manufacturer. Consequently, don't be scared of the smaller sensors!
Ratio –
This whole concept is pretty misleading because there are differences in what companies market versus how the product actually performs. Techradar.com does a pretty good job though of explaining.
"For this reason, manufacturers often provide an 'equivalent' focal length, which uses the full-frame sensor as its reference point, to make things easier to understand."
As a result, if you can't find the 'equivalent' focal length when you go to upgrade your phone don't fret! A quick Google search – or a look through the rest of this guide – will provide you with all the information you need.
Field of View –
This is essentially what the camera can see. The best way to understand how a field of view works is by looking at the graphic below.
Aperture –
The camera's aperture is expressed with an f/ notation that usually spans from around 2 all the way up to 22 (some specialty cameras and lenses have more or less). The idea behind aperture is how much light the camera lets in when taking a photo. A wider aperture (lower number) means a brighter photo. A narrower aperture (higher number) means a darker photo.
It's worth noting that phone's cameras do not allow for the kind of aperture changes available in the likes of Canon or Sony cameras. You should purchase a phone with a camera designed to shoot the kind of photos you plan on taking. 
Pixels –
In contrast to the sensor explanation, the pixel explanation will be short and to the point. The higher pixel count the higher quality image. Plain and simple.
So, if you want to take high-quality pictures, then this is the most important thing to look for in the Smartphone Camera Specs Comparison 2018.
2018's Cameras –
Are you ready for the Smartphone Camera Specs Comparison for 2018?
Well, ready or not, here they come…
Comparing Phone Cameras: iPhone 10
Apple's most recent releases (there are three of them after all) feature dual cameras. We've gone into more detail on the three here, but as far as this post comparing phone cameras of the major brands goes we'll kind of average them and their specs together for simplicity's sake.
The dual cameras are twelve megapixels (f/1.8, 28mm) for the front camera and twelve megapixels (f/2.4, 52mm) for the back one.
The phone as a whole is water and dust resistance, but be wary of what that actually means…
Other improvements implemented by Apple in 2018 include larger and faster 12MP sensor, new color filters, deeper pixels, and an improved touch focus capability.
These improvements are a result of new technology like OIS (optical image stabilization) and PDAF (phase detection auto focus). We could spend a bunch of time explaining exactly what these do, but the names are – for everyone's benefit here – pretty self explanatory.
On another note, while Apple's new increased 2x optical zoom is great, as we've mentioned before, you shouldn't be zooming!
While we've also told you not to use the flash, their new quad-LED dual-tone flash is less harsh than previous flashes. We'll give credit were credit is due…
Features
Worth considering when looking at Apple's new iPhones are the features. Some great ones include their new OLED screen – feauturing a 1,000,000 to 1 contrast ratio for  breathtakingly real colors – and the TrueDepth Camera – which enables Face ID better than ever before.
An updated Portrait Mode for selfies even creates studio-esque lighting. So pretty much ideal for those Instagram lovers.
Videography
So, you're a videographer and you're comparing phone cameras for videography purposes? Well don't worry – we've got you covered.
The new iPhones shoot at 160 pixels at 24, 30, and 60 frames per second on the front camera and 1080 pixels at 30, 60, 120, and 240 frames per second for the back one. They also feature simultaneous 4K video and eight megapixel image recording which is a major improvement over previous versions.
Comparing Phone Cameras: Samsung Galaxy 9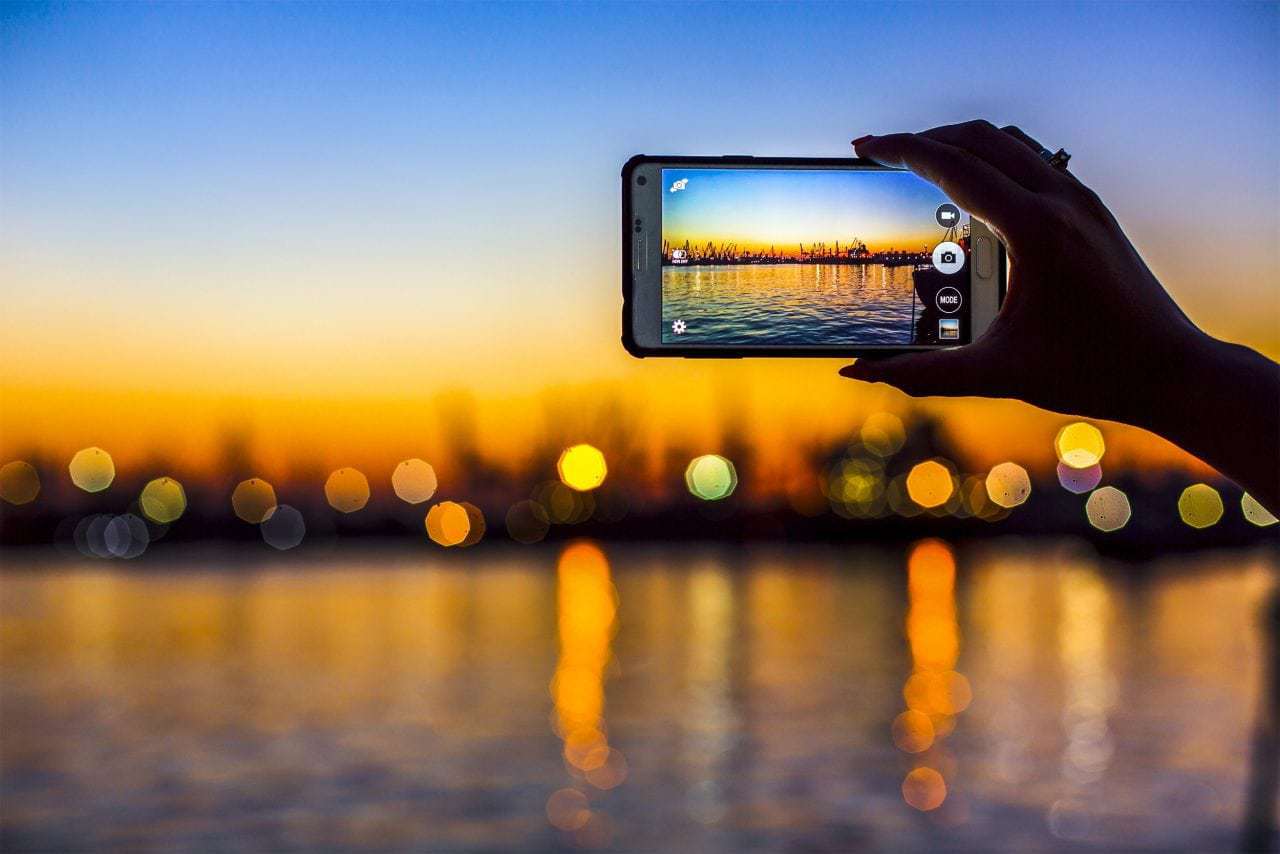 So, for the Samsung Galaxy 9 we're going to compare phone cameras a little differently. This is just because Android fans tend to be a bit more analytical and interested in different things when it comes to technology.
It's always best to just give the reader what they want, right?
Front Camera: 8 MP AF Sensor
For the front camera, the sensor size is 1/3.6 inches and features an eight megapixel AF sensor. For those who are interested, the sensor ratio is four to three.
When it comes to pixel size, the camera boasts 1.22 micrometer pixels. These super tiny pixels result in super crisp images – perfect for smartphone photography.
The field of view for the front camera on the Galaxy S9 is 80 degrees and the aperture is F1.7.
Some additional interesting  features of the front camera include both selfie focus and wide selfie modes. These will compare with Apple's selfie modes, though will perform slightly differently. Doing some additional investigation when it comes to selfie modes will ensure that yours turn out just as you'd like  them to. 
Rear Camera: Wide-angle camera
Samsung's new Super Speed Dual Pixel is a real winner across the board. 
Or, in the words of some of the experts, the camera in the Samsung Galaxy S9's is really is something special…
With a twelve megapixel AF sensor the Galaxy is up to par with the new iPhones.  When you add in a sensor size of 1/2.55 inches, a pixel size of 1.4 micro meters, and a sensor ratio of four to three the Galaxy really starts to get some clout.
So, the rear wide-angle camera also features a dual aperture – one at F1.5 mode and the other at F2.4 mode. The dual aperture is a nifty feature as it allows for increased control without having to really employ the manual mode of the camera.
Now for the not so good…
While typically the rear camera is the higher performing one, in the case of the rear wide-angle it under performs when it comes to field of view. The field of view of 77 degrees just doesn't compare with the 80 degrees available in the front camera.
Rear Camera: Telephoto camera
The telephoto rear camera is where the main video capability of the Galaxy S9 are. So, if you're a videographer, then this is the section for you.
As a whole, the telephoto camera has a twelve mega pixel AF sensor, a sensor size of 1/3.6 inches, a pixel size of 1.0 micro meters, and a sensor ratio of four to three. The phone has a F2.4 aperture and an eight time digital zoom to add to its lengthy list of credentials.
A limited field of view is typically of telephoto cameras, but the 45 degrees in the Galaxy's S9 is of some concern.
Like the new iPhones, the new Galaxy also boasts OIS (Optical Image Stabilization). Unlike the new iPhones, it also comes with Selective Focus which is a sort of background blur effect. The Selective Focus is definitely an awesome tool to have in your tool belt regardless of what kind of photographer you are.
Videography
Now, on to the video specifics stuff…
The Galaxy S9 has 4K video recording at 30 frames per second or 60 frames per second. The QHD video recording occurs at 30 frames per second.
HD recording at 1080 pixels occurs at 30 frames per second or 60 frames per second. The slightly less crisp 720p HD video recording is done at 30 frames per second.
Videography Features
As one might expect, the Galaxy S9 does feature Super Slow-mo video. This is is done at 720 pixels clarity and at 960 frames per second (slow motion video support 1080 pixels at 240 frames per second).
There is also a Hyperlapse video capability – supported at 1080 pixels.
Digital zoom is up to eight times on the Galaxy S9 or up to ten times on the Galaxy S9+.
Oh, so you want a photo worthy still image from your video? Samsung has introduced 9.1-megapixel still photos while recording 4K video.
Pretty impressive stuff, huh?
Comparing Phone Cameras: Google Pixel 2
With a 12.2 megapixel camera, Google's Pixel 2 smartphone does have the best camera of the group when it comes strictly to images. The F1.8 aperture and 1.4 micro meter pixel size are, however, comparatively lacking.
We'll go ahead and break down the front and rear cameras. This way you can come to your own conclusion regarding comparing phone cameras.
Rear Camera:
So, the rear camera is the 12.2 megapixel one. There's an immediate plus in the Pixel's favor.
Unfortunately for the Pixel, the F1.8 aperture and 1.4 micro meter pixel size have to go down as negatives. This isn't necessarily because these specs are bad, but just because the iPhone and Galaxy's specs are better.
The Pixel does feature auto focus as a result of lasers and dual pixel phase detection. These two perks allow photos taken on the Pixel to be extremely focused and crisp without much effort on the part of the photographer.
Just like the competition, Google's offering also includes optical image stabilization – but, with a twist.
It's electronic (boogie, woogie, woogie, woogie…?).
Front Camera
Like most front cameras, the Pixel's just doesn't compare to its rear one. With only eight megapixels, 1.4 micro meter pixels, and a F2.4 aperture the front camera isn't winning any photography awards.
The fixed focus features does take some awesome selfies though…
Front Camera Video
So, we may have ragged on the Pixel's photography capability a little bit. But, we definitely won't hate on its videography.
With 1080 pixels at 30 frames per second, 720 pixels at 30 frames per second, and 480 pixels at 30 frames per second the front camera has some pretty serious video potential.
This potential doesn't even compare to the rear camera…
Rear Camera Video
So, you want to be blown away by the Pixel's video prowess. Well, just keep reading then!
Boasting 720 pixels at 30 frames per second, 60 frames per second, 240 frames per second is marginally impressive – sure.
But, having 1080 pixels at 30 frames per second, 60 frames per second, 120 frames per second is really just showing off.
Once you include the fact that Google has 4K video at 30 frames per second it really isn't even a fair fight anymore.
If you're looking to purchase a smartphone for videography, then the Google Pixel 2 is the one for you.