The best way to share photos was, in the not so distant past, a long and complicated process. There was taking, processing, and scrapbooking to be done before a picture could be shared.
Today things are considerably different. What's the best way to share photos in 2020?
Those who grew up in the eighties (or even early 2000s) will remember going to a photo studio to pose for a family portrait every year. You would wait for weeks or even longer for the pictures to get developed. When it came time to share the photos, you would have to store them in neat photo albums and then show them to visiting friends and family.
Today, you don't need to go through all this hustle just to take and share photos. The digital age has made photo-sharing simple, convenient, and extremely efficient.
Sharing Photos is Easier Than Ever
All you need is a good camera phone, and you can take as many selfies as you wish and post them to your social media accounts. Bam, done. Your scrapbook is now digital.
The result? More people are taking photos than ever before, subsequently increasing the demand for places to store, backup, and share these memories. The internet is flooded with photos. Thankfully, there's a growing collection of apps and websites helping to organize the flood.
That's why we're going to tell you the best way to share your photos. We've categorized it into different methods depending on your reasons for sharing and storing.
Photo Sharing Sites and Apps for the General Public
Image sharing websites and apps allow us to upload, host, manage, and share photos either publicly or privately.
Once you upload your photos, they are stored on the server and made accessible to your friends and family through personal web pages.
Some websites also let you order prints and other accessories with your photos. This idea is the money-making driving force behind many of these photo-sharing services.
In other cases, the sites and apps are more of a social place for photo sharing. Know why you're using the service before deciding on one.
The Best Photo Sharing Apps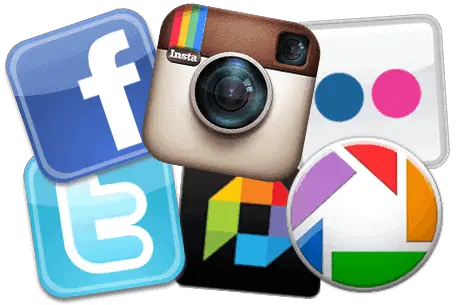 Did you know that photo-sharing websites have been around since the 20th century?
Well, 1999 to be exact. Ofoto was one of the pioneers of image sharing websites. After acquiring it in 2001, Kodak ultimately renamed it to Kodak EasyShare Gallery.
The new Kodak EasyShare Gallery allowed users to upload their digital images to their servers, making them available to anyone with a web browser.
Since then, there have been a dramatic upsurge of photo sharing sites and, subsequently, cell phone apps.
Instagram
Designed primarily for photo sharing, Instagram takes the cake for the most popular photo-sharing app.
The platform provides an easy way to capture, edit, and share your favorite moments. Whether it's kissing under the Eiffel Tower, snapping a selfie stick shot, or capturing a weird new dish at your local restaurant, Instagram can help you share the moment with your followers quickly and easily.
You can also express your artistic side through your feed, discover accounts from different parts of the world, and follow your friends and family. Because the service is photo-based, it's the perfect photo-sharing app for mobile photography.
Facebook
Millions of people use Facebook to upload and share photos with their friends and family.
While its default resolution is not ideal for printing, there is an option to upload your pictures in high resolution for a better download experience.
To choose a higher quality version of your photo, scroll to the bottom of the upload page, and select the High-Quality option.
While Facebook isn't ideal for more legitimate photographers, it is a great way to share your photos and stay connected to your fans.
Cluster
Cluster is ideal if you are looking to share your photos with only a select group of people. That makes it an excellent option for families to share all those photos of the last summer reunion!
Only members of the group can see and upload images to your albums. The app is available for both iPhone and Android devices, so anyone can join and contribute.
Think of Cluster as a Google Drive for your photos. For someone to access your work, they must receive an invitation from the owner of the account.
AfterFocus
AfterFocus is relatively new in the photo-sharing landscape, but the premise is rather simple.
There are three main options for uploading photos. You can take an instant picture using your camera, choose an existing one from your files, or capture two images simultaneously and let the app analyze the one with the nearest object.
It may seem like AfterFocus is similar to Instagram, and in many ways, it is. You'll notice the differences between the two, however, when you purchase the Pro version of the app.
Only the Pro version of the app offers neat photography options. This version of the app must be purchased via the App Store or Google Play Store.
EyeEm
This free photo-sharing app comes with high-quality frames and filters that you can use while taking your pictures.
EyeEm is an excellent alternative to Instagram, which does not allow you to change filters when taking photos. EyeEm is also a perfect platform for discovering new things and places, thanks to the Discover section that features different categories such as street, nature, underwater, and everything in between.
When it comes to EyeEm's discovery feature, think of a more user-friendly Instagram search. While the latter's tool may be easier to use, Instagram's firm grasp on the photo-sharing industry limits EyeEm's potential growth.
Snapchat
One of the first apps to offer private image sharing for iPhone users, Snapchat allows you to share photos that disappear soon after being viewed by the recipient.
Snapchat is a different kind of photo-sharing app, but one with definite applicability for modern mobile photography.
You can post snaps for your friends throughout the day using the Snapchat Stories feature, or view their stories and that of various brands and content outlets to stay updated with the latest news.
If you're a growing mobile photographer, then these features can be invaluable tools for quickly and easily interacting with your fans too!
While you almost certainly use or have heard of Snapchat, it may be worth reevaluating how you perceive the app. As a photographer, the connectivity provided by Snapchat can open you to new audiences.
Instant Messaging For Private Sharing of Photos
Social media platforms are open mediums for discovery and connection, which is great for sharing photos with large groups of people, connecting with long lost friends, or simply finding new trends.
But social media sites and apps are not ideal for sharing sensitive or private photos and files.
Sometimes you just want to share a unique photograph with your friends or loved ones without involving everyone on Facebook or Instagram. Here's where messaging apps come into play.
Initially designed to facilitate interactions via text messages, messaging apps have evolved to offer all kinds of services. Whether voice or video calling, encryption-enabled image or file sharing, messaging apps are beneficial time and time again.
With group text messaging apps, you can share whatever you need in one go instead of wasting time and effort sending it individually.
Whatsapp
At least 1.5 billion people from 180 countries use WhatsApp. This staggering statistic makes it the most popular messaging app in the world.
WhatsApp is excellent for sending videos, documents, GIFs, and even photos. The only setback is that the image quality tends to deteriorate when you share photos on the app, which is why most people are reluctant about using it for sending pictures.
Fortunately, there are ways to get around this quandary.
You can send the photo as a document if you are just sharing a few files, or you can zip the images if you are working with many items and then attach the zip file to a document.
It is worth noting that Facebook owns WhatsApp. So, those that are wary of Facebook's reputation when it comes to data protection should go in another direction.
Facebook Messenger
Facebook Messenger is great for sending messages, photos, and videos to your friends. Pictures instantly taken or stored on the phone can be shared with one click.
To share images with a group, all you need to do is tap the people icon, choose your targets, and then create a new group with those people.
Note that Messenger has minimal photo editing capabilities, so it's best to do all of that outside of the app. The quality when sharing photos and videos in Messenger, however, is quite impressive.
Google Hangouts
Google Hangouts has seriously come into its own to become one of the most preferred communication tools worldwide.
With over 1 billion downloads on the Google Play Store, Hangouts is an effective way to keep in touch with family and friends.
The app supports SMS, voice, and video calls, and its Android app is available on virtually any Android platform.
It's not surprising that more and more people have started embracing Hangouts as a photo sharing solution. All the photos that you share through the app are automatically stored in Google Photos – easily accessible from your Android device.
Keep in mind though that things are changing.
Viber
This free messaging app works between computers, phones, and tablets. Anyone with Viber can send texts and calls to other users for free, regardless of their location.
The app, which boasts over 100 million active users a month, is available for both Android and iOS. Theoretically, this means that at least some of your more technologically-advanced friends are using Viber.
Using the Communities feature, you can hold group conversations with anyone from virtually anywhere in the world.
The app also offers public chat channels that are open to everyone, the option to share GPS location in conversations, and the ability to make cheap calls to phones without the Viber app.
Sharing photos through Viber can be done in two ways: from your File Manager or directly using the Viber app.
To give you more control over your communications and to help you save data, Viber also includes a feature known as "secret messages," which allows you to decide which photos to keep in the chat archives before you hit "send."
Telegram
Telegram is a unique messaging app that comes with spectacular features.
Unlike most other messaging apps, this cloud-based service allows you to edit or delete messages even after you have sent them. The Secret Chat tool also deletes messages automatically after a predetermined period.
When sharing multiple images, the files get grouped into albums of up to ten photos each. The recipient receives one notification instead of 10, which is more convenient.
While not very popular in the US, Telegram sees widespread use elsewhere.
Slack
https://www.youtube.com/watch?v=9RJZMSsH7-g
Slack is undoubtedly the best business messaging app on both mobile and desktop. While it probably won't replace your email, it is useful for sorting your day-to-day memos and operational chatter.
You can send one-to-one messages, create groups of people collaborating on an individual project, or form channels by the department.
To help you collaborate, you can also add photos to Slack and share them with your teammates. There are a whole host of other features that make it supremely useful for people who like organization.
Photo Cloud Storage For Work
The "cloud" is simply a collection of different data centers offering (usually) free remote storage space of anywhere between 1 gigabyte and (usually) 1 terabyte.
The cloud has made it significantly easier to safe-keep vital photos. Not only does it eliminate the stress of dealing with hard drives, but it also allows you to access your photos from anywhere with an internet connection and share them with the world.
As a result of the integration of the cloud into everyday life, there are now numerous options when it comes to cloud storage. Some of the most popular and more ingenious options are discussed below.
Dropbox
Dropbox is a top-rated cloud storage service that allows you to share photos with virtually anyone – even those who don't have a Dropbox account.
To share your images, you need to upload them to the Dropbox Public folder first. Then copy the public URL of each photo and send it to whoever you want. Make sure you set permissions so that anyone with the link can view it.
When you hover over individual files or folders, you will see a Share button that reveals a search bar upon clicking it. Type the name, email, or group of the party (parties) you want to share the photos with and then click Share.
pCloud
pCloud is ideal for storing multiple file formats. It is unique in that it offers a lifetime storage subscription of up to 2 TB. Additionally, you can see previews and thumbnails of most RAW files, as well as upload photos to your pCloud account via the pCloud plugin for Lightroom.
The fact that you can store photos for up to 30 days and even create a static HTML site with a working URL is also quite significant.
There are three ways you can share photos with pCloud:
Share a link to the images

– anyone can view and download the files, even if they do not have a pCloud account

Invite to a folder

– if you are collaborating with other people, you can invite them to view and/or edit the images in your folder

Upload links

– provide a link to your cloud space where others can upload their photos for you to see
Google Drive
Featuring unlimited photo storage, AI photo assistance, and bonus free productivity apps, Google Drive is the epitome of cloud storage.
Like Dropbox, Google Drive is designed for file sharing, allowing multiple users to modify shared items synchronously.
While it can store photos, it does not offer the same elegant style as more photography-focused storages such as Google Photos.
Google Photos
Google Photos is an excellent option for hosting and sharing high-quality photos in large numbers and isn't limited to businesses. You can store unlimited photos for free (although not at their original resolution). We'd recommend this over Google Drive in most situations.
Thanks to its automatic backup capability, you don't have to worry about losing your files. And, in addition to helping you edit and sort your photos, Google Photos also features a visual search tool that makes it easier to locate older images.
The platform can study your photo habits and automatically organize your files so that you don't have to do it yourself. It comes with unlimited free storage for images captured with a point-and-shoot camera or smartphone.
Microsoft OneDrive
If you are familiar with the Microsoft Office Suite, you should be pretty comfortable with Microsoft OneDrive. OneDrive allows you to share documents, photos, and other files with people.
The files are privately stored until you are ready to share them. You can even post them to your social media accounts via the "Get a link" option. This option allows anyone who has the link to view and edit the photos, depending on their permission.
Adobe Creative Cloud
Adobe Creative Cloud is specifically designed for photographers and offers photography-focused storage with top-class photo editing options..
Colleagues can collaborate on one shared folder using Group Libraries, which offers the ability to make any image private. Uploading is relatively easy, as it is compatible with Android, iOS, and Windows devices.
Just go to the section named "Your Work," choose the photo you want to share, and then click the Share icon.
Photo Hosting And Sharing Sites
Apps such as Instagram and Facebook are great for sharing photos. But, certain platforms are specifically designed to facilitate the sharing of images safely.
Otherwise known as photo hosting sites, these services make it easy to upload, organize, and tuck pictures away for when you need to revisit important memories. The images are stored or hosted on the host's servers, which typically means that they are available on the internet.
You may also choose to specify inline links to the hosted photos and embed them onto other sites, for example:
using BBcode for linking

linking with HTML code
a clickable thumbnail linking to the full image
In most cases, there are limits on the maximum size of photos you can upload to the server or the maximum bandwidth or space allowed per user.
The best option for you will depend on the number of photos you want to upload, time willing to spend uploading, and why you are uploading the images.
Flickr
Although not as active as it originally was, Flickr still boasts one of the largest collections of uploaded pictures.
This online platform allows you to upload, organize, edit, and share photos from your smartphone anywhere in the world. You can also use the Flickr Uploadr for Windows to automatically back up your photos to your Flickr account. 
These backups are stored in private folders on the site and easily accessible to the user.
It's not a social media site, so there's little interaction with other people. Most people use it merely as an online repository for photos.
Imgur
Imgur is an excellent platform for uploading and sharing photos to various social media websites through URLs. It's also the undeniable home of the Internet's greatest memes.
The best feature of this image hosting service perhaps is that it does not affect image quality. It is ideal for those who want to back up simple photos and animated GIFs without using too much effort.
Imgur is the perfect place to start if social media success is your goal. It's very shareable, and its brand recognition ensures your photos will be viewed. It also integrates with lots of other apps and sites for easy sharing.
500px
This relatively new image hosting site is worth checking out if you are looking to monetize your uploaded mobile photography.
It comes with a free account where you can add up to 20 pictures a week, as well as a marketplace through which you can license the images and charge people who want to use them elsewhere.
You can also subscribe to a monthly or yearly plan to get unlimited uploads.
Zenfolio
Did you know that Zenfolio has been operating for at least ten years now?
They've survived so far because they offer stellar service!
It allows users to upload everything from videos to mobile photography on their own profiles. What's more, Zenfolio has a pretty affordable Starter Plan that costs just $5 a month with unlimited storage.
You also benefit from HD video hosting and get a customizable blog and/or website. The only issue with Zenfolio is that you have to cough up a whopping $20 a month or $30 a month (for Pro and Advanced plans, respectively) if you want certain features such as marketing and watermarking tools.
SmugMug
SmugMug is one of the most popular platforms for photographers to showcase their work. It is not particularly prominent on the social media side of image sharing, but it allows you to share and view other people's photos.
A SmugMug account includes a customizable photo website with numerous designs to choose from, as well as inbuilt editing tools for customizing the design templates.
Unfortunately, this service does not offer free accounts. As a result, it is mostly used by photographers who need a place to promote and sell their photos. The payment plans depend on the amount of storage and customization options, among other things.
Free Image Hosting
Free Image Hosting shares similar features as Imgur, without the flashy layout and the practical hyperlink shortener. It is suitable for uploading photos individually. You can then directly link to them and display them somewhere else on the internet (websites, social networks, forums, etc.).
Aside from annoying ads, the free plan is great for hosting images, and it allows you to easily share photos by providing the HTML code to link to each file directly. The pictures can stay on the server forever, as long as they do not violate any terms of service.
Photo Sharing Through Email
Email is still an effective way to share photos, as long as you only have a few files to send.
Attaching a whole album of images, however, can get out of hand very quickly.
Since most email providers offer minimal file attachment capability, your best option is to use cloud storage as a medium or create a compressed archive.
Emailing Compressed Archives
File compression generally involves taking items and archiving them into a single file that is typically smaller than the combined contents. Create a separate folder when you are decompressing the file.
This method is ideal when you are sharing numerous photos. The number of items attached to the email gets significantly reduced.
Shared Email Inboxes
The best thing about email is that it works virtually everywhere. As such, you can create a shared inbox and then give those you want to view the images access to the login details. The members can view or add image-focused emails from any location.
To do this, simply create a new email account and then share the login information. By sending a message to the new email address, you can add photos to your account.
While this option is not as ideal as using Google Photos or Apple Photos, it is simple and easily accessible to those who are less tech-savvy.
Sharing Photos in 2020
There is a wide range of options when it comes to sharing photos.
If you are looking to expand your audience, you can take advantage of social media platforms such as Instagram and Facebook.
If you just need to share some photos privately with a few people, messaging apps such as WhatsApp and Viber are a great way to go.
For work-related activities, you can use email or cloud storage services such as Dropbox and Google Drive.
Regardless of your reason for needing to share photos, there is a photo-sharing solution suited for you.