As smartphone technology improves, creating content on a mobile gets more user friendly. However, there is one problem that content creators frequently encounter whether with smartphones, traditional, or action cameras: camera shake.
No matter how great your content creation is, you'll never achieve that cinematic effect you're looking for if you're holding your phone in your bare hands. Tripods are great for eliminating camera shake in still shots, but they typically don't rotate smoothly enough to film moving shots.
So, how do you eliminate camera shake from your video footage? With a gimbal, of course. We've done the hard work for you and researched the latest and greatest mobile gimbal stabilizers for 2020.
2020s Key to Great Content Creation: A Smartphone Gimbal
If you're making videos that aren't going viral or thinking about starting a Youtube channel, then a gimbal can be a fantastic investment. Actually, a lot of people feel it could be the most crucial piece of equipment as a content creator.
Are you looking for cinematic buttery looking shots? Any enviable piece of content has those! Not only that, but many of the newest phone-dedicated gimbals on the market have a features list a mile long. From Object Tracking to Vertigo effects, new gimbals are improving at the rate of today's phone cameras.
The 3 Best Smartphone-Dedicated Video Stabilizers
So, now that you know why you need an iPhone gimbal – they do work if you have an Android phone but be wary of connectivity issues with specific phone models – let's choose the best one for you.
Do note that if you choose from this list and want to add any sort of mobile photography accessories, then you'll need a universal counterweight.
You also shouldn't be shooting on your native camera app when operating a gimbal because you won't have full control over the gimbal's features. We love the Filmic Pro app because it allows manual control of the camera and connects well with DJI and Zhiyun gimbals. Say goodbye to shutter buttons and hello to shutter sliders! While the app is pricey, Filmic Pro does offer their evaluator app, which will test the connective capability of your phone before purchasing.
Did you know that they call the Freefly Movi a cinema robot? What makes the Movi stand out from the gimbals on this list is that it's not exactly a gimbal. At the same time, the Movi will stabilize your footage like a gimbal. On the other side of the coin, it does so much more.
Our favorite feature of the Freefly Movi is that you have the option of using one or both hands. This option means you'll be able to film however you like, knowing that your video will be smooth and professional.
With the Movi app, you'll also be able to configure hard buttons on the gimbal itself, making your job even easier. The app also gives you the option of using several different pro-style modes, such as Timelapse and Majestic.
If you're interested in using Moment lenses with your smartphone and Movi gimbal, be sure to grab those Movi Counterweights.
Not only is this gimbal easy to use, but it's suitable for use with any type of smartphone. Only the largest devices will require a counterweight to stay balanced.
In addition to the Osmo Mobile 3's adaptability, it's also incredibly lightweight. It folds up to be less than five inches so that you can take it nearly anywhere. If you're not interested in packing around a bulky gimbal, DJI has you covered with the Osmo 3.
The controls are also incredibly simple and easy to use, so if you're new to gimbals, this is a great one with which to start. Experienced videographers will be impressed with how smooth your videos will be without having to break the bank.
DJI has also added Active Track 3.0 technology to the Osmo 3, so it can recognize and track the people you're filming. It also has a sport mode, which is ideal for shooting fast-moving action as the gimbal can move more quickly to keep up.
The DJI Osmo Mobile 3 also has a battery that can last up to 15 hours, so you won't need to worry about cutting your shoot early to charge your devices.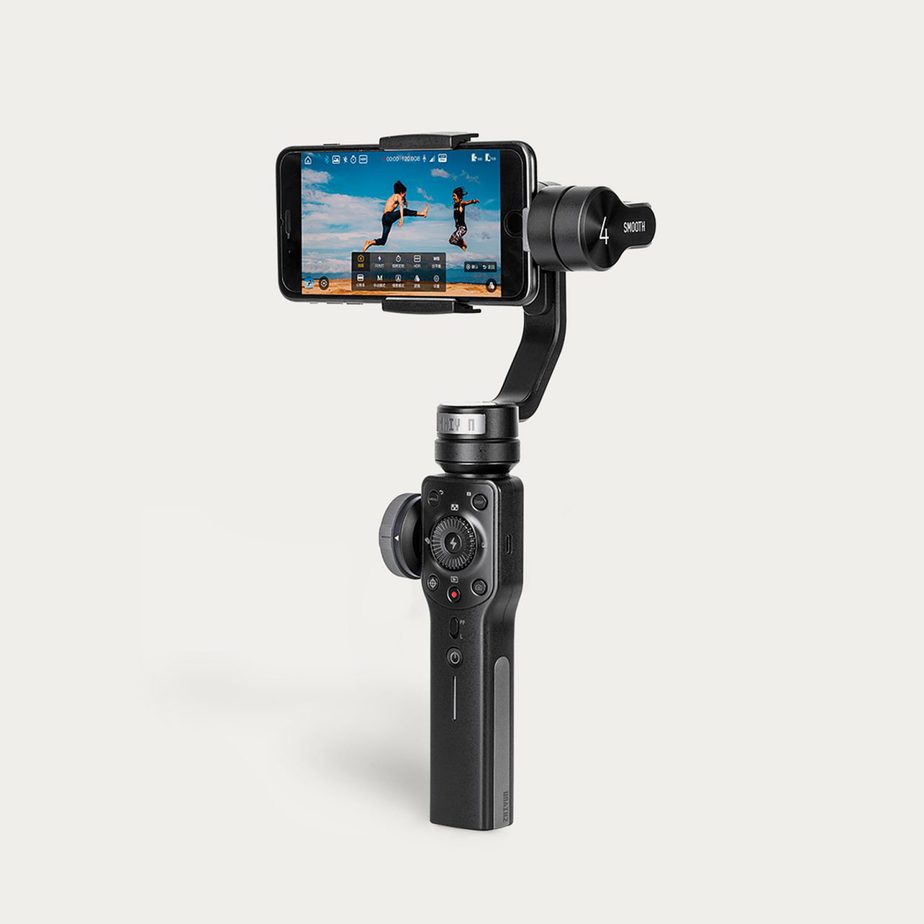 The Smooth 4 by Zhiyun is one of the best gimbals on the market in its price range. It's packed with incredible features that will help experienced users make the most out of their equipment. If you're shooting with a particularly heavy phone, you can even use a counterweight to help keep it balanced.
The Smooth 4 also features a multifunctional wheel, which allows you to manually control your mobile phone as if it were a DSLR once you download the app. The gimbal can charge your phone while you're using it, so you'll never need to worry about your phone dying in the middle of a shot. The Smooth 4 can also get charged using an external battery pack.
One of the best features of Zhiyun's Smooth 4 is that it can be used with all Moment lenses as long as you're using a counterweight. This capability means that no matter what you're filming and what lens you need, your gimbal can handle it all.
The Zhiyun Smooth 4 has a pan range of 300 degrees. The tilt and roll mechanical ranges are both 240 degrees. This gimbal measures 13 inches in length, but it does not fold down. It's suitable for any type of smartphone weighing up to 7.4 ounces.
Video Stabilizers with More Power
So, you use your smartphone for content sometimes, but also want the option to pop a DSLR on your gimbal too. The DJI Ronin-SC and the Zhiyun Crane 2 can do that plus a little more for you.
For a little extra money, you're getting a whole lot of extra performance. Not only do these gimbals hold more weight, but they also include more features to go with improved usability.
DJI has done it again with the Ronin-SC, which is suitable for both smartphones and mirrorless cameras under 4.4 pounds. One of the most amazing features of this gimbal is its ability to pan a full 360 degrees.
Once you download the Ronin app, you can begin producing incredibly smooth, professional-quality videos. This allows you to fine-tune your control of the gimbal, meaning you can spend more time on filming and less time adjusting your controls. You can even use your phone's gyroscope to control the gimbal with ultra-low latency.
The Active Track 3.0 feature allows you to program a repeatable gimbal movement, which means you can follow the action without having to actively control the gimbal.
Another unique characteristic of the Ronin-SC is the offsetting of the roll motor. The roll motor keeps your camera above the roll axis, which will minimize any camera shake during the transition from upright to underslung modes.
The Ronin-SC is available by itself as well as part of the Ronin-SC Pro Combo, which includes everything you need to start producing incredible video.
The Zhiyun Crane 2 is a bit pricier than many of the other gimbals on this list, but consider this purchase an investment in your work. The Crane 2 features film-grade anti-shake motor control technology that will take your video to the next level.
With a 360-degree pan range and unlimited rotation, your gear won't limit your creativity.
Zhiyun has optimized both the algorithm system and motor construction, creating a gimbal that is above and beyond most of what's currently available on the market. The intuitive follow focus controller will ensure your video is always in focus.
The OLED display works in harmony with the quick control dial to make sure you can focus your attention more on filming and less on your equipment.
The Zhiyun Crane 2 does have a max payload of 3.2kg; as such, it will work for all mobile devices. Although it takes 2.5 hours to charge, you'll be able to run the Crane 2 for up to 18 hours on a full charge.