So, you want to start a youtube channel or stitch together an Instagram Reel, but you don't have a powerful computer that runs Adobe Premiere or Final Cut. Thinking about it, you also don't have Adobe Premiere or Final Cut.
Well, in the past you would've been out of luck. With today's powerful mobile devices, however, one of the best free video editing apps for iPhone and Android will take care of all your needs without costing a cent.
What to Look for in Free Video Editor Apps
If your smartphone video editing app isn't user-friendly, then you're putting yourself behind the eight ball. The three video editors below are super easy to use, which will give you more time to focus on the quality of your content.
Are you also interested in mobile photography? Learn more about the best free photo editing apps for iPhone and Android too!
Don't worry – each of the best free video editing apps for iPhone and Android do enough to create effectively poignant and engaging videos. It's really up to you to create good enough content. If you want to add some gear in the future or just want to see what's available to you, then check out our mobile videography guide.
Best Free App for Video Editing #1 – Vita Video Editor
Vita Price: Free + in-app purchases
Vita prides itself on being easy to use and boy do they hit that nail on the head. Regardless of if you've never edited a video before or if you're a seasoned splicer, Vita has usability for you. If you're a beginner, enjoy their video templates that'll help you learn how to structure effective content.
If you're more experienced, then you'll enjoy how easy it is to do things like speed ramp, zoom, and add sound effects. While the sound effects and music library is impressive, the video above – edited on the Vita video editing app – has copyright claims against it resulting from using this feature.
Do note, there's no ability to voiceover in-app.  As a result, you have to add a step and app to your workflow to get a video finished.
App Features Include: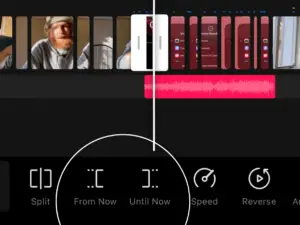 The Edit tab, in which, you'll be able to

Split Clips
Adjust Speed
Reverse Clips
Change Volume
Copy, Delete, Rotate & Replace Selected Content

Transitions – There are 40+ different transition options.
Aspect Ratios – Adjust the screen size of your video based on what you plan to use it for. VITA App has the different options clearly marked for ease of use.
Effects – There are over 300 different effect options in the VITA App.
Text – Enjoy numerous text options with the ability to add animations too.
Stickers – It seems like these moving cartoon stickers are becoming more and more popular. VITA includes an impressively varied selection of them.
Music – You can upload your own songs, choose from VITA App's royalty-free music library, and add sound effects. The selection is actually pretty good.
Filter – Apply filters to one or to all images or videos added.
Additionally, adjust

Clip Background
Clip Scale
Clip Orientation
Clip Order
Best Free App for Video Editing #2 – InShot Video Editor
Splice Price: Free + in-app purchases
Download Splice app on IOS and Play Store
InShot is the perfect app for an introduction to phone videography.
It doesn't matter if you're splicing together your very first video, creating a B-roll video of a road trip, or making a music video, InShot is for you.
Features include the ability to:
Trim video
Adjust video speed
Merge videos
Cut/Delete parts of a video
Add mp3 files or voiceovers
And much more
If you like InShot, you can also subscribe to their service to gain access to even more features! The base app though is going to pack plenty of punch for those just getting into mobile video editing. If you're looking for simple video editing with the potential to grow as your skills do, then InShot is the mobile video splicing option for you.
App Features Include:
Video Trimmer
Video Cutter
Video Merger
The ability to add text and stickers
Video Joiner
Video Splitter
Music and sound effects
Control over video speed
Best Free App for Video Editing #3 – Splice Video Editor
Splice Price: Free + in-app purchases
Download Splice app on IOS and Play Store
Splice was a Gold Award Winner at the Best Mobile App Awards in October 2015 and it's pretty easy to see why. It's a serious winner as a phone videography app.
Not only does their auto-sync feature match your music to the video almost perfectly, but you have access to their free music library and your iTunes account.
There's so much customization power in the Splice app – from video intro to outro. You're in complete control of your phone video editing when using Splice!
135.2k ratings on the App Store with a rating of 4.7 has to be an indication that this video app is legit, right? Well, it looks like it's legit on iPhone and a bit of a dud on Android because the 2.9 stars on the Play Store leaves a lot to be desired. It's probably best avoided by Android shooters.
You can subscribe to Splice to gain access to more video editing tools. Payment scheduling options are varied.
App Features Include: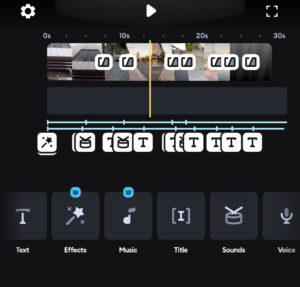 Loads of free music and video effects
From app sharing feature
Auto-sync video speed to music tempo
Filters for things like background and perspective
Text and font options
A built-in voice recorder
Easy-to-use but powerful video editing capabilities
Effects for pan and zoom
The ability to mix multiple audio files