The best free photo editing apps for iPhone and Android provide all of the post-processing power you require in a streamlined user-friendly product. Each of the three photo editor apps will do the basics and each has a unique selling point that may be perfect for you and your content.
[embedyt] https://www.youtube.com/watch?v=nZ36gSvu6vc[/embedyt]
So, let's get to discussing the three best free photo editing apps for iPhone and Android.
What to Consider – Free Photo Editing Apps
So, just because you aren't considering cost doesn't mean this is a simple process – there are things to consider. For example, would you like for this app to also give your smartphone camera a leg up? Lightroom Mobile allows you to take photos in the app and features RAW file capture by way of Adobe's version, DNG.
On the other hand, VSCO features the best filters in the industry. Seriously, most of the accounts I interact with on Instagram use some sort of VSCO filter to curate their mobile photography feed. Choosing VSCO means prioritizing a cohesive aesthetic over doing a more traditional style of photography.
Read through the options presented here carefully and then do some introspection to decide which is right for you. As always, if you have questions, then don't hesitate to ask them in the comments section.
Best Free App for Photo Editing #1 – Lightroom Mobile CC 
Lightroom Mobile Price: Free + in-app purchases
Download Adobe Lightroom app for iOS or Android
The Adobe Creative Cloud is the pinnacle of photo-editing. If anyone tells you differently, then they're lying to both you and themselves.
While there are loads of quality apps for editing photos, none of them have access to the full suite of features afforded by an Adobe membership.
The Lightroom mobile app doesn't require an Adobe subscription but also doesn't give you full access either. But, if you have a membership, then your editing powers are multiplied exponentially. You'll have access to edit and share across all connected devices, all while having the full bevy of Adobes photo-editing powers in your arsenal.
Even if you can't swing the full subscription – and partial plans and student discounts are available – the Lightroom Mobile app is a superior option to many on this list.
App Features Include:
A Pro-Level Camera with the ability to capture HDR and RAW (are you shooting this way?)
The ability to edit detail like never before – selective adjustments, healing brush, enhance whole or partial photos, and more
access to Adobe's photo editing tutorials
Lightroom's presets (use just one or combine a few)
The organization that has never been easier – Adobe Sensei is Adobe's AI tool, and it'll organize it all for you so that you can focus on what's important – your photography
No need to worry about file size with Adobe's hassle-free cloud storage
Best Free App for Photo Editing #2 – VSCO 
VSCO Price: Free + in-app purchases
Download the VSCO app for iOS or Android
What's now VSCO used to be VSCO cams, so don't be confused. The latter was just an editing software, whereas the former does it all.
While VSCO is known for its editing prowess – and it should be as a result of its vast numbers of filters and editing tools – their photographing capability is quickly becoming the talk of photo town.
Because the company became relevant by developing Adobe Lightroom presets for film photos way back when it's no surprise that their market is expanding (hint – we only expect it to continue to do so).
As a result of their adherence to film photography,  most of VSCO's tools create photos made to look like old-timey film (a new 'fad' in the mobile photographer world). So, be mindful of the purpose of the app before utilizing it.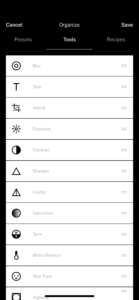 Their sharpening tool is also top-notch (so much so that we bring it up even though it's irrelevant). We commend VSCO for developing a tool that doesn't create a grainy effect in the unsharpened portions of the photo.
VSCO has always been one of the best apps for Instagram, and that won't change anytime soon. They also do video editing within the app if you upgrade to the premium version.
App Features Include:
The ability to edit with all 10 VSCO presets (free app version)
Inspiration via the Discover feature (free app version)
Necessary editing tools – from saturation to contrast to grain (free app version)
The unique opportunity to share your phone photography for a chance to be featured by VSCO (free app version)
Access to the complete preset library with 200+ presets (VSCO Mobile Membership)
That vintage film look with Film X – looks include Kodak, Fuji, Agfa, and others (VSCO Mobile Membership)
Advanced editing tools (VSCO Mobile Membership)
Best Free App for Photo Editing #3 – Snapseed
Snapseed Price: Free
Download Snapseed app for iOS or Android
So, what Snapseed lacks in pre-photo adjustability it makes up for in its post-photo editing. Did we mention it's free?
There are options before snapping your photo. Be sure to adjust color and exposure to get the perfect photo edit.
There are also a reasonable number of vintage filters and special effects to be utilized once the image hits your camera roll. It's worth checking out Snapseed before investing in an app that requires payment.
Their Selective Adjustment Tool gives you the capacity to edit parts of the image as opposed to the whole thing. In our book, that's pretty cool. At the very least, it's something not available in some of their competitor's apps (most of which must be purchased).
The best thing, though, about Snapseed is that it's so friggin' easy to use – not to mention useful. From beginner to professional, this app is a must-have if you're interested in the best apps for Instagram!
App Features Include:
Photo editing made simple
Access to 29 Tools and Filters
Above-average healing, HDR, and perspective for a free photo app
Able to open both JPG and RAW files
Save your unique social media looks to curate that cohesive feed
Take advantage of the tutorial cards – they help with tips and tricks about both the app and general photography
All included tools are useful (whereas other apps overstimulate with tools)
Easy sharing and simple re-touch ability