One of the keys to taking professional-quality photos with your smartphone is great lighting. To achieve that, you're going to need to ditch the native flash on your phone camera for an external light source. 
There are two main categories when it comes to smartphone LEDs: clip-on and mounted. In this guide, we'll go over the pros and cons of each type of lighting, as well as the best lights in each. 
Mobile Photography LED Lights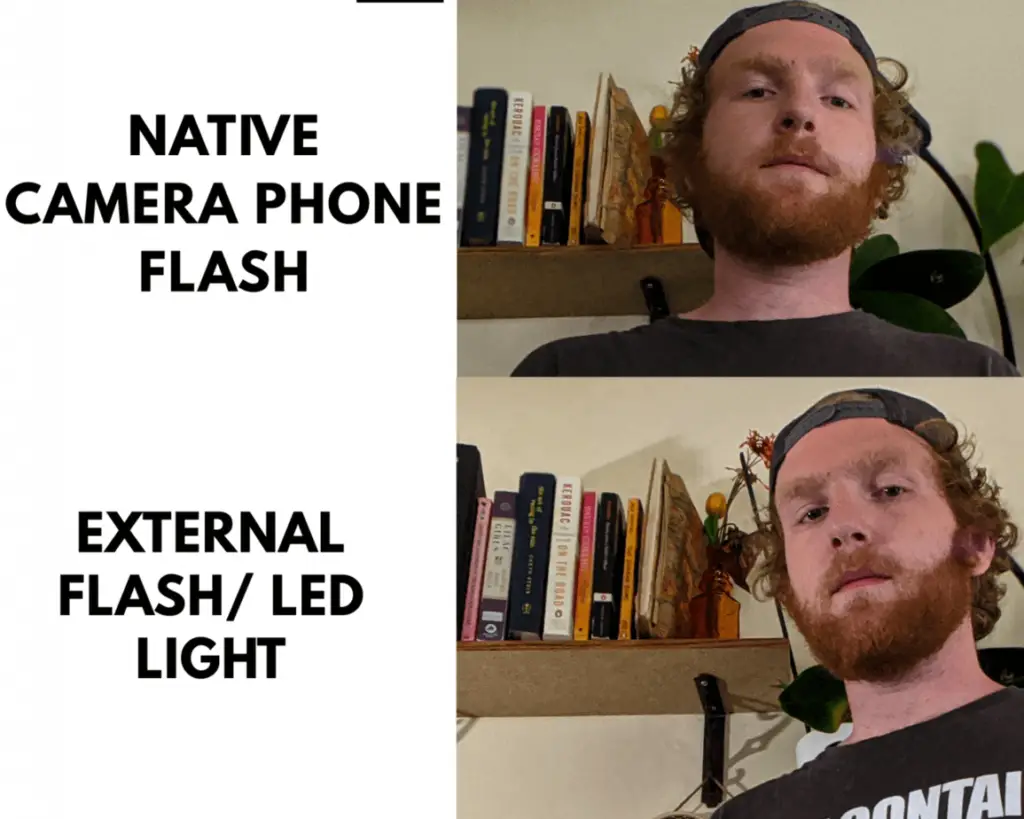 The native flash on your phone is harsh, one dimensional, and – in general – just lacking. A clip-on or mounted LED from the list below, however, features dynamic light settings. These varied settings give you increased control over the light's power and temperature; the result, vastly better lighting for your phone photography.
Do note that a mounted LED light for a tripod or gimbal is preferable based on build quality alone. The clip-on lighting options are cheaper and include fewer bells and whistles. If you're a beginner or doing a vlog-style thing, then a clip-on LED has its place. If you're trying to pass as a legitimate content creator, though, it's best to invest a bit more money.
Clip-On Lighting for Phones
Clip-on lights are the most convenient light source for photographers on the go. If you're a street or action photographer, a tripod light is only going to slow you down, so clip-on lighting is likely the way to go.
Now, you may be asking yourself what the difference between a clip-on light and the flash on your phone is. Flash lighting is often too bright and harsh to capture the types of photos for which most photographers are aiming. Unless you're a fan of awkward shadows and washed out faces, it's time to give clip-on lights a shot.
This budget-friendly clip-on light fits conveniently in your pocket but is bright enough to capture great portraits and selfies. It provides all the benefits of a tripod ring light without the bulk of the tripod. Plus, it works with both the front and rear cameras.
The Auxiwa Clip-on Selfie Ring Light has 36 LED lights that you can adjust to three different brightness levels. It comes with a USB charging cable, so you won't need to worry about replacing batteries.
This inexpensive but powerful ring light uses a flattering color temperature of 5600k. If you're unfamiliar with color temperatures, this simply means the lighting will be close to that of ordinary daylight and will make skin tones look the most natural.
If you're looking for a high-quality, mid-range attachable light for your smartphone, look no further than the Commlite LED Camera Light. This powerful pocket-sized light is about the size of a credit card and attaches to most models of phone with the included mounting attachment. It can also be used with a DSLR camera if you're both a traditional and smartphone photographer.
To ensure that you have the perfect lighting for any situation, the Commlite LED Camera Light comes with three diffusers: soft, blue, and orange. It also comes with a USB charging cable, so you won't need to worry about packing around bulky batteries.
On the back of the light, you'll see four LED lights indicating the different light levels. The light has four adjustable levels – 25%, 50%, 75%, and 100%. The color temperature of the Commlite LED Camera Light is about 6000k, and it has a battery life of up to 18 hours depending on usage.
Though in the higher price range, the GVM Smartphone Light gives you the most bang for your buck. This powerful ring light also serves as a handheld grip stabilizer. The light has 200 LED bulbs to provide you with just the right amount of light.
The GVM Smartphone Light is universally compatible and can also be attached to a tripod if you need more stability. It also comes with both white and orange light diffusers. It offers Bluetooth connectivity, too, so you can focus on capturing the perfect image rather than stretching to reach the shutter button.
Phone Tripod Lighting
If your style of photography doesn't require much travel or movement, a tripod light – or mounted option – might be the way to go. With tripod lighting, you have the benefit of quality lighting with the added stability of a tripod. Just don't forget your shutter remote!
This mobile photography LED light could be the best bang for your buck of anything I've ever purchased. There's a reason that we recommend not to use the flash on your smartphone – it's harsh. You may have guessed it, but cheap clip-on lights and external flashes are harsh too. On the other hand, an effective solution used to cost a few hundred bucks, but no longer. Say good-bye to lighting harshness for good.
Did we mention that it's all for less than a nice dinner at your local burger joint? You'll be amazed at what professional-grade lighting can do for both your photography and videography. While this offering isn't rigged to the nines with different settings and controls, there are nine light dimming settings which are more than enough at the price point. What gets lost in translation is just how much better Aputure's lighting is than the native flash on your smartphone – you'll notice a difference immediately. The AL-M9 is an excellent addition to a street photographer's rig.
All Aputure LED lights are high quality, but the AL-M9 sets the standard for the perfect combination of performance and cost-effectiveness.
If you're frequently shooting in low light, then you're going to have to add a mobile photography LED light. The Profoto C1 Plus Mobile Light is undoubtedly the most powerful, user friendly, and stuffed with features. Unfortunately, it's only going to really work with iPhones because the Profoto app is only available on iOS. If you can download the app, though, then the C1 Plus turns into a Bluetooth camera shutter too!
I get it; this option is pretty expensive – it's like half the cost of an iPhone SE. Whether the performance is worth the price is up to you, but we can outfit you with a whole bevy of gear for less than the Profoto C1 Plus Mobile Light costs. What that bevy of equipment won't do, though, is light your photos or videos like the C1 Plus.
While the LitraTorch 2.0 is the phone dedicated LED light from Litra, this one is just too good not to mention. Plus, the Litra Pro Light is controlled via an app on your phone and can be attached to a phone rig with a bit of work. All in all, that means it counts as a smartphone photography LED light.
The first thing worth noting about the Litra Pro Light is it's small size. Even before you see it in action, it's already impressive because it's six ounces and less than three inches. Then you turn it on, and you're blown away at the production from such a small piece of equipment.
With the Litra Pro Light, you'll have access to 3000-6000K of adjustable color temperature beaming at up to 1200 lumen from the dedicated app. If you don't know the technical details behind LEDs, then just know, that's legit. Also, you'll enjoy an extensive 10-hour battery life and the ability to control the LED lights via Bluetooth from almost 50 feet!