We love to hate them, but there is no getting around the fact that the selfie stick tripod is a handy invention for travel. Not only are they great for selfies, but these monopods are also incredibly useful for taking phone photos and videos from vantage points that would otherwise be difficult or impossible.
Read on to see why we, the professional phone photography people, recommend selfie sticks as a legitimate content creation tool for travel.
What is a Selfie Stick?
The selfie stick is, for all intents and purposes, a monopod (a tripod with one leg) that's equipped with a shutter button and handle on one end, and a phone mount on the other. For whatever reason, they frequently get called selfie stick tripods even though there's only one leg. Do note that most offerings are extendable selfie sticks.
There are, of course, a few non-negotiables that you should look for when choosing your selfie stick. Here are a few to keep your eye out for:
Make sure the phone mount is large enough to accommodate your phone.
Pay attention to the way the mount grips your phone. By nature, these monopods will be lifting your expensive device high above the ground. Because of this, it's not a time where you want to chance any slippage. Make sure you choose a secure offering.
Portability is important — you are more likely to actually use a stick that isn't annoying to carry around everywhere, which means that shorter, lighter sticks are generally better.
The remote on your selfie stick doesn't need to be detachable, but the stick you choose should have some sort of shutter-release button. Otherwise, you will be stuck racing your self-timer, which can headache-inducing.
Separate camera shutter remotes are handy but think twice about using one if you are prone to losing things.
A sturdy design will help keep your images blur-free. Flimsy monopods result in a lot of camera shake, which in turn will ruin a good photo.
A selfie stick with a Bluetooth remote controller is super easy to use, but keep in mind that both do require power. A lower-tech stick that plugs into your phone may seem clunky and less desirable, but keep in mind that it also won't need to be charged.
When it comes down to it, the versatility of the selfie stick makes it a must-have for any budding cell phone photographer. Hoping to add one to your travel photography tool kit, but don't know where to start? Here are seven great selfie stick options for you to try.
The 7 Top Selfie Sticks for Android and iPhone
Cost – $$
The Anker Handheld Monopod doesn't come with all the extra bells and whistles, but sometimes you just want a simple product that gets its job done well. And simple is where this product excels. Many reviews mention how easy this selfie stick is to use. Just attach your phone to the mount, pair the devices, and you are ready to go!
This monopod features an aluminum alloy frame — which means that it is both sturdy and incredibly lightweight. The phone holder swivels so that you can take pictures from different angles, and the stick itself provides 20 hours of battery life. Once retracted, the stick measures 7 inches — the perfect length for slipping into a purse, backpack, or large pocket.
Specs:
Extends up to 29.7 inches
Built using a sturdy but lightweight aluminum alloy
20 hours of battery life on one charge
Pairs via Bluetooth
Compatible with most smartphones between 2.2 and 3.3 inches wide
Weighs 4.8 ounces
Retracts to 7 inches for easy storage
Not compatible with Windows phones
Cost – $$
The Fugetek FT-568 is perfect for photographers looking for a sturdier selfie stick. The tradeoff is that the stick itself is a little heavier than many other models. The stick comes with a mirror attachment — a handy feature if you want to take portraits with your phone's (generally superior) rear camera — as well as a locking phone mount to keep your phone extra secure. The Fugetek extends up to 49" and is compatible with digital cameras too.
Specs:
Extends to 49 inches
Sturdy enough to use with digital cameras
Locking phone mount to prevent phone drops
Fits all large smartphones and can be used over thick cases
Mirror mount for use with rear camera
Detachable Bluetooth remote
Compatible with most phones
Weighs 10 ounces
Cost – $$$
The best part about the Joysee Bluetooth Selfie Stick is its built-in tripod. The handle of the stick folds out into three separate legs — a handy feature that saves you from having to cart around a separate selfie stick and tripod. The stick itself extends up to 35 inches and comes with a detachable camera remote. Sunset time-lapses, family portraits, conference calls — this selfie stick is ready to do it all!
Specs:
Extends up to 35.5 inches
Compatible with any smartphone running iOS, Android, or Windows
Fold-out tripod built into the handle
Detachable Bluetooth remote
Phone holder supports 270 degrees of rotation
20-25 hours battery life with one charge
5 inches when folded
Weighs 7 ounces
Cost – $
The JTWEB All in One Bluetooth Selfie Stick Compact is another selfie stick that skips all the bells and whistles and focuses on doing one thing really well — taking awesome selfies. Not only is the Selfie Stick Compact the smallest and lightest selfie stick we've reviewed, but it is also incredibly sturdy. According to JTWEB, the stick itself features aviation-grade aluminum. There are no plastic parts, which means you won't need to worry about it getting jostled or crushed in your bag.
Specs:
Extends to 20 inches
Compatible with iOS 9.2 or above, and Android 4.4
All-metal design using anode treated, aviation-grade aluminum
Collapses to just 5 inches
Weighs 4.4 ounces
20-25 hours of battery life
15 minutes to full charge
Cost – $$
As most photographers know, lighting is everything when it comes to taking next-level pictures. Studio lighting is great, but not practical when taking pictures out in the real world. Enter the MOCREO Wireless Selfie Stick.
This selfie stick has a unique feature that really makes it stand out — a built-in fill light. The fill light has three different settings that make it easy to fix poorly lit photo-ops.
Specs:
360 degree, adjustable fill light
Extends up to 33 inches
Folds down to just 7.2 inches
Rear mirror
Attractive rose gold color
Weighs 8 ounces
Cost – $$$$
Need a selfie stick that's longer than the rest? You won't need to look any further than the Mighty Selfie Stick. This stick extends to a whopping 10 feet — and no, that's not a typo. The Mighty Selfie Stick also has a detachable tripod base, as well as a detachable Bluetooth remote.
Specs:
Extends up to 10 feet
Collapses to 26 inches
Bluetooth enabled, detachable remote
Detachable, steel tripod base
Compatible with phones up to 4.25 inches and GoPro
Weighs 1.95 pounds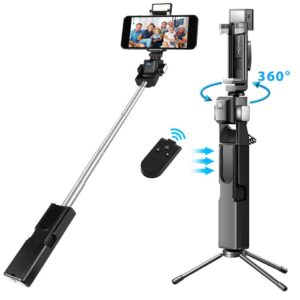 Cost – $$
The Electron Beast is a selfie stick that is absolutely loaded with features at this price point. Most notably, it is capable of rotating up to 360 degrees with the touch of a button — and can even do so while recording video. On top of that, it also comes with a built-in tripod, detachable wireless remote,  and fill light. The downside is that all those features equate to a larger, heavier product — which could be a deal-breaker for some users.
Specs:
Extends up to 33 inches
Two-sided mount securely holds phones up to 3.25 inches wide
360-degree remote-controlled rotation
Detachable Bluetooth remote
Built-in tripod
Compatible with most iOS and Android phones
Fill light
Retracts to 7.9 inches
Weighs 10.4 ounces
Selfie sticks are an invaluable mobile photography tool. Really.
Selfie sticks are an incredibly helpful tool, not only for taking selfies but also for taking mobile photos at creative angles and for extending your phone camera above the heads of crowding tourists. Many selfie sticks come with additional features that can solve a multitude of photographer woes.
Struggling with finding the right lighting? Look for a selfie stick with a fill light.
Want to step back and take a hands-free photo, or set your phone on a stable surface to get a time-lapse of the sunset? Many selfie sticks come with built-in tripods.
Sick of constantly racing your self-timer? Look for a selfie stick with a detachable, Bluetooth camera remote.
As you can see, the options are practically endless, and extra features can be a game-changer — or they can in the way. Remember to think of how you like to do photography, and look for a selfie stick with features that support your needs.
---
Despite all the bad press, a selfie stick may be the mobile photography tip that gets you to the next level. Sure, people might roll their eyes, but when it comes down to it, the selfie stick is nothing more than a tool. So ignore the haters and give one a try. Your photography will thank you.