Yes, your phone has filters. So does Instagram, but don't you want to stand out with the best photo editing apps? Great – we want you to, too.
There are so many options out there, though, when it comes to apps for photo editing. You're sure that Lightroom and Snapseed aren't for you, because you're looking for something unique.
Don't worry; we've broken down 37 of the top editing apps for social media so that you can find the ideal one for you.
You can expect to find apps featuring:
photo editing
video editing
weather reporting
DSLR replacements
phone photography digital magazines
batch editing capabilities
auto-video-to-music syncing features
tintype, black and white, and vintage photography
There's bound to be a photo editing app for you!
What to think when choosing a photo-editing app –
Every phone has a different app store, and each app store has a different set of apps available for download.
While this list is thorough and includes the best of the best in terms of taking, editing, and filtering photos and videos, there are certainly others that you can find with some trial and error. These photo-editing apps are simply the best 37 of 2020.
It is certainly worth noting, however, that sometimes editing on your phone isn't the best move. In many cases, editing on your PC is better than doing so on your mobile!
All of these apps are available for download on both the Apple Store (IOS) and the Google Play Store unless otherwise stated.
These apps are for both photos and videos.
They are in no particular order.
Best App for Content Creators #1 – Lightroom Mobile
Lightroom Mobile Price: Free + in-app purchases
Download Adobe Lightroom app for iOS or Android
The Adobe Creative Cloud is the pinnacle of photo-editing. If anyone tells you differently, then they're lying to both you and themselves.
While there are loads of quality apps for editing photos, none of them have access to the full suite of features afforded by an Adobe membership.
The Lightroom mobile app doesn't require an Adobe subscription but also doesn't give you full access either. But, if you have a membership, then your editing powers are multiplied exponentially. You'll have access to edit and share across all connected devices, all while having the full bevy of Adobes photo-editing powers at your arsenal.
Even if you can't swing the full subscription – and partial plans and student discounts are available – the Lightroom Mobile app is a superior option to many on this list.
App Features Include:
A Pro-Level Camera with the ability to capture HDR and RAW (are you shooting this way?)
The ability to edit detail like never before – selective adjustments, healing brush, enhance whole or partial photos, and more
access to Adobe's photo editing tutorials
Lightroom's presets (use just one or combine a few)
The organization that has never been easier – Adobe Sensei is Adobe's AI tool, and it'll organize it all for you so that you can focus on what's important – your photography
No need to worry about file size with Adobe's hassle-free cloud storage
Best App for Content Creators #2 – VSCO 
VSCO Price: Free
Download the VSCO app for iOS or Android
What's now VSCO used to be VSCO cams, so don't be confused. The latter was just an editing software, whereas the former does it all.
While VSCO is known for its editing prowess – and it should be as a result of its vast numbers of filters and editing tools – their photographing capability is quickly becoming the talk of photo town.
Because the company became relevant by developing Adobe Lightroom presets for film photos way back when it's no surprise that their market is expanding (hint – we only expect it to continue to do so).
As a result of their adherence to film photography,  most of VSCO's tools create photos made to look like old-timey film (a new 'fad' in the mobile photographer world). So, be mindful of the purpose of the app before utilizing it.
Their sharpening tool is also top-notch (so much so that we bring it up even though it's irrelevant). We commend VSCO for developing a tool that doesn't create a grainy effect in the unsharpened portions of the photo.
VSCO has always been one of the Best Apps for Instagram, and that won't change anytime soon.
App Features Include:
The ability to edit with all 10 VSCO presets (free app version)
Inspiration via the Discover feature (free app version)
Necessary editing tools – from saturation to contrast to grain (free app version)
The unique opportunity to share your phone photography for a chance to be featured by VSCO (free app version)
Access to the complete preset library with 200+ presets (VSCO Mobile Membership)
That vintage film look with Film X – looks include Kodak, Fuji, Agfa, and others (VSCO Mobile Membership)
Advanced editing tools (VSCO Mobile Membership)
Best App for Content Creators #3 – Hipstamatic 
Hipstamatic Price iOS: Monthly ($4.99) or Annually ($24.99)
Download Hipstamatic app Here
Before we get into the specifics of Hipstamatic, we just have to say, check out the diversity in the image above. These are just a small sampling of the lenses and effects you can apply to your pictures.
Oh, did we mention you can do all of the above both pre and post-shot? That's a game-changer. Don't worry about the online reviews that say you can't; newer versions of the app allow additional effects whenever.
Another dope feature is the ability to combine different lenses, flashes, and old-timey effects. As a result, you'll be able to create your signature look and ensure that your Instagram feed looks homogenous all the way through!
Also, downloading Oggl – a free version offering in-app purchases – allows photos to be uploaded directly to a community of others using the app. Why not show off how great your pictures look, right?
App Features Include:
Best App for Content Creators #4 – Camera+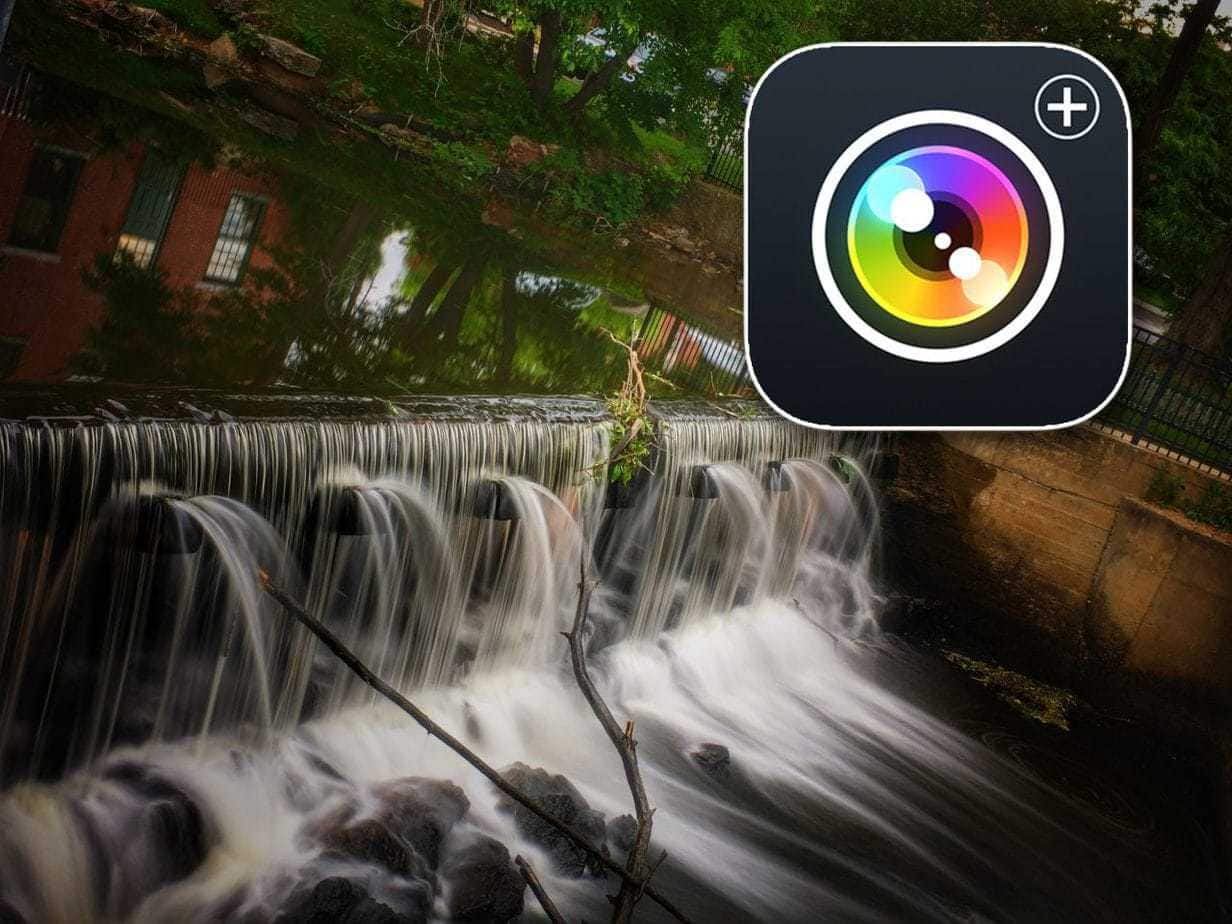 Camera+Price: iPhone: $2.99 and Ipad: $4.99
Download Camera+ 2 app for iOS or Camera+ Legacy app for iOS
Do you want to do some macro-photography?
Or, maybe a little long exposure is more your style.
It doesn't matter if you chose option one or option 2, Camera+ is for you!
The Camera+ app has all of the camera and photo editing capability of Pro Camera 8 but on steroids.
Our favorite feature is its manual exposure control. The tool does the best job of replicating what it feels like to adjust exposure on a real camera manually. Oh, and the results are pretty impressive too!
Also, their macro setting – which utilizes digital zooming to emulate a macro-lens – simulates actual macro photography. Don't get it confused or overconfident, though; this isn't real macro. But, it could help you decide if phone macro photography is for you.
Once you've snapped the picture, then the fun begins with their editing and enhancing tools. The tools give you the options to rotate, to straighten, to change exposure, to adjust sharpness, and to tone color. 
The great diversity of filter options allow you to layer multiples and adjust the specifics of each layer.
App Features Include:
 Powerful capturing and photo editing
The RAW Editor (curves, white-balance, etc.) and The Lab (exposure, sharpen, etc.) will take your photos from drab to downright impressive in no time
No more switching between apps – Camera+ 2 gives you all the power you need to create quality content all in one place
No in-app purchases required after the initial payment
Choose from presets when shooting auto, or capture in manual and enjoy a traditional photo editing experience
Stabilizer and burst tools are ideal for action photography
Lightbox feature will give you bulk editing powers similar to Lightroom
Best App for Content Creators #5 – ProCamera 
ProCamera Price: Free
Download the ProCamera app for iOS
The ProCamera app is the pinnacle of photo-taking apps. It does it all, and it does it all better than most of the rest of the competition. Bar none.
Don't believe us? Well, you'll probably believe them:
"The high-end crowd swears by it." – The New York Times

"A must-have travel app." – National Geographic
Now it's clear why are we so head-over-heels for their camera app, right?
There is better control across the board, and its interface is the same as the iPhone's actual camera. But of course, with a litany of upgrades included. 
The in-app editing options are obviously available once you snap your photo, but they're even available for pictures in your camera roll.
Yes, you read that correctly. Adjust your photo even after it's been taken.
Seriously though, up to this point, all of this is just child's play. If you're a real photographer, then this next bit will blow your mind.
Typical iPhone pics come in a JPEG format – if you want them in a different format, you have to convert them. The conversion process alters the photo itself and leads to all sorts of unwanted problems.
So, ProCamera solves the problem – they offer them in a TIFF format (a larger file size that allows photos to be better edited). Believe us, if you want the images post-edit to look absolutely breathtaking, then this is the way to make it happen.
Absolutely worth $4.99. We would even say the best-paid photo app for Instagram if the Adobe Suite didn't exist. ProCamera will prove its value, time, and time again!
App Features Include:
Control over your native camera like you've never experienced before
Top-class phone photography and phone videography capabilities
Simultaneously easy to use and multifunctional – perfect for beginners and professionals alike
It's your choice – manual, semi-automatic, and automatic shooting modes available
Manual Focus with Focus Peaking
Apple Watch Remote Control
Code Scanner
Lightbox
360 Tilt Feature
TIFF files
Powerful Photo Album with full iCloud integration
Best App for Content Creators #6 – Snapseed
Snapseed Price: Free
Download Snapseed app for iOS or Android
So, what Snapseed lacks in pre-photo adjustability it makes up for in its post-photo editing. Did we mention it's free?
There are options before snapping your photo. Be sure to adjust color and exposure to get the perfect photo edit.
There are also a reasonable number of vintage filters and special effects to be utilized once the image hits your camera roll. It's worth checking out Snapseed before investing in an app that requires payment.
Their Selective Adjustment Tool gives you the capacity to edit parts of the image as opposed to the whole thing. In our book, that's pretty cool. At the very least, it's something not available in some of their competitor's apps (most of which must be purchased).
The best thing, though, about Snapseed is that it's so friggin' easy to use – not to mention useful. From beginner to professional, this app is a must-have if you're interested in the best apps for Instagram!
App Features Include:
Photo editing made simple
Access to 29 Tools and Filters
Above-average healing, HDR, and perspective for a free photo app
Able to open both JPG and RAW files
Save your unique social media looks to curate that cohesive feed
Take advantage of the tutorial cards – they help with tips and tricks about both the app and general photography
All included tools are useful (whereas other apps overstimulate with tools)
Best App for Content Creators #7 – InstaSize
Instasize Price: Free
Instasize app for Android or IOS
To say, "so easy to use," would be an understatement. InstaSize makes creating content for social media about as easy as it could ever be.
"Instasize is the photo and video toolkit for social content creators." – The Google Play Store
See, told you so.
InstaSize aims to take all the apps necessary to create that quality content and pack them into one super user-friendly app. They hit the nail on the head.
Access to over 80 HD filters
Edit by adjusting brightness, exposure, sharpness, contrast, and more
Easy to use collage maker
Impressive font and text tools
Do note that there is a premium feature available for a monthly fee.
App Features Include:
Fast and effective photo editing
Designed for content creators
All your editing tools at the tips of your fingers (to include nothing else you could want and nothing you don't need)
The perfect number of filters – enough for you to stand out from other InstaSize users but not too many to make choosing a look difficult
Collage maker, fonts, borders, etc. are comparable to other offerings
Best App for Content Creators #8 – Pixlr
Pixlr Price: Free
Download Pixlr app for IOS or Android
So, there are actually four possible offerings spread across your devices rolled in here:
Pixlr Express (now Pixlr Free Photo Editor) – you don't even have to create an account to start creating with the Pixlr Free Photo Editor. The editing power is impressive and user-friendly. Over 2 million overlays, effects, and filters to try out. This is the power of Pixlr in the palm of your hand.
Pixlr X and Pixlr E – while you'll have to edit on your desktop to use Pixlr X and E, that doesn't mean they're without value. This photo editing software is easy to use, brand conscious, and more powerful than you'd expect. Get access that everything you've come to expect in photo editing, plus a little bit more.
Pixlr Marketplace – you want a place to share your work and edits with other people? You want that place to be filled with others using Pixlr? Well, then their marketplace is for you!
While some of Pixlr's features are more suited for phone photography than others, the full suite is still an impressive offering.
According to their website, the goal of the editor is to be "part of a creative ecosystem on a mission to make design easy for everyone."
Be sure to tag #madewithpixlr on social media to share your work too!
App Features Include:
Auto-Fix is your instant color adjuster – it's as easy as one click.
Easy-to-do photo collages featuring a variety of preset collages (including grid style, customized ratio, and background)
Take advantage of Double Exposure to master effects – from layers to adjustable transparency.
Stylize lets you make cool photo effects (includes pencil sketch, poster, watercolor, and others).
Easily remove blemishes, smoothen skin, or whiten teeth with intuitive tools.
Lots of fonts to choose from
Make color pop with the Color Splash effect
Adjust a photo's tone with overlays
Focal blur effect
Favorites button makes it easy to find a photo edit that works and stick to it
Cropping and resizing images is quick, easy, and can be done just before saving
Best App for Content Creators #9 – Adobe Photoshop Express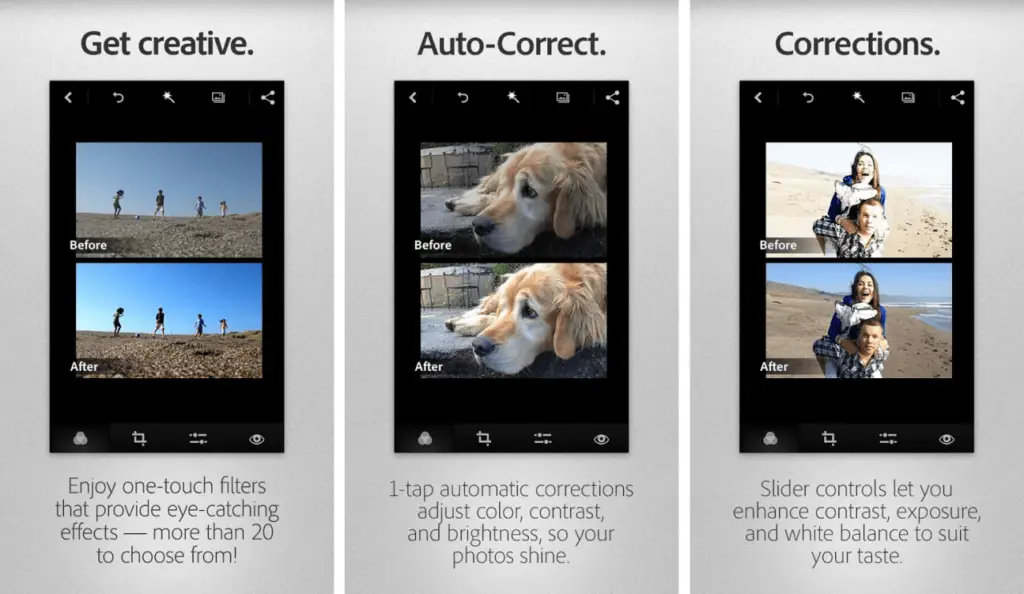 Adobe Photoshop Express Price: Free
Download Adobe Photoshop Express app for IOS or Android
Did you know that Adobe has a one-touch photo editing option?
Well, now you do.
The Adobe Photoshop Express App gives you the ability to:
make stickers
accentuate color gradients and imagery
do photo collages
make your own memes
edit quickly and on the go
Not only can you do those things, but you also get the peace of mind that comes when editing photos with Adobe. But, this isn't like Photoshop or Lightroom; this is the Adobe Photoshop Express App.
Get the results that you've come to expect from Adobe in half the time. Then, share them immediately to all social media straight from the app.
App Features Include:
Looks – immediate photo-effects, including black and white, Duo, and portrait.
Easy-adjust slider available for color effects
Removable fog via the dehaze feature with the touch of  a button
Top-of-the-line photo collage maker
Ability to add fonts and borders to your images
Quick fixes that you'd expect from an Adobe Express app
Lens blur
Noise removal
Perspective correcting
Best App for Content Creators #10 – Enlight
Enlight Price: $4.45
Download the Enlight app for iOS
So, there's no experience necessary to use Enlight. Unlike Photoshop or other apps geared towards the pros, Enlight gives it to you simply with its user-friendly interface.
For Enlight, quality content is more important than photography purity, and it shows.
With the Photofox photo art maker, you can dabble like a beginner or take complete control like an expert. Use their tutorials to improve your skills.
This app isn't your average photography tool. Powerfully blend your photos, create glitch art, and share it all with the power of Enlight.
If you download the app, be sure to tag #photofox on Instagram for a chance to get featured on their feed. Be sure to try the unlimited subscription to Enlight too!
App Features Include:
QuickArts is the easiest and fastest way to make content that pops
Double expose with the Enlight AI (works for traditional and abstract photography)
Easy to master pixel dispersion tool
Multiple file options – export RAW files to TIFF, PNG, or JPG format
Draw, paint, and add text among other things
Glitch art photo editing options include pixel sorting, color split, and more if you advanced-edit
Best App for Content Creators #11 – Photo Lab Picture Editor
Photo Lab Picture Editor Price: Free + in-app purchases
Download Photo Lab Picture Editor app on Android
Do you want to use one of the best photo apps of 2017 as named by Google Russia?
Ok, so maybe that isn't a huge selling point in 2020. But it doesn't downgrade the quality of the Photo Lab Picture Editor app.
Get access to a huge collection of fun and stylish photo effects as well as their effective photo editing software.
While you won't get complete control while editing, you'll be more than impressed with the results from Photo Lab Picture Editor.
And after all, aren't the results most important?
App Features Include:
Access to over 900 photo effects
50+ neutral pre-sets
A nice selection of photo frames
A realistic suite of editing tools
Use the face photo montages tool to face swap, apply  Snapchat like effects
The Enlight photo collage maker
Best App for Content Creators #12 – FilterStorm Neue
Filterstorm Nue Price: $3.99
Download Filterstorm Nue app for iOS
20 editing options, 7 canvas edits, 8 photo effects, and 6 masking tools come standard with Filterstorm Nue. That's a whole lot of power.
And, there's even more where that came from.
There are actually three other apps associated with Filterstorm Nue – FSN Pro ("For Photojournalists, Pros, & Enthusiasts"), Filterstorm 4 ("Small Device, Big Power"), and Gridditor – for quick and easy photo editing.
Filterstorm is a worthwhile tool whether you choose just one of their photo apps or choose them all.
App Features Include:
10-step undo history
IPTC metadata
Effective export tool for photo sharing
Support of JPEG, TIFF, and PNG files
Interface color scheme with option for grayscale
RAW photo support
Image tilling (allows you to edit images too large to be supported by most photo apps)
Best App for Content Creators #13 – TouchRetouch
TouchRetouch Price: $1.99
Download TouchRetouch app on Android and IOS
How often do you take an awesome landscape photo only to find that there's a kid in the background? How about a powerful portrait that's ruined by a pimple?
Well, it happened to the brainchild of the TouchRetouch app one too many times.
As a result, they created the app that removes unwanted objects from your photo. It's been pretty well received.
"…there's no easier way to remove unwanted items from your images…" – The Guardian

"TouchRetouch is a terrific 'remover'." – Life In LoFi
TouchRetouch is cheaper than other photo editing apps that do the same thing. If you paired it with a true photo editing app, then it becomes an invaluable tool for fantastic phone photography.
App Features Include:
Object removal from photos
A single-flick-line-removal tool
Awesome easy to digest tutorials available to view in-app
An effective blemish remover
The Clone-Stamp tool
An eraser tool where you can adjust size, opacity, and hardness
Best App for Content Creators #14 – PicsArt
PicsArt Price: Free + in-app purchases
Download PicsArt app on IOS or Android
Over 700 million downloads to date between IOS and Android makes PicsArt a pretty big deal in the world of photo editing apps.
While the app is different than Photoshop or Snapseed however, it is not without its merits.
Designed with Gen X-ers in mind, PicsArt has photo and video editing, a remove objects tool, and so much more packed into an easy to use app.
Be sure to consider going gold – where you can get access to over $3,000 worth of editing tools for a small monthly fee.
App Features Include:
Competetive photo and video editing tools
 Lots of photo effects
Face swap
Drawing tools
Collage/sticker makers
Smartphone camera alternative with photo filters
Free massive image libraries
The prestige of being the 14th most downloaded app worldwide in 2019
Best App for Content Creators #15 – Superimpose X
SuperImpose X Price: $4.99 from the App Store and $0.99 on Google Play
Download SuperImpose X app on IOS or Android
Being able to add part of one photo to another photo all from the comfort of your phone would be pretty cool, right?
Well, SuperImpose X does just that!
With the 18 blending modes available to you, there's even an adequate amount of editing power available via the app as well.
It's worth noting that the iOS version of the app is superior to the Android version.
App Features Include:
 The ability to superimpose images onto other
Cropping, scaling, and resizing tools
18 Blending Modes
Power over borders, color, contrast, exposure, hue, and saturation among others
A myriad of masking tools that help when superimposing
Best App for Content Creators #16 – Ribbet
https://www.instagram.com/p/B1w_zqyBEa-/
Ribbet Price: Free + in-app purchases
Download Ribbet app on IOS or Android
According to Ribbet, their app proves, "[that] powerful photo editing isn't just for pros."
We've got to agree that it's pretty easy to use.
The cool thing about Ribbet's user interface is that's it's the same experience whether you're a master photo editor or a beginner.
That's a unique claim to be able to make, huh?
While you may not get the full editing power of the Adobe Suite from Ribbet, at $29.99 a year the editing capabilities are pretty impressive.
App Features Include:
A streamlined photo editing suite that works for pros and amateurs alike
Over 100 different fonts with 8 unique font effects
A photo collage maker with a grid
An intuitive workplace
26 photo filters
The ability to create watermarks and stickers
Powerful portrait editing tools
Pro-editing tools available for a cost
Best App for Content Creators #17 – Lens Distortions
Lens Distortion Price: Free + in-app purchases
Download Lens Distortions app on IOS or Android
Are you ready to capture cinematic quality photos on your phone?
You should be because Lens Distortions focuses on realism in everything they do. They're:
"THE EFFECTS COMPANY FOR CINEMATIC CREATORS"
Don't believe their bold claim? Well, LensDistortions has been featured on:
Universal
FStoppers
Fox
Tesla
HBO
Disney
Netflix
LensDistortions also claims that lots of Instagram influencers use their app and online suite. That's a lot of big names using the product.
But, it's almost guaranteed that all of them are LD Unlimited members. What's that?
Join the LD Unlimited crew to unlock full access to all of LensDistortions tools. Don't forget to tag #lensdistortions on Instagram to share your work with other users of the app.
App Features Include:
Awesome cinematic photo effects
Light Volume™ and Light Hits™ give you looks you can't get anywhere else
Weather effects
Loads of overlays – both for background and foreground
375 premium photo effects (available on LD unlimited)
Best App for Content Creators #18 – HypoCam
HypoCam Price: Free + in-app purchases
Download HypoCam on IOS or Android
Do you want to share the best black and white photography you can, straight from the palm of your hand?
Well, HypoCam will help you with that – it's developed exclusively with monochrome photography in mind.
You may even find that you like the increased texture look that comes with black and white photography.
"ENHANCING PEOPLE STORIES™"
Have you ever tried making your photos black and white? It's certainly worth a try, right?
Be sure to tag #hyopcam on all social media when you do!
App Features Include:
Live-view controls when shooting
Expertise in monochrome photography
A built-in news feed of other black and white photography
Editing capabilities created with black and white photography in mind
B&W photography specific presets
Best App for Content Creators #19 – Focos
Focos Price: Free + in-app purchases
Download Focos app on IOS
Focos is designed to replicate that traditional DSLR look. The results are pretty impressive.
Their bokeh effect is seriously good – even better than that of the new iPhones. When paired with one of those new iPhones, the bokeh may even be better than DSLR.
"Focos has long been one of the most ambitious photo-editing apps on iOS, turning any photo into a 'portrait mode'-style image with fully adjustable depth of field, no matter what kind of camera you took it with."  – The Verge
You can even refocus your image after it's been shot! If you're into powerful portrait photography, then Focos is the app for you.
The in-depth video tutorials are also seriously helpful.
App Features Include:
3-D Imaging
Perfect portraits every time resulting from super shallow depth of field
The ability to re-focus already taken portrait photos
Large aperture emulations for perfect bokeh
Automatic depth of field calculation
Lens characteristic simulations
The option to fiddle with bokeh
Best App for Content Creators #20 – Splice
Splice Price: Free + in-app purchases
Download Splice app on IOS
Splice was a Gold Award Winner at the Best Mobile App Awards in October 2015 and it's pretty easy to see why. It's a serious winner as a phone videography app.
Not only does their auto-sync feature match your music to the video almost perfectly, but you have access to their free music library and your iTunes account.
There's so much customization power in the Splice app – from video intro to outro. You're in complete control of your phone video editing when using Splice!
135.2k rating on the App Store with a rating of 4.7 has to be an indication that this video app is legit, right?
You can subscribe to Splice to gain access to more video editing tools. Payment scheduling options are varied.
App Features Include:
Loads of free music and video effects
From app sharing feature
Auto-sync video speed to music tempo
Filters for things like background and perspective
Text and font options
A built-in voice recorder
Easy-to-use but powerful video editing capabilities
Effects for pan and zoom
The ability to mix multiple audio files
Best App for Content Creators #21 – Fotor
Fotor Price: Free + in-app purchases
Download Fotor app on IOS or Android
350 million users can't be wrong, can they?
We certainly don't think so. The BBC once called Fotor "Photoshop Lite" because the app is much easier to use than the Adobe offering.
Fotor gives you access to hundreds of special effects and 200+ stickers.
When it comes to photo-editing capability, Fotor gives you power over:
Contrast
Shadows
Saturation
Brightness highlights
Angle correction
Noise
Cropping
Dark corners
Fotor also has a unique relationship with PxBee in that you can upload your photos straight from the app to be stock photos. You know you can make money doing that right?
Oh, and join Fotor Pro for complete access to everything from Fotor.
App Features Include:
An impressive selection of effects, stickers, and borders
Professional photographer developed photo editing effects
The ability to mix and match photo effects
Fotor's Collage Creator
Depth of field enhancement
A powerful photo processor
13 different One-click Enhancements
Best App for Content Creators #22 – RetroCam
RetroCam Price: Free + in-app purchases
Download RetroCam app on IOS or Android
RetroCam is simple, but it's good.
If you're interested more in the story you tell than the quality of your photography, then this can be a quick solution to photo editing.
You are given enough tools to have more control than both the native camera app and Instagram. For free, you may as well give it a try.
App Features Include:
High-quality analog imitation
Instant preview
80+ filters including landscape, vintage, black & white, cinematic, retro, and portrait
60 + Light leak filters
Chromatic Distortion
Lo-fi mode
Best App for Content Creators #23 – InShot
InShot Price: Free + in-app purchases
Download InShot app on IOS and Android
InShot is the perfect app for an introduction to phone videography.
It doesn't matter if you're splicing together your very first video, creating a B-roll video of a road trip, or making a music video, InShot is for you.
Features include the ability to:
Trim video
Adjust video speed
Merge videos
Cut/Delete parts of a video
Add mp3 files or voiceovers
And much more
If you like InShot, you can also subscribe to their service to gain access to even more features!
App Features Include:
Video Trimmer
Video Cutter
Video Merger
The ability to add text and stickers
Video Joiner
Video Splitter
Music and sound effects
Control over video speed
Best App for Content Creators #24 – Prequel
https://www.instagram.com/p/B-Cl7yrBsw-/
Prequel Price: Free + in-app purchases
Download Prequel app on IOS or Android
Prequel is the #6 app in the App Store for Photo & Video, and after using it for a few minutes you'll see why.
Whether you're shooting phone photo or video you'll be impressed by the control you have both pre and post-shot.
Perhaps the most useful and impressive tool in the Prequel app is its Beauty one. It'll automatically beautify all your portraits
Try Prequel Premium to unlock the full Monty of Prequel's effects, filters, and other useful tools.
App Features Include:
Killer photo effects
Live video filters
Effects specific for video intro and outro
Video trimming and speed adjuster
Beauty specific tools (whiten teeth, unblemished skin, etc)
The ability to control music and sound
Best App for Content Creators #25 – Dark Sky Weather
Dark Sky Weather Price: $3.99
Download Dark Sky Weather app on IOS or Android
You've got to know what weather to expect as a photographer, and there's no better weather app than Dark Sky.
Weather can either help or hurt your photography. Knowing what to expect from Mother Nature can be the difference between an awesome shoot and a disappointed client.
Dark Sky Weather app is featured in publications like:
The New York Times
Fast Company
Wired
Wall Street Journal
App Features Include:
Down-to-the-minute forecast
Advanced map overlayed with weather
Weather notifications
iOS and Android compatible
Available on smartwatches
Best App for Content Creators #26 – Moment Pro Camera App
Moment Pro Camera app Price: $5.99 on App Store and $3.99 on Play Store
Download Moment Pro Camera app on iOS and Android
If you're a phone photographer or a phone videographer, then you have to consider the Moment Pro Camera app.
You know about Moment, right?
Because they're phone videographers and photographers they developed an app for mobile creators, by mobile creators.
They've got tools for both photo and video that are easy to use and provide professional results.
Note – not still developing for Android.
App Features Include:
Manual controls
Long exposure capability
Timelapse mode
Slow Shutter mode which gives you full manual controls (also good for lens blurs and long-exposure)
Motion blur
Focus peaking
Support for RAW and TIFF files
Burst mode
Color Profiles designed for film
RGB and Histogram
Best App for Content Creators #27 – Mextures
Mextures Price: $1.99
Download Mextures app on IOS
When you look at photos on editing on the Mextures app you almost have to think #moodygrams.
Mextures presets may have that effect on your work, but you can also adjust their presets to be your own!
With their combination of funky overlays, layering options, and easy-editing Mextures is an intriguing option as a photo app.
Our favorite feature in the Mextures app is the ability to import the Formula – photo settings – used by other app users. You can then edit their Formula to become your own!
App Features Include:
Easy-adjust overlays include tasteful grunge, element textures, dusty vintage film scans,  analog light leaks, and perfectly tuned gradients
12 blending modes for each texture adjuster
300 Formulas (Mextures 1-tap presets)
The ability to add unlimited layers
Non-linear editing
A unique sharing option
Best App for Content Creators #28 – Photo Editor゜
Photo Editor゜ Price: Free
Download Photo Editor゜ app on Android
So, there may not be an iOS offering for the Photo Editor゜ app, but if you're on Android that means you're at an advantage.
Did you know the app has 300k+ downloads and a rating of almost 5 stars on the Play Store?
This app is great for content creators looking to add to their photos or videos. Do you want to add stickers, text, effects, or create collages to highlight content on social media?
Yes? Then the Photo Editor゜ app is for you.
Features include:
60+ photo filters
Glitch Effects
Bokeh effects
Photo Blender
Photo Collage Maker which can include up to 18 images
Sticker library
Aesthetic Photo Editor for those trippy edits
Best App for Content Creators #29 – RNI Films
RNI Films Price: Free + in-app purchases
Download RNI Films app on IOS
4.8 stars with over 6k ratings is seriously impressive. Those credentials are an indication that you'd be downloading a super high-quality app that isn't being widely used.
That's an excellent combination to have.
With RNI Films you'll get film photography quality shots on your phone. The developers of the app are obviously photography purists, but respect the merits of phone photography.
They've created an app that fulfills their vision.
If you like what RNI Films does, tag them with #RNI and #RNIFilms.
App Features Include:
Film photography inspired filters
RAW support
Adjustment tools as expected
Quick sharing to anything you could ask for
A super straightforward workflow
Best App for Content Creators #30 – PhotoTime: Golden Hour Calculator
PhotoTime: Golden Hour Calculator Price: Free
Download PhotoTime: Golden Hour Calculator app on Android
You know about the blue and golden hour, right?
If not, read this.
The DownLoad PhotoTime app tells you when those perfect lighting opportunities are so that you never miss the ideal opportunity.
Lighting is imperative to phone photography. Anything you can do to give yourself an edge is a must-do.
App Features Include:
Golden and blue hour calculator
Times for day length, solar noon, twilight, dusk, and dawn
Customizable time and location
Best App for Content Creators #31 – Camera 360
Camera 360 Price: Free + in-app purchases
Download Camera 360 app on IOS or Android
Did you know that there are over 1 billion people using the Camera 360 app? That's over three times the population of the United States!
If you're looking for easy and eye-catching photo editing with the ability to add text and borders then the Camera 360 app is perfect for you.
Even in the free version of the app, you have access to enough tools and effects to make compelling content for social media.
If you aren't content with what you're creating, then become a Camera360 VIP to unlock all of the features available on the app. You know the celebrities using Camera360 are subscribing, right?
App Features Include:
New Skin which makes your skin smooth and soft looking
21 micro-adjustment to your facial features
Face and Body slimming
Magic Sky which gives you control over the sky
300+ filters (can be used on partial portions of images)
13 controls for color
An effective Image Correction tool
Best App for Content Creators #32 – Huji Cam
Huji Cam Price: Free + in-app purchases
Download the Huji Cam app on IOS or Android
We've discussed tintype photo apps and vintage photo apps, so it only makes sense that we include a 90s option too.
The Huji Cam will have all the millennials remembering their childhood videos and photos. Seriously, they even got the time stamp right!
When in photo mode, you're essentially shooting film photography on your phone. Obviously it's not the same thing, but sometimes the images don't come out – just like when shooting with film
While this may be frustrating for some, for others the film look is worth any frustration. If you have a favorite old Polaroid and want a similar look from your phone, then Huji Cam is for you.
App Features Include:
Ability to get film photography style images from your phone
Analog look
Best App for Content Creators #33 – Afterlight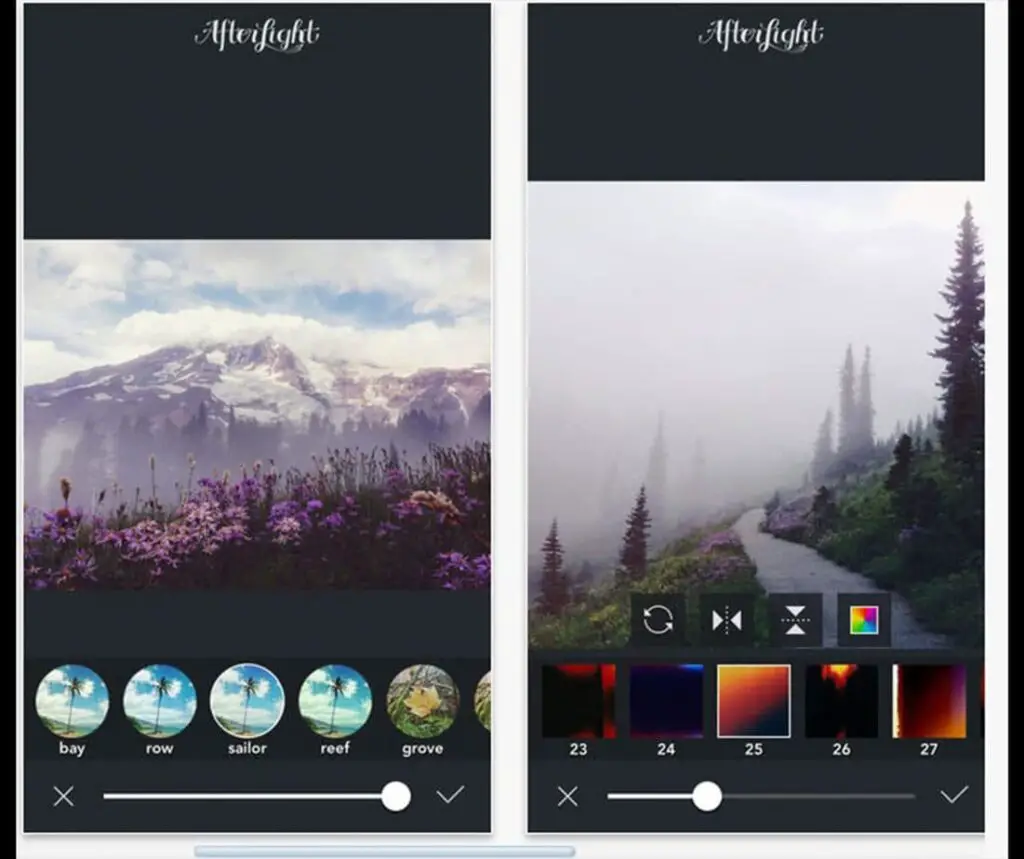 Afterlight Price: Free + in-app purchases
Download Afterlight app on IOS or Android
An average rating of over 4 on both the App Store and the Play Store means that Afterlight is seriously well received,
But, does how does it compare to the competition?
Well, Afterlight is easy to use and pretty effective as a photo editor. While it doesn't give you as much control as some of the better photo editing apps on this list, Afterlight is a quality offering.
So, you may be limited in the amount that you can do editing wise. At the same time, all the tools and filters are useful. I'd rather have 50 useful options than 300 non-useful ones, wouldn't you?
Try the 7 day free trial of membership if you're not convinced. Be sure to tag #afterlight when you do! You may just find that Afterlight is worth the cost.
App Features Include:
15 adjustment tools
59 filters
66 textures
77 frames
Transformation and cropping tools
Best App for Content Creators #35 – Infltr
Infltr Price: Free
Download Infltr app on IOS or Android
Are you looking for the easiest photo editing app. Well, Infltr could very well be it.
In the app, you can apply a nearly endless stream of filters to:
Photos
Videos
GIFs
Live Photos
Depth Photos
Did we mention that you edit by simply dragging your finger across the screen? Seriously, if you keep dragging then the combination of photo filters in effect will keep changing.
There are over 7 million combinations.
Add in Infltr's 20+ editing tools and you have the ability to quickly create unique content with literally the swipe of a finger.
We think Stuff.tv put it best in saying that Infltr may be, "short of vowels but has plenty of tools and literally millions of filters."
Give it a try and find a filter combination that works for you!
App Features Include:
The easiest editing tool on the market
The ability to edit more than just photo and video
Editing both pre and post photo
A Favorites feature that allows you to save your best filters
Pro Features available for a fee (not as worth it as other similar offerings)
Best App for Content Creators #36 – Camera Zoom FX
Camera Zoom FX Price: $3.99
Download Camera Zoom FX on Android
With over 90,000 active downloads Camera Zoom FX is a quickly growing photo editing app for Android.
By downloading the app, you'll get access to an improved phone photography experience, a better photo editing interface, and all for less money than the cost of a large latte.
It's also worth noting that by using a lesser-known photo editing software, there's more a chance of your phone photography standing out.
Camera Zoom FX is a great option if you like to capture things in motion.
App Features Include:
The fastest camera on Android
Full manual DSLR controls
Hundreds of photo effects
Effective Stable and Burst modes (perfect for photography sports or action)
The ability to shoot RAW on compatible devices
The chance to set focus distance, saturation, ISO, exposure, and shutter speed among other traditional camera controls
Grid overlays
A Collage Maker
Multiple flash modes (you shouldn't use flash, but if you do this is preferable)
Best App for Content Creators #37 – 1967: Retro Filters & Effects
1967: Retro Filters & Effects Price: Free + in-app purchases
Download Vintage Filter – 1957 Art app on iOS or Android
Who doesn't want to be able to use summer-of-love style filters on their photos?
The 1967: Retro Filters & Effects app could be ideal in helping you curate a cohesive Instagram feed. Or, it could be perfect for letting out the Beatnik in you!
This app supports both video editing and phone editing. It's worth noting that the iOS version of the app is a more advanced version. As a result, it's not surprising that it's more well-received.
Regardless of which iteration of the app you're using, tag #1967CAM on Instagram to share.
App Features Include:
Vintage photo effects
Polaroid-style frames
220 photo filters
Adjustment capability for over 30 effects within each photo filter
55 color presets
Premium photo effects collections available for a nominal fee