The tripod is a crucial part of any photographer's kit. There are lots of techniques that require a tripod to pull off correctly: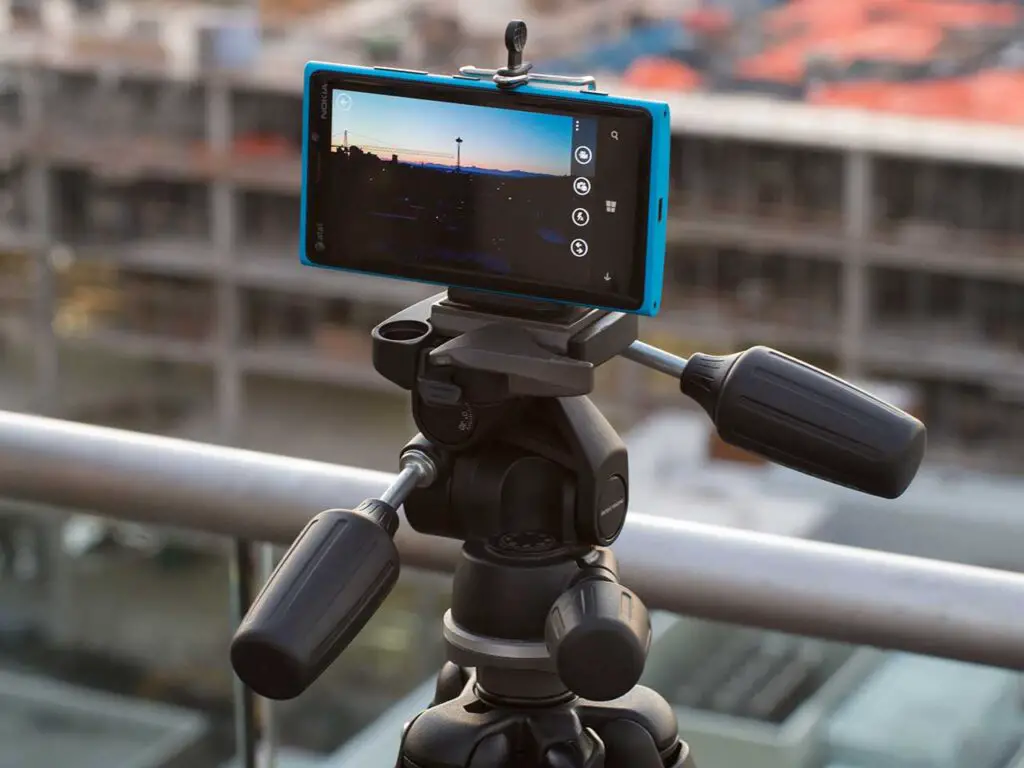 A new iPhone paired with a couple of 2020s top accessories can rival high-end traditional cameras.
A phone tripod is the best piece to start with after a top phone camera lens. In this post, we'll give you options for the best priced, most durable, and tallest smartphone tripods.
What to Look for in a Smartphone Tripod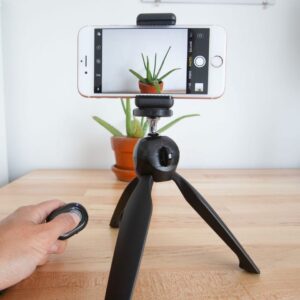 Smartphone photography is attractive because of the convenience of it. The equipment we use should amplify that quality.
Tripods tend to be on the bulky side. For most people, it's the largest piece of photography equipment they'll carry. This is true for phones as well but on a much smaller scale.
Here are some pros to consider when selecting a tripod:
Lightweight
Durability
Height
Flexibility
Compatibility
Fortunately, most tripods these days are compatible with both iPhones and Androids, so we don't have to distinguish between the two.
In the next sections, we'll offer the best tripods in each category.
3 Most Durable Smartphone Tripods
[table id=4 responsive="collapse" /]
If you're the sort that does a lot of nature photography or landscape shots, you spend a fair bit of time roughing it. Life on the trail ain't easy on you or your gear.
Having a tripod that can tolerate abuse is a must for anyone who is bringing photography equipment out of the comfort of their home or city.
Are you a travel photographer? Well, we're talking to you here.
Peak Design Travel Tripod
Weight: 2.8 lb
Max Height: 60.2 inches
Compatibility: DLSR, Mirrorless, and Smartphone
Peak Design does everything with travel in mind, and their travel tripod is no different.
Are you ready to go from a pretty tall, durable, functional, and steady tripod to a piece of gear that packs up to the size of a water bottle in seconds? Maybe it's not completely useful when not in the woods, but it's still pretty cool.
Don't worry about the elements because the Peak Design Travel Tripod is made from both weather and impact-resistant materials. Do note, this is resistant, not proof.
The 20-pound weight capacity will never be an issue shooting with your smartphone, and – even if it is – the tripod is guaranteed for life!
---
Manfrotto Mini Tripod with Universal Smartphone Clip
Weight: 5.1 ounces
Max Height: 12 inches
Compatibility: Smartphones and anything with a ¼"-20 screw
Looking to perfectly blend cost with performance? Well, this mini-tripod from Manfrotto does just that. At this price point, you can't expect much more out of a smartphone tripod. Do note, that the Manfrotto Mini-Tripod can be transformed into a mini-monopod but doesn't have any stabilization technology like that found in a gimbal. As a result, this option is best for someone doing a stationary vlog.
At the same time, if you're not moving too quickly, the Manfrotto mini does perform adequately as a monopod.
---
FotoPro Wrappable Leg Tripod
Weight: 0.47 lb
Max Height: approximately 11 inches
Compatibility: DLSR, Mirrorless, GoPro, and Smartphone
Another stellar entry from FotoPro, this flexible tripod also has a silicone case to protect the insides from wear and tear. FotoPro specifically markets this tripod as being totally waterproof – able to survive repeated inundation.
They also like to emphasize that, with a little creativity, this is more than a simple tripod. It can be a practically universal phone mount for use on your car, bike, boat, or even just countertops.
Weighing in at only 215 grams, the tripod is also light enough that you can forget you're carrying it!
---
3 Best Priced Smartphone Tripods
[table id=5 responsive+"collapse" /]
These tripods are, overall, probably the best option for most people. They offer the best balance of quality and affordability.
In some cases, they have extras (like remote camera shutters) that really enhance the package.
FotoPro Aluminum Camera/Smartphone Tripod
Weight: 0.85 lb
Max Height: 39.5 inches
Compatibility: Smartphone
You really can't do better than the FotoPro Tripod. Seriously, the company is legit enough that we've dedicated a whole post to them.
It excels in every category: it weighs less than a pound, it's 3.5 feet tall, it has an adapter for cameras or phones, includes a carrying bag and a remote shutter.
There are only two downsides to this tripod. It's a bit pricier than most of the other options in this section (but undeniably a great deal with all of the features), and it's made of aluminum. Aluminum isn't the strongest metal and can be bent if you're not careful.
Still, this is the kind of tripod you buy once and use for the next 10 years. Grab the FotoPro if you don't want to think about tripods ever again.
---
UBeesize Portable Phone/Camera Tripod
Weight: 5.3 ounces
Max Height: 10 inches
Compatibility: Smartphone and GoPro
UBeesize is one of the foremost manufacturers of smartphone equipment. They're known for their good-quality gear with a surprisingly low price tag. This phone tripod is no different.
It might not be apparent from the image but this tripod is flexible – allowing you to attach it to various surfaces. That makes up for the lack of extending legs.
The modular attachment platform lets you hook up traditional cameras, any kind of phone, or even GoPros so you can use this tripod to shoot with whatever you've got with you. The included remote shutter button is a godsend – you'll wonder how you ever got along without one before.
---
Alptoy Selfie Stick Tripod
Weight: 0.8 lbs
Max Height: 54 inches
Compatibility: Small Cameras, Smartphone, and Action Cameras (like GoPro)
The selfie stick tripod is ideal for beginning mobile vloggers. You're getting a both a tripod and a selfie at a great price. Who wouldn't love that?
While you're not getting a professional-grade phone tripod, you are getting something that'll help stabilize your camera for both photos and videos. You also have the selfie stick option, which while potentially embarrassing to use in public, do help create some killer content.
You'll also get a bluetooth camera remote which allows you to take photos of yourself from up to 30 feet away. Additionally these nifty pieces of gear make it so that you don't have to tap your phone to take a photo. No tapping means no vibrations which means crispier content.
---
3 Tallest Smartphone Tripods
[table id=6 responsive="collapse" /]
It's an often-overlooked quality, but the height of a tripod is important!
There's nothing more frustrating than seeing the perfect shot, but your tripod is only 8 inches tall and there's nothing to attach those octopus legs to.
Instead of compromising on your vision, just get a tall tripod so you don't have to make sacrifices. They're usually a bit pricier and heavier, but it's an easy tradeoff.
MeFoto BackPacker Tripod
Weight: 2.54 lb
Max Height: 54.7 inches
Compatibility: DLSR, Mirrorless, and Smartphone
The MeFoto BackPacker Tripod is the best quality option in the tallest tripods section. The reason that this tripod is so long? Well, it can convert into a very useful monopod with a bit of configuration.
In addition to its versatility, the BackPacker also packs some serious punch when it comes to its quality. While many tripods – even more expensive ones – feel flimsy and cheaply made, the MeFoto BackPacker Tripod decidedly doesn't. While you certainly can spend less money and get a decent tripod for your phone, this offering is going to take care of all your tripod needs for years to come.
---
Torjim Selfie Stick Tripod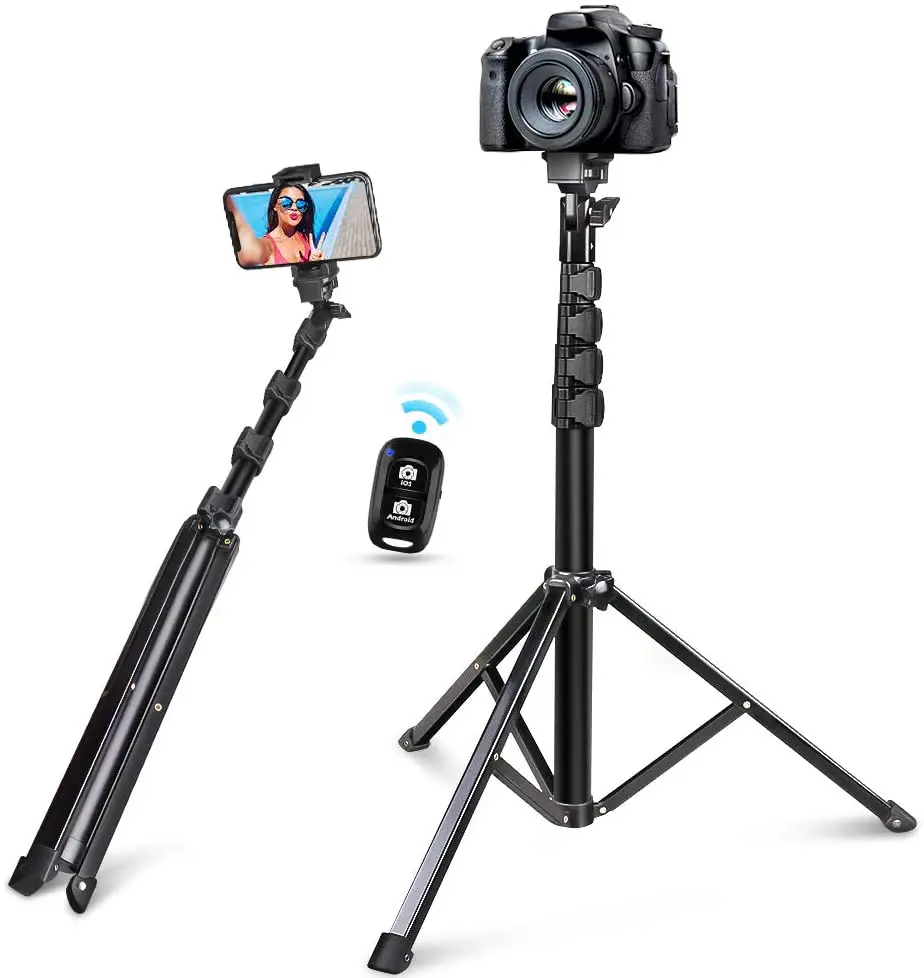 Weight: 3.5 lb
Max Height: 60 inches
Compatibility: DLSR, Mirrorless, and Smartphone
The Torjim Selfie Stick Tripod is one of the tallest phone tripods available. It's also built from reinforced aluminum, so it is relatively sturdy while remaining light.
The tripod has a few nice extras too: one of those lovely Bluetooth remotes that compatible with both Android and iPhone, non-skid legs, and it can convert to a selfie stick at need.
One that won't embarrass you, thankfully.
Note the extra support on the legs. Those supporting beams ensure that the legs are incredibly stable and can handle a lot of weight, but they don't significantly add to the bulk or heaviness of the tripod. That's the mark of a well-engineered piece of equipment.
---
Kaforise 66 inch Telescoping Adjustable Phone Tripod
Weight: 38.8oz
Max Height: 66 inches
Compatibility: Smartphone (4 inches or less in width)
If this tripod is giving you weird flashbacks to high school band class, you're not alone. It's the feet – that tripod looks just like a music stand!
Accordingly, it's not the most stable tripod ever. I wouldn't bring it out on a hike. It is an excellent choice for in-home or studio use, however. Set it up once for product photos then simply adjust the flexible gooseneck as necessary.
It's a bit of a niche tripod, but with a maximum height of 66 inches, it's about as tall as they come for smartphones. It's also made of carbon steel, so there's really no way you could break it in your home.
Unless you tried really hard, I guess.
Yes – You NEED A Smartphone Tripod
Non-negotiable.  Even if you want to Andy To around with a gimbal most of the time, you need to have a tripod for shooting yourself among a plethora of other things. If you haven't been convinced of this at this juncture in the post, then head over here to learn why a tripod for mobile is a must. Comment down below and let us know what kind of phone tripod you've got in your toolbelt!