If you're struggling to find the perfect gift for the smartphone photographer in your life, look no further. We've done the hard work of researching the latest and greatest gift sets and have carefully curated a list of the best gifts for any smartphone photographer or filmmaker.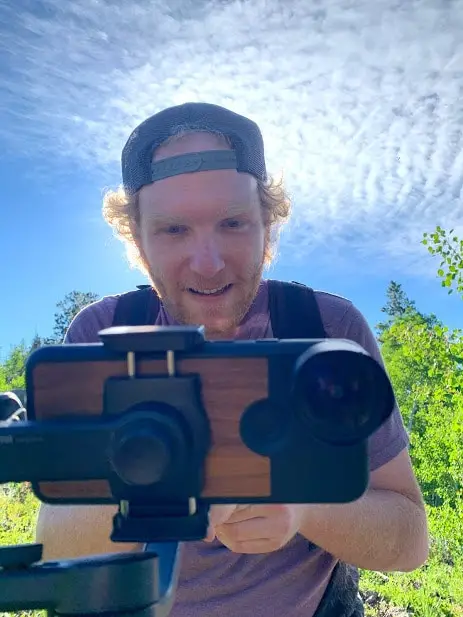 Whether your recipient is just getting started with their mobile photography journey or is a seasoned professional, these sets are sure to inspire.
In fact, the gear on this list might inspire you to add an extra set to your cart for yourself. It's just as fun to receive as it is to give, right?
The 5 Best Gifts for Smartphone Photographers in 2020
To be upfront, these sets are going to be on the costlier side. If you're looking for something inexpensive but still high-quality, it may be worth purchasing a photography dedicated phone case. The right one will have that special someone one step closer to capturing professional-quality photos and videos directly from their phone.
This may seem like a bummer, but unfortunately, there are a lot of pretenders in the phone photography world and we don't want you to buy something crappy with good intentions. Enough blabbering though, let's get to the good stuff. Mom if you're reading this, I'll take them all.
A Moment Starter Set is the perfect gift for any budding smartphone photographer. The sets are also available with two lenses if you're looking to spend a bit more.
You can customize this set with the choice of phone case to ensure that your gift with work with the recipient's phone. Different cases are available for the iPhone, Pixel, Galaxy, and OnePlus.
Depending on the type of photography your recipient is interested in, you can choose from a selection of Moment's best lenses. You'll have your choice of the Wide 18mm, Anamorphic, Fisheye 14mm, Macro 10x, or Tele 58mm Lens. For the two lens set, you'll be able to choose two of your favorites.
Additionally, these sets come with a lens pen and rear lens cap to keep your gear spic and span. The two lens set comes with two rear lens caps to make sure both lenses stay safe and clean.
The best part about these starter sets? You'll save $20-25 by buying the set instead of purchasing each item separately.
If you're shopping for an iPhone only photographer, look no further than Moment's Beginner Filmmaker Set. It has all the tools any photographer needs to get started as a mobile filmmaker.
The set includes a Beastgrip Beastcage suitable for the iPhone 11, iPhone 11 Pro, and iPhone 11 Pro Max. The Beastcage snaps onto an iPhone as easily as a normal case and allows you to mount lenses, handles, and any other accessory a beginner filmmaker might need.
You can choose from any of Moment's best lenses, including the Wide 18mm, Macro 10, Fisheye 14mm, Tele 58mm, and Anamorphic Lens. Since this is a Beastgrip cage, you also have the option of the Beastgrip Pro-Series Kenko .75x Wide Angle Lens.
The kit also includes a lens pen to make sure your gift recipient can keep his or her new lens clean and ready to film.
If the Beginner Filmmaker Set isn't quite enough, consider the Pro Filmmaker Set, which also includes a Lume Cube Light 2.0 and a Joby Wavo Mobile Microphone.
If the mobile photographer on your gift list is interested in creating professional quality digital content, Moment's digital creator set is sure to put a smile on their face. It includes everything they need to record high-quality videos to keep their followers coming back for more.
This set gives you the option of choosing a phone case based on the type of phone your gift recipient uses. Cases are available for the iPhone, Pixel, OnePlus, and Galaxy. 
You'll also be able to choose which of Moment's best lenses to include in the gift set. You can choose from the Anamorphic, Wide 18mm, Macro 10x, Fisheye 14mm, or Tele 58mm Lens.
The set also includes the Manfrotto Mini Tripod. This unique and compact tripod can go from tripod mode to single handle mode just by folding the legs in. It's lightweight and can fit into any gear bag.
To ensure that your phone never slips out of place, the Digital Creator Set includes the GripTight Pro 2 Phone Mount by Joby. This versatile mount fits any phone between 56 and 91mm wide.
Finally, the set also includes the Wavo Mobile Microphone by Joby. This compact microphone features a Hytrel Single Point Lyre and a durable all-metal body. Use the included windshield to make sure audio stays crisp no matter where your photographer friends and family choose to film.
If the mobile photographer on your gift list is in need of a lighting upgrade, Moment's Mobile Photo Lighting Set will be the perfect gift. This gift set includes everything a smartphone photographer needs to go from flash to fabulous.
As with many of Moment's other sets, you'll be able to choose a phone case based on your recipient's device of choice. Cases are available for the iPhone, Galaxy, Pixel, and OnePlus.
You can also choose a lens to help the photographer on your gift list take their art to the next level. Choose from Moment's top lenses including the Anamorphic, Fisheye 14mm, Fisheye 15mm, Macro 10x, Wide 18mm, and Tele 58mm Lens. 
The kit also includes a lens pen and rear lens cap to make sure your photographer's new lens stays clean and safe from scratches and bumps.
The highlight of the Mobile Photo Lighting Set is the Profoto C1 Plus Mobile Light. This powerful little light syncs to a smartphone via Bluetooth to upgrade any camera's flash. The C1 Plus features 20 LEDS and a maximum of 4300 lumens.
Additionally, the set includes the Profoto C1 Plus Creative Gel Kit. These color gels attach magnetically to the C1 Plus and add depth and color to give photos and videos a uniquely cinematic look.
If you're looking for a gift that is mobile filmmaker approved, check out this filmmaking set by Andy To. If you aren't familiar with Andy To's work, he's made a name for himself as a smartphone photographer by making incredible hyperlapses and unbelievable travel videos.
The set includes the Osmo Mobile 4 gimbal by DJI. The OM 4 is DJI's most affordable and easy to use gimbal. It's designed for use with any smartphone. Depending on the type of phone you use, you may need a counterweight, which is included in the set.
Need a tad bit more information about what exactly gimbals are? Check this quick video out.
The set also includes Moment's Anamorphic Lens and Tele 58mm Lens to make sure you're prepared no matter what type of film you're making.
You'll also receive a lesson on mobile filmmaking from the master himself, Andy To. The kit includes a DJI Care Refresh service plan to protect your gimbal from damage for 12 months. 
The entire set comes with a fanny sling to help you stay organized on the go. The fanny sling is available in a variety of colors and materials including black canvas, black ripstop, olive, and terracotta.