One of the downsides of smartphone photography is that our mobile devices often struggle with capturing high-quality photos of subjects up close. We end up with images that are distorted or out of focus.
Thankfully, this problem can be overcome with a new mobile macro lens. Macro lenses allow us to capture professional quality images from as close as less than an inch away from your subject of choice.
With all the lenses available on the market, how do you decide which one is best? We've done the research for you and compiled a list of the three best mobile macro lenses in 2020. 
Do you need more information on mobile macro photography the discipline? We've got a full length guide on that.
No matter what type of subject you're getting up close and personal with, these lenses will take your macro images to the next level.
Macro Lenses for Smartphones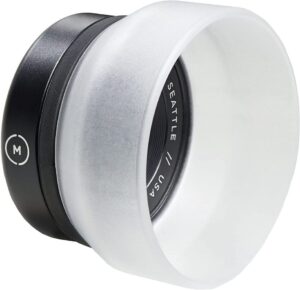 Moment has done it again with their Macro 10x Lens. It's one of the best macro lenses on the market and works with Apple, Samsung, Google, and OnePlus devices with the appropriate case. If you're unsure as to who Moment is, then you should definitely give this a read.
The Moment Macro 10x can be mounted over either lens on a dual-lens phone giving you the flexibility to photograph however you like. 
Moment's macro lens comes with a removable diffuser hood, so you always get the perfect shot. The diffuser hood creates soft, even light to make the tiny details of your photo stand out. The hood measures one inch in length, so it's also helpful in guiding you toward the perfect working distance.
The lens also includes a lens cap and microfiber carrying bag to keep your lens in tip-top shape, no matter where you take it.
Weighing in at just 34.7 grams, this lens is extremely lightweight, so you'll be able to carry your gear anywhere and everywhere. With the diffuser attached, the weight increases to a feather-light 39.7 grams.
The lens itself measures about 34.5mm in diameter and 15.3mm in height. With the diffuser attached, the diameter is 44.4mm, and the height is 33.7mm.
The Macro 10x Lens is made from hand-polished glass and aerospace-grade metal to ensure durability. This durability is backed up with a lifetime warranty.
Priced at $109.99, this lens is an investment in your craft. If this is out of your price range, Moment also offers used lenses at a reduced price.
It's worth noting that used lens sales are final, and returns are not offered. However, used lenses do come with a 12-month warranty.
The Xenvo Pro Lens Kit is ideal for photographers looking to try new lenses without spending big money. The kit includes both a TruView 0.45x Wide Angle Lens as well as a Clarus 15x Macro Lens. It also comes with a lens clip, rechargeable LED light, case, and cleaning cloth.
Everything in the Xenvo Pro Lens Kit is compatible with all smartphones, so whether you have an iPhone, Android, or something else, you can be sure these lenses will work. The kit is also compatible with both single and multi-lens phone cameras.
The lenses clip on to your device effortlessly, so you'll never find yourself in the middle of a shoot struggling to get your lens attached. 
The Trugrip Lens Clip included in this kit will securely attach either of the lenses to your phone, so no matter where you shoot, you can be sure your lens will stay in place. The rubber pads on the clip are also soft enough not to damage or scratch your phone or camera lenses.
This kit's macro lens is designed using professional quality German optical-grade glass to capture crystal clear images without distortion. 
Xenvo's clip-on mobile macro lens will allow you to photograph any subject as close as just half an inch away. This 15x lens will make sure you capture every detail with incredible sharpness and clarity.
The Xenvo Pro Lens Kit also includes access to video tutorials so you can make the most out of your new lenses.
For just $39.99, you can get started with mobile macro photography with the Xenvo Pro Lens Kit. And don't forget, the kit also comes with a 0.45x wide-angle lens, so you'll have even more opportunities to practice your photography skills. Learn more about wide-angle lenses here.
For mobile photographers on a budget, the Kodak 2-in-1 Smartphone Lens Set is the perfect way to get started with macro photography. You may recognize the brand from traditional photography, but Kodak is starting to make a name for themselves in mobile photography.
This high-quality clip-on lens features a universal fit, so no matter what type of smartphone you use, a single or multi-camera lens, this macro lens will fit your device. It also works with front-facing cameras, so your photography will only be limited by your creativity.
The 15x mobile macro lens features a focus distance of 8-14mm to help you capture sharp details with less distortion.  The lens itself is made of only the highest quality glass and is backed by Kodak's stellar reputation among traditional photographers.
This smartphone lens is made of premium metal and plastic and features a double-sided AR+ coating to improve the colors in your image and eliminate unsightly reflections.
Whether you're shooting flowers, jewelry, or something else entirely, the Kodak macro lens will help you capture crystal-clear up-close photos of any subject. Are you looking for additional inspiration? Then check out our 5 1/2 mobile photography ideas for at home by yourself guide to get those creative juices flowing!
As the name suggests, the Kodak 2-in-1 Smartphone Lens Set is more than just a macro lens. This lens set also comes with a 100-degree wide-angle lens to help you capture more of the scene in front of you. 
Kodak's lens set comes with a lens cover and a microfiber carrying bag so you can keep your new lens safe and sound no matter where you take it.
Priced at a budget-friendly $11.99, the Kodak 2-in-1 Smartphone Lens Set is the perfect price for any photographer interested in trying a new lens without breaking the bank. 
For just a few dollars more, you can also get Kodak's 3-in-1 Lens Set, which also includes a 170-degree fisheye lens. The 3-in-1 Lens Set is priced at $15.99. If you're looking for something even less expensive, then you're going to love Magniband.