As good as phone cameras are getting, the gear being made to accompany them is just as impressive. A number of the best smartphone camera accessories are serious must-haves, from added lenses, to sturdy mounts and more.
Seriously, it seems like, within the last year, phone photography has grown and improved leaps and bounds in nearly every possible way. DSLR and mirrorless better watch out. The main drawback about DSLR and mirrorless too is that when you shoot with them, you most certainly have accessories – lenses, tripods, handhelds, and any number of other things. Why would you treat your phone photography any differently? Especially when the gear is so much less cumbersome.
With that in mind, read through this guide and get yourself some phone photography gear to get to DSLR or mirrorless quality results from your mobile. We've included the budget option, the best quality option, and the best deal option in each category for your convenience. Do keep in mind that all the options are going to give you high-quality results.
2021 Top Mobile Photography Accessories
When it comes to phone photography, the common belief is that all that you need is a smartphone and some dreams.
Well, get the picture and get it quickly – it takes a little more work than just this to make it in this game.
That's where this 2021 smartphone camera accessories guide comes into play. For not a whole lot of dough, we can get you taking professional-grade photos in no time.
Do note, that a phone photography course would probably help too.
For each category, we'll give you the budget option, the best quality option, and the best deal option for easy decision-making.
3 Cell Phone Camera Lens You Should Know About
[table id=9 responsive="collapse"/]
So, you've decided that the stock cell phone camera lens on your phone isn't cutting it anymore.
But, you're lost in a sea of technical photography mumbo jumbo as you search for your upgrade to your cell phone camera lens. Don't worry – you aren't the first person to run into the issue.
If you feel that this situation is representative of you, then give our clip-on lens guide a read for an in-depth explanation of more of the options on the market. The guide will also give you a better understanding of what to look for when purchasing a clip-on lens.
If, on the other hand, you just want to know what the best option is without reading another article, we've got the budget option, the best quality option, and the best deal option for you here.
What to Look For –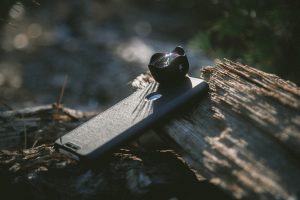 Obviously, the phone camera lens that you purchase needs to be compatible with your phone! Some lenses are only compatible with iPhones, while others require an additional purchase of a phone case. Essentially, be sure to read thoroughly when searching for your next clip-on lens.
The lens also needs to work with the kind of photographer you want to be. For example, if you're a landscape photographer, then go for a wide-angle lens for obvious reasons. If, on the other hand, you're photographing plants, then you can go with a macro lens for those awesome macro shots.
There's plenty of extra reading you can do to decide which product is best for you, but the options below are a good place to start.
Each photo or video shared under each product was taken by said product.
A serious deal to consider for those looking for a first phone photography lens set
Works with all Single and Dual Camera phones
Includes all the essential gear (plus a little more!)
Better quality than expected at this price point
Comes with:
Clarus 15x Macro lens
0.45x Wide Angle Lens
GlowClip LED Light
DuraCase Travel Case
Lifetime Warranty
0.56x wider field of view than a native wide camera
Constructed from film glass and aerospace metal
Comes with Moment's lifetime warranty
Compatible with most phones with a Moment Case – to include iPhone, Pixel, Galaxy and OnePlus
Comparatively expensive (and no rear lens cap or mounting system included)
M-Series Case is the best mounting option on the market aside from the BeastCage from BeastGrip
An ideal smartphone lens for someone serious about getting into mobile photography and filmmaking
Comes with:
Wide lens
Lens cap
Microfiber bag
The combo of the Wide Angle Lens and CPL Filter at this price point is AWESOME
Not as high-quality as the Moment Wide Lens
Reputable budget mobile photography and filmmaking gear
The perfect cost-effective option for beginners
Comes with:
Wide Angle Lens
CPL Filter
Mount
Lens Case
3 Cell Phone Tripods (or Cell Phone Handhelds) You Should Know About
[table id=10 responsive="collapse" /]
You probably thought tripods were just for bulky mirrorless cameras and DSLR – that there was no such thing as a phone tripod. That's where you're wrong.
Actually, tripods and handhelds aren't just for the photography purists. If you're even remotely serious about your phone photography, then you need to get a phone tripod.
The cellphone tripod is a little different than their larger counterparts, but they serve the same function – to keep your camera steady. In many cases, you can buy an adapter to attach your phone to a DSLR or mirrorless tripod.
The reason for getting a phone tripod or phone handheld is to ensure your photos are crisp. You may think that you're keeping your hands still while shooting, but having the tripod or handheld gives you a little extra control.
Another enticing reason to invest in a phone handheld or tripod is the ability they give you to take on new angles and vantage points. Imagine having an extra two and a half feet of an arm. You'd be able to get some excellent angles, right? Exactly – get yourself one.
What to Look For…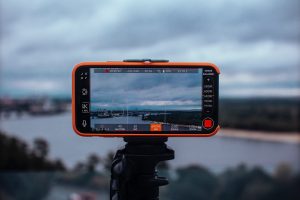 If you go outside of this list looking for the best phone tripod, then be sure to find one that is smartphone compatible. Otherwise, you're likely to end up purchasing an attachment to make your purchase a phone tripod and why spend extra money when you don't have to.
What you're looking for is a cost-effective product that gives you options as far as tripod capabilities go. By this, we mean you want to be able to get as many of those angles and vantage points as possible.
If you're more interested in your handheld for videography purposes, we're also considering gimbals in this section. You may not even know what a cell phone gimbal is, and that's nothing to be ashamed of, even Grammarly doesn't know what it is!
The point of a cell phone gimbal is to make sure that your photos and/or videos don't have any unnecessary shaking. They're very similar to a tripod in this way.
The advantage of a cell phone gimbal over a tripod, however, is how perfect they are for photographers and videographers on the go. Gimbals are lightweight and handheld, so they're easy to include on any shoot, and they arguably work better than tripods in terms of stability.
Think of it this way, tripods are for vloggers and gimbals are for action shooters.
Gimbals are only slightly smaller than a phone tripod, though, so don't be swayed by the size. Most gimbals are going to come with a tripod attachment too so that you can't set it down.
Compatible with DSLR, Mirrorless, GoPro, iPhone, and Android
The Octopus Legs work because of their design – "thicker premium metal and full metal connector, reinforced with coating rubber and compact foam"
Holds a rig up to 2.5 pounds
Can connect phone vertically and horizontally
Rubber feet are extremely stable
The Best Deal Option for 2021 Smartphone Tripods & Handhelds
Comes with:
UBeesize Tripod S
Wireless Remote Shutter that  works from up to 30 feet (you know you need one, right?)
GoPro Mount Adapter
Orientation Adapter
Compatible with the majority of smartphones (also compatible with DSLR, SLR, webcam, camcorder, action camera, and GoPro with a universal 1/4 inch screw)
Impressive 360° head rotation & 180° neck rotation
Get new vantage points with an extendable 17.5 inches to 51.0 inches
The Best Budget Option for 2021 Smartphone Tripods & Handhelds
Comes with:
Tripod selfie stick
Universal phone holder
Bluetooth remote shutter
GoPro adapter
UBeesize 1-year hassle-free Warranty
24-hour customer service
Use the official app for your Zhiyun Smooth phone gimbal – ZY Play (or use Filmic Pro as an alternative)
Intuitive design in control panel
Gimbal must be balanced before use
Well-designed software that makes shooting a breeze – to include PhoneGo Mode, Time Lapse and Object Tracking
Awesome battery life
The Best-Quality Option for 2021 Smartphone Tripods & Handhelds
Comes with:
Zhiyun Smooth 4 Gimbal
Tripod
Type-C USB Cable
Storage Box
User Manual
EACHSHOT Cleaning Cloth
3 Cell Phone Lighting Accessories You Should Know About
[table id=11  responsive="collapse" /]
So, how is your photography lighting doing? Wait, don't you know that there's nothing more important than photography lighting, right?
And, you're far enough into your smartphone photography journey to know not to use the flash, right?
Your phone camera's flash is far too harsh to result in the kind of photos we're trying to teach you to capture. Instead, you should work on curating a more natural light look.
The best way to emulate the natural light found in the blue and golden hours is by using a photography lighting accessory like the ones found below.
What to Look For –
Are you looking to make money with your smartphone photography or stand out on your friends' feeds?
Whichever you are we have an option for you.
If you plan on shooting weddings, engagements, or graduation photos, then investing in more expensive awe-inspiring phone photography lighting is worth it. Maybe you're trying to make your ex jealous on Instagram – a simple LED clip-on may suffice. The choice, in the end, is yours, but for the sake of this post these lighting accessories are pretty basic and geared towards beginners.
Nice, albeit artificial, continuous LED light from 6 bulbs
18-month warranty & 45 days money back guarantee
Clamp design makes the iTech easy to use with almost any camera
The Best Budget Option for 2020 Smartphone Lighting
Comes with:
Mini LED Light
Micro USB Cable for charging
 Clip for connecting the light to the phone
Designed with selfies in mind
Includes a well-thought-out scratch-resistant sponge where the light connects to the phone
Can be used as an effective emergency light
3 Brightness Levels
Rechargeable Battery
Perfect for someone looking for the basic light source
The Best Deal Option for 2021 Smartphone Lighting
Comes with:
Super well-designed touchpad with options for luminance adjustment, brightness,  color temperature, and color among other things
AC/DC adapter improves the power and quality of light
Includes an adjustable and well-built tripod that extends from 16 inches to 50 inches
The Bluetooth remote and phone clamp make shooting a breeze
The Best Quality Option for 2021 Smartphone Lighting
Comes with:
Ring Light
Tripod Stand
Bluetooth Remote Control
AC/DC Adapter
Phone Holder
Manual
Now You Have Mobile Photography Gear
You've got the gear that you need, now let's see if you have what it takes to make it as a mobile photographer. If you're interested in some additional pieces of gear, then consider anything from the list below as they're things I use on a daily basis.
Comment below and let us know which smartphone camera accessories you're adding to your gear bag and tag us in your shots on Instagram using #photoswithphones for a chance to be featured on the website! At this point there's no reason to still be sitting here reading this guide, get out and get shooting.