You need to get the picture, the whole picture when it comes to 2019 smartphone camera accessories. There are a litany of viable options on the market today, and if you lack knowledge of the industry then purchasing can be overwhelming.
Whether you're looking for an iPhone camera lens, a different phone camera lens, the best camera for professional photography, the best phone tripod, or a cell phone gimbal we have all the information you could possibly need.
So, fear no more my friend. We here at PhotoWithPhones are here and ready to provide you with the most up to date and viable information available.
In this post, we'll go over all the relevant gear and tell you what's worth investing in.
It's your money after all. So, spend it wisely!
Get the Picture: 2019 Top Smartphone Camera Accessories
When it comes to smartphone photography, all that you really need is a smartphone and some dreams.
Well, get the picture and get it quickly – it takes a little more work than just this to make it in this industry.
If, however, you really do want to turn your smartphone photography into more of a career than a hobby, investing in some gear to make the game a little easier.
That's where this 2019 smartphone camera accessories guide comes into play.
We'll tell you what kind of gear is worth investing in and which brands and models within each category are the best for you.
Are you starting to get the picture?
Get The Picture: Cell Phone Camera Lens
So, you've decided that the stock cell phone camera lens in your smartphone isn't cutting it anymore.
But, you're lost in a sea of technical photography mumbo jumbo as you search for your upgrade to your cell phone camera lens. Don't worry – you aren't the first person to run into the issue.
If you feel that this situation is representative of you, then maybe a quick read of our clip-on lens guide will give you the knowledge you need for a better understanding of the phone camera lens options on the market.
Maybe you aren't one for reading and instead are just looking for us to tell you what to buy.
Again, don't worry – we can handle that too.
What to Look For…
Xenvo Pro Lens Kit for iPhone, Samsung, Pixel, Macro and Wide Angle Lens with LED Light and Travel Case
Moment - Tele 58mm Lens for iPhone, Pixel, Samsung Galaxy and OnePlus Camera Phones
Phone Lenses by Black Eye || Travel Kit G4 Lens Compatible with iPhone, iPad, Samsung Galaxy, and All Camera Phone Models
Xenvo Pro Lens Kit for iPhone, Samsung, Pixel, Macro and Wide Angle Lens with LED Light and Travel Case
Obviously, the phone camera lens that you purchase needs to be compatible with your phone!
It also needs to work with the kind of photographer you want to be. For example, if you're a landscape photographer then go for a wide angle lens and if you're photographing plants then go with a macro lens.
You get the picture.
There's plenty of extra reading you can do to decide which product is best for you, but these ones are a good place to start.
After all, they have the PhotosWithPhones stamp of approval for the best phone camera lens.
An absolute winner for beginners and professionals alike in terms of a phone camera lens
For the money, a total game changer
Compatible with Samsung Galaxy and Note, iPhone, Google Pixel, Huawei and more
.45x wide angle converter expands your smartphone's field of view (45% more to be exact)
The kit comes included with:
TruView 0.45x Wide Angle Lens – made with aircraft-grade aluminum and premium optical glass, limits vignetting (a problem with cheaper lenses), composite and coated glass all but eradicates ghosting, reflections, and lens flare
Clarus 15x Macro Lens – for macro-photography (for ideal results, position macro lens approximately 1/2 inch from the object)
TruGrip Lens Clip – with a perfect grip ever time you can worry about getting in position to shoot and not about losing your lenses
GlowClip Mini Rechargeable LED Light + Charging Cable – natural looking LED light puts your camera's flash to shame, three different brightness settings give you the options you've been looking for
Quick-Release Lanyard, DuraCase, EasyClip, and a Cleaning Cloth
A great iPhone camera lens and one of the best Google Pixel accessories.
Editors Choice for 2019 Smartphone Camera Accessories
The best iPhone camera lens on this list
Winner of awards from the Wall Street Journal, Wirecutter, Tom's Guide, and Gear Patrol
Comes recommended from industry giants like Casey Neistat and Peter McKinnon
Requires the purchase of an M-series Photo Case OR Battery Photo Case to attach the lens to your phone
Compatible with iPhone, Pixel, and Galaxy Phones
The perfect addition to your collection of Google Pixel accessories
The product comes with a 12-month warranty and 100% customer service guarantee
The kit comes included with a lens, lens cap, and microfiber bag
Don't believe the hype around Moment?
Well, check out our review of Moment's whole line of lenses.
It'll certainly change your mind.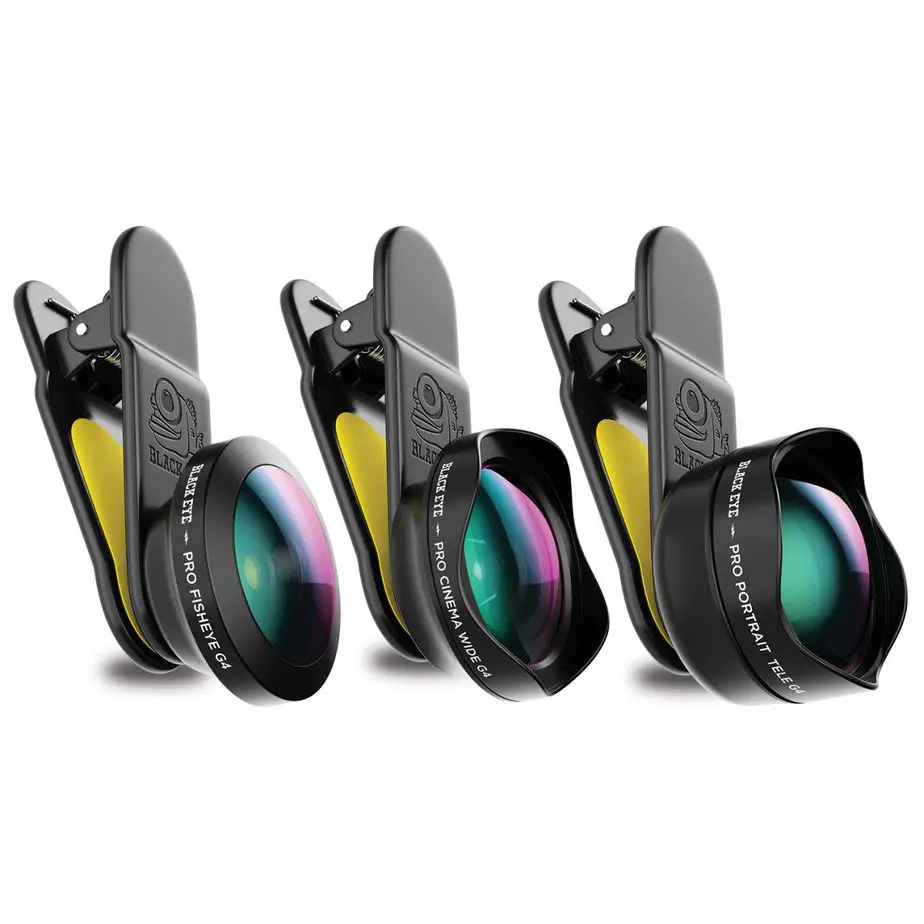 Designed specifically for the big three of mobile photography – Portrait, Cinema, and Fisheye views
Rated over 4.5 stars on Amazon's customer reviews
Requires no apps, extra purchases, or filters
Pro Portrait Tele G4 – get 2.5x closer to your subject just by using this lens, a shallower depth of field produces a real life-like quality within the images
The Pro Fisheye G4 – get a 180° Fisheye view with your smartphone camera so that your landscapes really pop
Pro Cinema Wide G4 – capture a 120° angle view with very limited corner distortion
Travel lens case with carabiner hook
Get The Picture: Cell Phone Tripod
You probably thought tripods were just for bulky mirrorless cameras and DSLR – that there was no such thing as a phone tripod.
Well, they're not just for the purists and the phone tripod is definitely a real thing.
The cellphone tripod is a little different than their larger counterparts, but they obviously serve the same function – to keep your camera steady.
In any 2019 smartphone camera accessories guide, the best phone tripod has to be included. They are, after all, of the utmost importance to great smartphone photography.
What to Look For…
Zhiyun Smooth 4 3-Axis Handheld Gimbal Stabilizer YouTube Video Vlog Tripod for iPhone 11 Pro Xs Max Xr X 8 Plus 7 6 SE Android Smartphone Samsung Galaxy Note10 S10 S9 S8 S7 Q2 Smooth-Q 2019 New Black
Steadicam Volt Electronic Handheld Gimbal Stabilizer for All IPhone XS, XS Max & XR, All Samsung S9/S9+ & GoPro Hero
Pictar Smart Grip - Smartphone Camera Grip for Iphone and Android (Black)
Beastgrip Pro + Wide Angle Lens Bundle
JOBY GorillaPod 3K Kit. Compact Tripod 3K Stand and Ballhead 3K for Compact Mirrorless Cameras or Devices up to 3K (6.6lbs). Black/Charcoal.
If you go outside of this list looking for the best phone tripod, then be sure to find one that is smartphone compatible. Otherwise, you're likely to end up purchasing an attachment to make your purchase a phone tripod.
And why spend extra money if you don't have to…
Adventurers Choice for 2019 Smartphone Camera Accessories

The best phone tripod

Want something that will work anywhere? If you answered yes then the GorillaPod is for you. As Joby says, "Grip it.  Wrap it.  Stand it."  The legs allow you to secure the phone's camera and its attachable equipment to virtually any surface

Mount nearly anything weighing less than 1 kg (2.2 lbs) with a ¼"-20 phone tripod mount

It's so portable and lightweight that you can take it anywhere

Foot grips give great stability pretty much everywhere under any condition
Get The Picture: Cell Phone Gimbal
If you aren't pretty invested in photography – and specifically videography – then you may not even know what a cell phone gimbal is.
It's nothing to be ashamed of, even Grammarly doesn't know what it is!
The point of a cell phone gimbal is to make sure that your photos and/or videos don't have any unnecessary shaking. They're very similar to a tripod in this way.
The advantage to a cell phone gimbal over a tripod, however, is how perfect they are for photographers on the go. They're lightweight and handheld, so they're easy to include on any and all shoots.
Only the best 2019 top smartphone camera accessories guides will include a cell phone gimbal because they are more of a niche product.
What to Look For…
Are you purchasing a cell phone gimbal for photography or videography?
Your answer to this question will decide which direction you go. If you're interested in both and are unwilling to decide one way or another, then we recommend spending some time honing your craft in an effort to decide which you prefer.
You choose the App for you! Either Filmic Pro or ZY play gets the job done, so experiment with both (hint – they're both free).

Easy to use control panel with focus, pull, and zoom capability

Cell phone gimbal must be balanced before use, but the how-to steps are quite easy:
Slide the smartphone in as close as possible to against the tilt axis motor.

Loosen the Roll (Y) Axis Thumb Screw (which is on the back) to adjust the gravity center by sliding the horizontal arm.

When phone stays in level in power OFF status, it is balanced.
Check out the Youtube video tutorials for setup and use! 

PhoneGo Mode for always for almost instant use

Time Lapse Expert and Object Tracking available
Videographers choice for 2019 Smartphone Camera Accessories

Cell phone gimbal is compatible with iPhone, Android, other smartphones (with or without case) & GoPro Hero cameras

Easy storage makes this cell phone gimbal ideal for vacations and travel

Utilizes Simulated Inertia Dual by Haptic control which is perfect for all skill levels beginners 

Gives the feeling of a larger Steadicam

Continues to work in manual mode even long after your batteries are depleted

Haptic control utilizes Simulated Inertia Dual operating modes for beginners and experienced users

Compatible with the Tiffen Imagemaker iOS & Android App (both free in the App store)
Get The Picture: Cell Phone Hand Grip
So, in truth, a cell phone hand grip is very similar to both a tripod and a gimbal.
If however, you aren't a fan of the design of either the former or the latter then a handgrip could be perfect for you.
In other cases, people prefer hand grips because they can feel similar and resemble the DSLR or mirrorless camera that they're used to shooting with.
The feeling of similarity can be an invaluable tool and is why we've included cell phone hand grip in this get the picture guide.
What to Look For…
Some people may say a cell phone hand grip isn't worth the money, but they haven't replaced as many cracked screens as you have.
Those repairs can get expensive.
Even if you think the cell phone hand grip idea is a waste, read on to see some unforeseen benefits. You may find that a cell phone hand grip is more worthwhile than you initially thought.
Use your smartphone as a real camera with this camera-style cell phone hand grip
Wrist Strap

Neck Strap

Padded Pouch

1/2 AA 3.6V Battery

PictarApp (Free Download)

Pictar 2 Year Limited Warranty (Extended to 5 Year Limited Warranty with Product Registration)

GVB Gear Pocket-Sized Daylight On-Camera Light
Multi-State Shutter Release – this shutter leaves us speechless. You just have to check it out for yourself.

The Zoom Ring – are you getting tired of needing two hands to zoom? Pictar has solved the problem with their Zoom Ring! 
The professionals choice for Best

Cell Phone Hand Grip in 2019

Modular design including a removable lens mount and handle means that this cell phone hand grip

can be used as a simple tripod mount or full-featured camera rig

Compatible with all phones on the market and allows for easy access to buttons and USB port during use

Simple and Convenient in use, works with or without protective phone case, Standard 37mm threaded lens/filter mount, compatible with a wide variety of conversion lenses, filters, DOF adapters

The f

ive standard ¼"-20 threaded mounts are great for attaching to any kind of gear imaginable. We tested it all!
Get The Picture: Photography Lighting Accessory
So, how is your photography lighting doing? You know that there's nothing more important than photography lighting, right?
And, you're far enough into your smartphone photography journey to know not to use the flash, right?
Your phone camera's flash is far too harsh to result in the kind of photos we're trying to teach you to capture. Instead, you should work on curating a more natural light look.
The best way to emulate the natural light found in the blue and golden hours is by using a photography lighting accessory like the ones found below.
What to Look For…
LOKFWORLD 14 Inches Ring Light Bi-color Dimmable LED Camera Studio Lights with Cellphone Holder, Hot Shoe Adapter Stand for Photographic Apparatus
Universal Clip-On Mini LED Light Portable Pocket Spotlight for iPhone, iPad, iPod, Samsung, LG, Motorola, HTC, Nokia, Cell Phones and Tablets Camera Video Light (Chrome)
LOKFWORLD 14 Inches Ring Light Bi-color Dimmable LED Camera Studio Lights with Cellphone Holder, Hot Shoe Adapter Stand for Photographic Apparatus
Are you looking to make money with your smartphone photography or just stand out on your friends' feeds?
If you plan on shooting weddings, engagements, or graduation photos then investing in awesome photography lighting is worth it. If, on the other hand, you're just trying to make your ex jealous then a simple LED clip-on for your photography lighting may be better for you.
The choice is yours…
The Best Option for Photography Lighting 2019

LOKFWORLD Ring Light is so adjustable. It includes a color temperature from 3200K-5800K without the use of a color filter

According to LOKFWORLD the Ring Light was designed with outdoor shooting, makeup, selfie, weddings, portrait, live stream, photography, YouTube/Facebook/Instagram video shooting and more in mind

Wide dimming range from 0%-100%, Ultra High CRI 93+, reveals colors otherwise lost in natural light while maintaining a natural look

Compatible with both smartphone and DSLR cameras!

KIT INCLUDES:
18inch/48cm Outer 100W Dimmable SMD Led Ring Video Light

78inch/200cm Light Stand+Power Adapter

Smart Phone Holder

Tripod Head

Hot Shoe Adapter

Bluetooth Self-timer for Smartphone

Portable Black Bag

12 months warranty 
Budget Choice for Best Photography Lighting 2019

Great for adding a little pop to a shot

Continuous LED light without the heat that comes with professional quality bulbs

It's the same size as a clip-on lens, so it's easily transportable

Compatible with iPhone, HTC, Samsung, iPad, Tablet, PC and Laptops 

A real value for 2019 Smartphone Camera Accessories in the photography lighting category

18-month warranty & 45 days money back and friendly
Last update on 2020-01-25 / Affiliate links / Images from Amazon Product Advertising API