iPhones have long been the gold standard of cell phone photography; their dominating market share compared to most other phones is proof. Oh, and the iPhone takes a pretty damn good photo too. But, by adding one of the best iPhone lenses of 2021 you can upgrade the camera even further.
They're catching up to traditional cameras and they're doing it fast. All you need now is a little boost from the right clip-on lenses.
There is no need to lug around a bulky DSLR, tripod, and lens bag everywhere you go, or to transfer pictures between devices to process and publish them.
Do it all from the comfort of your iPhone!
How to Choose the Best Lenses for Your iPhone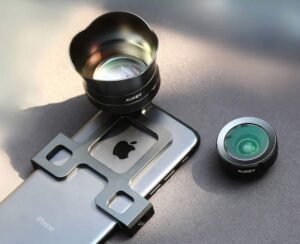 Investing in one of the best iPhone lenses of 2021 is a no-brainer once you decide to switch over to cell phone photography for good.
But, we know there are a ridiculous number of options available for cell phone lenses. How do you pick the one that's best for your specific needs?
No sweat! We've got you covered there.
We bring you the best options of iPhone camera lenses to suit any need, whether it is balancing that shoestring budget or making your first indie feature film – here is everything you need to know before buying a lens for your iPhone.
Types of Lenses for iPhone Photography
You can pick from a range of iPhone lenses, including Telephoto, Wide-angle, Macro, and Fish-eye. Just as in a DSLR, each type is suitable for a specific purpose. If you want even more detail about the types of smartphone camera lenses, then check this out.
A Telephoto lens for iPhones enhances the magnification on the iPhone camera even at a distance. They are perfect general-purpose lenses too.
The Wide-Angle iPhone lens includes a wider angle of view, making it ideal for capturing landscapes, large buildings, or group photos and, on occasion, your Four-Foot-Long Chicago Style Hot Dog.
Macro lenses for iPhones are useful for capturing fine or minute details and producing enlarged images of tiny subjects. These can include small insects, details on plants, or even something as little as a snowflake.
The Fish-eye iPhone lens is a specialized lens producing an exaggerated hemispherical effect on the image. With one attached to your iPhone, you can get circular-ish photos of landscapes, architecture, or use it for the purpose it was invented for – photographing the sky, or "astrophotography" as the nerds call it.
What to Look for in an iPhone Lens
If you are looking to buy a lens or an iPhone accessory, you don't want to end up with a great product that is unfortunately incompatible with your phone. Your first consideration should be to make sure all the gear is compatible with your iPhone model.
When choosing your lens mounting style, remember that while clip mounts can save you precious time on changing lenses, they may shift while handling. A case mount, on the other hand, may be cumbersome to attach but is both steadier and always positioned correctly.
You should also compare lenses based on quality, weight, and cost. Rarely do phone lenses weigh much, but the quality definitely scales with cost – keep that in mind!
Trying to find a universal lens? There isn't one. But, a good wide-angle or a lens kit is a good option none the less.
The Best iPhone Lenses of 2021
While there are numerous lenses available to enhance your iPhone photography, we have narrowed the choices down to ten.
Let's get to it.
Best Lens for iPhone
The Moment wide-angle lens packs in a punch with a 2x wider angle of view of the iPhone X's camera and has the sharpest wide-angle images with no noticeable distortion compared to its competitors.
An as an added advantage like all Moment lenses it works with many different devices
Those looking for high-quality videos love that it allows for adding context to video without significant cropping
The lens offers value for money with its 18mm design, featuring 0.63x magnification and is an all-rounder for capturing landscapes, architecture, and large group photos
It is already an industry favorite as the go-to smartphone photography lens but needs a dedicated M series photo case
Best Quality Telephoto iPhone Lens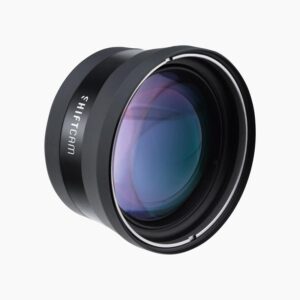 While they are bulky attachments to your iPhone, the more traditional looking telephoto lenses will give you the sharpest images..
The Shiftcam telephoto lens requires a dedicated case. The lens may neatly be mounted onto a plate that fits quickly onto the case.
At well under $100, the Shiftcam telephoto lens is a good balance of quality and affordability.
The Shiftcam case is only designed for use with iPhones and comes at a reasonable cost while doing well to protect your phone.
Best Quality Fisheye iPhone Lens
Sandmarc's dedicated iPhone fisheye lens range outperforms the other lenses in this category with a more than 5x ultra-wide field of view when compared to the standard iPhone camera.
At under $100, it comes with a phone case, and lens mount and is ideal for outdoor travel photographers and vloggers.
It may make for slightly blurrier edges on the image compared to the Moment Fish-Eye, but that is what you have to trade for the greater magnification (hint, crop it!).
Best Quality Macro Lens for iPhone
The Moment Macro Lens is the best choice for a uniformly sharper macro image.
The sharpness, ease of use, and wide compatibility make Moment's macro lens the go-to macro lens for use with iPhones. Did we mention the staggering 10X magnification?
Like all Moment lenses, this only works with a Moment Case, but it helps that it also comes with a light diffuser, which doubles up as a space indicator too (this helps by signaling when you are too close or too far from the subject).
Best Budget Lens for iPhone
If you are looking for a budget-buy, the Aukey iPhone lens kit includes a Wide Angle lens, a Macro lens, and a Fish-Eye lens
It is a three-lens set so it's useful for a variety of shots.
The lens cap and carrying case are useful accessories too.
Budget quality – Buyer Beware (is a good lens set for a young beginner)
Best 360 Degree iPhone Lens
Do you want to take one of those pictures with the tiny planet effect? The Panoclip  360° lens is your best bet. The best part is that it looks like a cute little robot that sits on your phone.
You can fit it over your cell phone camera, and it captures a 360° image by combining the images from the device's front and rear end camera.
The images from both the cameras are stitched in real-time by the Panoclip app.
It comes with a companion app that also lets you share the photos to mot social media sites, including Twitter, Snapchat, Facebook, and well – you name it!
Best Multi-Use Lens for iPhone
At $79.99, this is only compatible with the iPhone and iPod touch, but it is easy to attach and considering that it packs all four types of lenses in one single contraption? Whoa! It's definitely well worth the price.
The image output is the standard Olloclip quality that doesn't disappoint.
The option to attach an-all-in-one lens kit and to quickly alternate between the Macro 10x, Macro 15x, fisheye, and telephoto options without hassle is by itself an excellent incentive.
Be sure to buy the lens set that is compatible with your generation of iPhone!
Best Lens for iPhone Videography
This set is ideal for those who want their iPhone to serve as a killer device for video footage. Want more information about smartphone videography? Click here.
 Moment is the pinnacle of all things smartphone content creator, and their anamorphic may be the star of the show
If you're looking for cinema-quality content from the palm of your hand, then the Moment Anamorphic is the one for you
Want more info about the Moment Anamorphic? We've done a whole post about it.
Lens Kit that Makes Your iPhone Look Like a DSLR
The Sandmarc Pro Edition is the ultimate lens kit that practically converts your iPhone into a DSLR
All of the lenses separately are almost $400, but this set is available for much less.
Consider that it packs in all of the power of a professional camera, for the price of a low-end DSLR. The advantage is that it's all on a single device – the phone you're already carrying with you everywhere.
Best Portable Lens Kit for iPhone
This kit also comes with a bonus tool: a blue-tooth remote to control the shutter!
It offers you five lenses rather than the usual four lenses – the additional CPL lens helps filter out harsh light so you can shoot during the day and filter out glares.
Quite a treat for the low price, if you ask us.
Unfortunately, this kit is only compatible with the older versions of the iPhone. It's perfect if you're close to updating your phone, and want to work on your phone photography in the meantime.